Search London wiki and Pub wiki history sites
All public house, restaurants, bars etc closed for the forseeable future from 20th March 2020, but this is a history site.
Crown And Leek, 6 Deal Street, Mile End E1
Mile End Pubs history
At Pelham Street in 1864. The address is at 6 Deal Street until 1938, and changes to 11 Deal Street by 1944.
Historical London public houses, Taverns, Inns, Beer Houses and Hotels.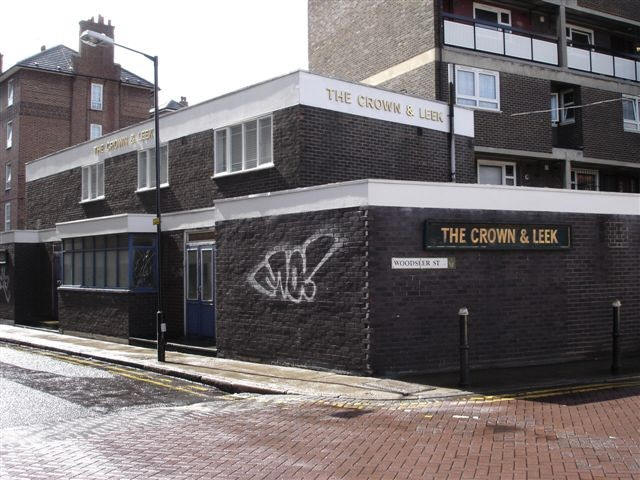 Crown & Leek, 6 Deal Street E1 - in April 2006
Kindly provided by Stephen Harris
This is a c.1960s rebuilding of the pub. The pub closed some time between 1986 and 1991 and has lain empty ever since. **
Residents at this address.
1811/John Gavvel, Crown & Leek, Pelham street, Spitalfields/../../Holdens Directory

1827/Mrs Pattman, Crown and Leek, Pelham street, Spitalfields/../../Licensed Victuallers Association

1831/John Pattman, Crown and Leek, Pelham street, Mile End New Town, in addition to 2 guineas, 3 guinea/../../Licensed Victuallers Association

1836/Jonathan Gray / Victualler /../../Sun Fire Office records, held at Guildhall Library **

1841/H Krache/../../../P.O. Directory **

1842/H Krache/../../../Robsonís Directory **

1851/Hinrich Kracke/../../../Kellyís Directory **

1851/Henrich Kracke/Licensed Victualler/48/Andover/Census
1851/Henry Kracke/Son/16/St Georges, Middlesex/Census
1851/Mary A Kracke/Daughter, Barmaid/14/St Georges, Middlesex/Census
1851/William Kracke/Son/12/Stepney, Middlesex/Census
1851/Robert Kracke/Son/9/Stepney, Middlesex/Census

1857/Heinricke Kracke / Deceased / Died in or about the month of March 1857 /../../London Gazette, 10 May 1859 **

1864/Joseph Franklin/ Outgoing Licensee /../../The Era, 22 May 1864 *

1864/Joseph Marriott Hancock/ Incoming Licensee /../../The Era, 22 May 1864 *

1869/Joseph Marriott Hancock/../../../Post Office Directory

1871/Joseph Hancock/Licensed Victualler/40/Chelmsford, Essex/Census
1871/Mary Ann Hancock/Wife/25/Bermondsey/Census
1871/Alfred Hancock/Son/18/Spitalfields/Census
1871/Frederick Hancock/Son/16/Spitalfields/Census
1871/Walter Hancock/Son/12/Spitalfields/Census
1871/Ernest Hancock/Son/10/Spitalfields/Census
1871/Joseph Hall/Servant/20/Stepney, Middlesex/Census
1871/Emma Higgins/Servant/23/Millwall, Middlesex/Census

1874/J M Hancock/../../../H.D. Miles London & Suburban Licensed Victuallers' Directory **

March 1874/Joseph Marriott Hancock/Outgoing Licensee/../../East London Observer

March 1874/Thomas Hyams/Incoming Licensee/../../East London Observer

1881/Thomas Hyams/Licensed Victualler/53/Bethnal Green, Middlesex/Census
1881/Jane Hyams/Wife/54/Bethnal Green, Middlesex/Census
1881/Harriett Hyams/Daughter/25/Bethnal Green, Middlesex/Census
1881/Emily Hyams/Daughter/14/Bethnal Green, Middlesex/Census
1881/George Hyams/Son/12/Bethnal Green, Middlesex/Census
1881/Walter Young/Barman/29/Staines/Census

1884/Thomas Hyams/../../../Post Office Directory

1890/George Hyams / Public House Keeperís Son /../../Proceedings of the Old Bailey **

1891/Thomas Hyams/../../../Post Office Directory

1891/Thomas Hyams/Licensed Victualler, Widow/64/Bethnal Green, London/Census
1891/George Hyams/Son, Barman/23/Bethnal Green, London/Census
1891/Harriet Coals/Daughter, Barmaid, Widow/34/Bethnal Green, London/Census
1891/Emily Hyams/Daughter, Barmaid/24/Bethnal Green, London/Census
1891/Thomas Coals/Grandson/8/Mile End New Town, London/Census

1895/Thomas Hyams/../../../Post Office Directory

1899/Mrs Harriet Coals/../../../Post Office Directory

1901/Harriett Coals/Licensed Victualler, Widow/45/Whitechapel, London/Census
1901/Thomas Coals/Son/18/Whitechapel, London/Census
1901/Emily Kate Hyams/Sister/33/Whitechapel, London/Census
1901/Mary Baker/Servant, Widow/56/Islington, London/Census

1910/Mrs Harriet Coals/../../../Post Office Directory

1915/Mrs Harriet Coals/../../../Post Office Directory

1921/Mrs Harriet Coals/../../../Post Office Directory

1934/Geo Arthur Richardson/../../../Post Office Directory

1938/Geo Arthur Richardson/../../../Post Office Directory

1944/Alfred Albert Geo Rouse/../../../Post Office Directory

1983/../Crown & Leek: 11 Deal Street E1 : Trumans. /../../Pub Directory

1991/../Crown & Leek: 11 Deal Street E1 : Grand Met-Trumans/../../Pub Directory



* Provided By Ken Ripper

** Provided By Stephen Harris