Search London wiki and Pub wiki history sites
All public house, restaurants, bars etc closed for the forseeable future from 20th March 2020, but this is a history site.
Crystal Tavern, 25 Burdett road, Mile End E3
Mile End Pubs history
This pub closed in 1996 and was demolished in 2010. **
Historical London public houses, Taverns, Inns, Beer Houses and Hotels.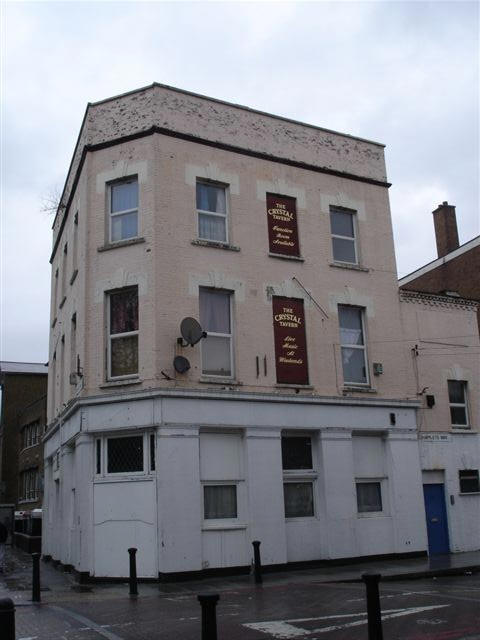 Crystal Tavern, 25 Burdett Road - in September 2006
Kindly provided by Stephen Harris
Residents at this address.
1869/Charles Walker/beer retailer/../../Post Office Directory *

1871/Reuben Wooder/../../../Post Office Directory

1871/Reuben Wooder/Publican/34/Otford, Kent/Census
1871/Emma Wooder/Wife/29/London, Middlesex/Census
1871/Barclay Wooder/Son/7/London, Middlesex/Census
1871/Sarah Caundle/Barmaid/32/London, Middlesex/Census
1871/Kate Hare/Barmaid/19/Woolwich, Kent/Census

1874/Reuben Wooder / Publican /../../London Gazette, 28 February 1874 **

1880/Thomas Groves/../../../Post Office Directory **

1881/Thomas Groves/Beer Shop Retailer/52/Hoxton, Middlesex/Census
1881/Ann Groves/Wife/30/Stepney, Middlesex/Census
1881/Harry Groves/Son/26/City of London, Middlesex/Census
1881/Mary J Groves/Daughter/24/Peckham, Surrey/Census
1881/Catherine Groves/Daughter/2/Mile End, Middlesex/Census
1881/Jesse Welsh/Servant Domestic/13/Mile End, Middlesex/Census
1881/Pauline Groves/Daughter in Law/24/Holborn, Middlesex/Census

1882/Thomas Groves/Beer Retailer/../../Post Office Directory

1891/Miss Ann Garratt/Beer Retailer/../../Post Office Directory

1895/Henry Milton Hester / Beer Retailer /../../Post Office Directory **

1899/Alfred John Franks/beer retailer/../../Post Office Directory *

1901/Charles J Balderson/Beer House Keeper/38/Bow, London/Census
1901/Charlotte Balderson/Wife/31/Norfolk/Census
1901/Richard Fenn/Father in Law/71/Norfolk/Census
1901/Ellen N Fenn/Mother in Law/69/Ireland/Census
1901/Alice E Morsly/General Servant/15/Bow, London/Census
1901/Polly M Gutch/General Servant/15/Germany/Census

1905/William John Parsons/beer retailer/../../Post Office Directory

1908/Arthur James Burbidge/beer retailer/../../Post Office Directory

1911/Arthur James Burbidge/Beer & Wine House Keeper, Widow/49/St Botolph Aldgate, London/Census
1911/Arthur Reginald Burbidge/Nephew, Clerk/16/Dalston, London/Census
1911/Harry Quantrill/Barman/18/Islington, London/Census

1911/Arthur James Burbidge / Deceased, Died 30 September 1911 /../../London Gazette, 21 November 1911 **

1911, Arthur James Burbidge of the Crystal Tavern Burdett road Bow Middlesex died 30 September 1911 at the London Hospital Mile End Middlesex Administration London 19 October to William Charles Burbidge organ builder. Effects £213 6s.

In the 1911 census, there is a Mary Ann Cotts, Licensed Victualler at the Sidney Arms, 90 Charles street; and the 1901 census for another address, refers to Thomas Cotts, grandson of Isabella Burbidge. Looking at even earlier census in 1871, Isabella Burbidge is listed with sons Thomas Cotts, plus Alfred, Arthur and William Burbidge, her mother Hannah Page, sister Charlotte Page, niece Emily Page, and cousin Mary White. This ties all the surnames to be found on the many other census. Finally, on finding her son Thomas Cotts in the 1861 census aged 8, and a Mary A Cotts is also listed as her daughter, aged 6.

1913/Miss Mary Ann Cotts/../../../Kelly's Directory

1914/Miss Mary Ann Cotts/beer retailer/../../Post Office Directory *

1915/Mrs Mary Ann Cotts/../../../Post Office Directory **

The 1915 electoral register lists Thomas Walter Cotts here, in three rooms, first and second floor, with Mary Ann Cotts being the person to whom rents are paid. He is later the licensee of the Turks Head, Tench street, Wapping

1921/Miss Mary Ann Cotts/../../../Kelly's Directory **

1934/Miss Mary Ann Cotts/../../../Kellys Directory **

1938/Christopher Mitchell/beer retailer/../../Post Office Directory *

1942/Christopher Mitchell/beer retailer/../../Post Office Directory *

1944/Christopher Mitchell/beer retailer/../../Post Office Directory *



* Provided By Ewan

** Provided By Stephen Harris