Search London wiki and Pub wiki history sites
All public house, restaurants, bars etc closed for the forseeable future from 20th March 2020, but this is a history site.
Duke Of Norfolk, 30 Norfolk street, Globe road, Mile End E1
Mile End Pubs history
At 30 Norfolk Street by 1891; Also known as the Norfolk Arms in 1901. Norfolk Street renamed to Massingham Street; The pub was built sometime between 1848 and 1855, and closed in 1999. The premises are now in residential use. **
Historical London public houses, Taverns, Inns, Beer Houses and Hotels.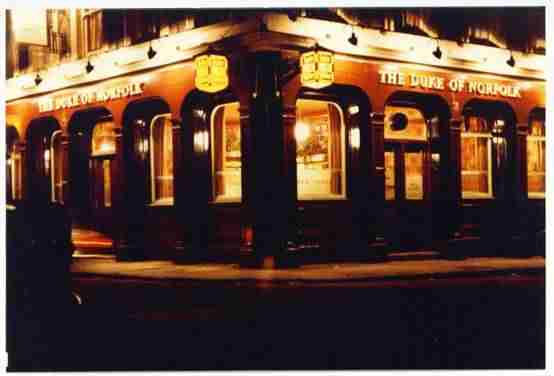 The Duke of Norfolk
Kindly provided by Pat Gatsky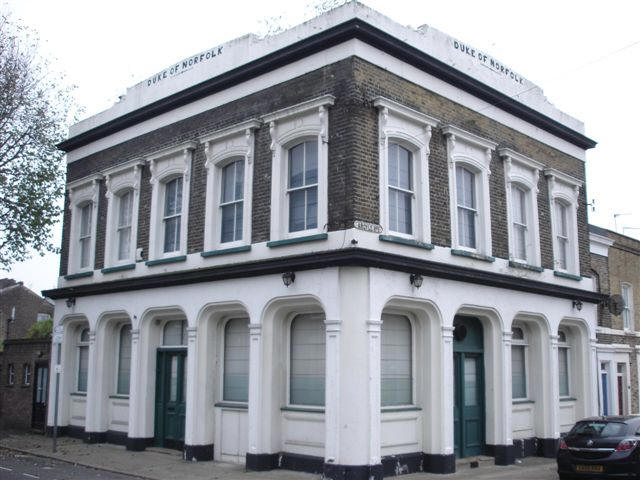 Duke of Norfolk, 30 Massingham Street - in December 2006
Kindly provided by Stephen Harris
Residents at this address.
August 1859/Joseph Lucas/Outgoing Licensee/../../Era Newspaper

August 1859/William Martin/Incoming Licensee/../../Era Newspaper

July 1863/William Martin/Outgoing Licensee/../../Era

July 1863/William Thomas Mason/Incoming Licensee/../../Era

1864/William Thomas Mason/ Outgoing Licensee /../../The Era, 22 May 1864 *

1864/Edwin Wheeler/ Incoming Licensee /../../The Era, 22 May 1864 *

October 1865/Edwin Wheeler/Outgoing Licensee/../../Era Newspaper

October 1865/Mary Ann Watkinson/Incoming Licensee/../../Era Newspaper

16th May 1868/Mary Ann Watkinson/Outgoing Licensee/../../East London Observer +

16th May 1868/Peter Jackson/Incoming Licensee/../../East London Observer +

4th July 1868/Peter Jackson/Outgoing Licensee/../../East London Observer +

4th July 1868/Caroline Cahill/Incoming Licensee/../../East London Observer +

1869/Mrs Caroline Cahill/../../../Post Office Directory

May 1869/Catherine Cahill/Outgoing Licensee/../../Era

May 1869/John Kolls/Incoming Licensee/../../Era

13th August 1870/John Kells/Outgoing Licensee/../../East London Observer +

13th August 1870/Richard Kells/Incoming Licensee/../../East London Observer +

14th July 1874/Richard Kells/Outgoing Licensee/../../East London Observer +

14th July 1874/James Bullock/Incoming Licensee/../../East London Observer +

12th May 1877/Frederick James Bullock/Outgoing Licensee/../../East London Observer +

12th May 1877/Robert Scott/Incoming Licensee/../../East London Observer +

1881/A J Lynch/Licensed Victualler/29/St Georges E, Middlesex/Census
1881/A J S Lynch/Wife/27/St Georges E, Middlesex/Census
1881/A A Lynch/Son/8/Stepney, Middlesex/Census
1881/A W Lynch/Son/7/Stepney, Middlesex/Census
1881/G E Lynch/Son/5/Stepney, Middlesex/Census
1881/S Lynch/Daughter/> 1/Stepney, Middlesex/Census
1881/E Turner/General Servant/18/Brentford, Middlesex/Census
1881/Eliza Green/Mother In Law/59/Dunstable, Bedford/Census

1891/Mrs Eliza Maria Bullock/../../../Post Office Directory

1895/Mrs Eliza Maria Bullock/../../../Post Office Directory

1899/Mrs Eliza Maria Bullock/../../../Post Office Directory

1901/Eliza Bullock/Licensed Victualler, Widow/59/Romford, Essex/Census
1901/Charles Bullock/Son, Manager/29/Whitechapel, London/Census
1901/Flora Bullock/Daughter/28/Mile End, London/Census
1901/Clara Bullock/Daughter, Dressmaker/24/Mile End, London/Census
1901/Ada Bullock/Daughter, Dressmaker/21/Stepney, London/Census
1901/Robert Hodder/Potman/21/Islington, London/Census

1910/Mrs Florence Cross/../../../Post Office Directory

1915/Robert Alfred Johnson/../../../Post Office Directory

1934/David Levene/../../../Kelly's

The name of Norfolk Street., became Massingham Street, at some stage. Lewis Waterman was bombed out of the Albert Arms in Bancroft road; and became landlord of the Duke of Norfolk. That was in 1944 he stayed there until 1953 when he then took over the Kings Head in Bow Road. Morris Kaye then took the Duke of Norfolk and stayed until he died in 1959, when his wife Kitty became the licensee. *

1944/Lewis Waterman/../../../.. *

1953/Morris Kaye/../../../.. *

1953/Kitty Kaye/../../../.. *

1983/../Duke of Norfolk: 30 Massingham Street E1 : Allied Breweries/../../Pub Directory

1991/../Duke of Norfolk: 30 Massingham Street E1 : Ind Coope Taylor Walker/../../Pub Directory



+ Provided by Friends of Tower Hamlets Cemetery Park

* Provided by Pat Gatsky

** Provided By Stephen Harris

*** Provided By Ken Ripper