Search London wiki and Pub wiki history sites
All public house, restaurants, bars etc closed for the forseeable future from 20th March 2020, but this is a history site.
Duke Of York, 44 Myrdle street, Commercial road East, Mile End E1
Mile End Pubs history
Address formerly given as 93 York Street. ** Now in commercial use.
Historical London public houses, Taverns, Inns, Beer Houses and Hotels.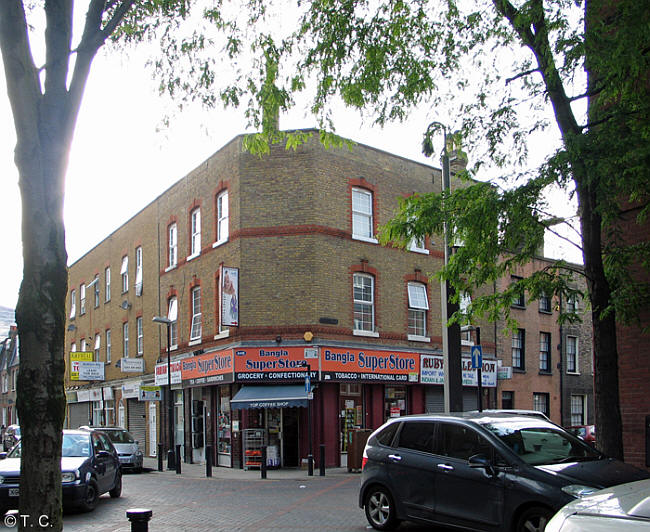 Duke of York, 44 Myrdle Street, E1 - in May 2014
Kindly provided by Tris
Residents at this address.
1839/Wm. Kirkpatrick/../../../Pigotís Directory **

1841/William Kirkpatrick/../../../Post Office Directory *

1842/Wm. Fox/../../../Robsonís Directory **

1848/Philip Coxhead/../../../Post Office Directory *

1851/Philip Coxhead/../../../Post Office Directory *

1851/Philip Coxhead/Licensed Victualler/36/Chaddleworth, Berkshire/Census
1851/Caroline Coxhead/Wife/38/St Martins, London/Census
1851/Ellen Curse/House Servant/31/St Martins, London/Census
1851/William Buvine/House Servant/21/Chatham, Kent/Census

1855/James Corder / Deceased / Outgoing Licensee /../../The Era, Sunday 15 July 1855 **

1855/Mary Corder / Widow / Incoming Licensee /../../The Era, Sunday 15 July 1855 **

1856/Robert Merry/../../../Post Office Directory *

May 1858/William Smith/Outgoing Licensee/../../East London Observer

May 1858/George Pill/Incoming Licensee/../../East London Observer

2nd July 1860/George Hill/Outgoing Licensee/../../East London Observer +

2nd July 1860/Daniel Atkin/Incoming Licensee/../../East London Observer +

November 1861/Daniel Alkin/Outgoing Licensee/../../East London Observer

November 1861/Frederick Jordan/Incoming Licensee/../../East London Observer

August 1863/Frederick Jordan/Outgoing Licensee/../../East London Observer +

August 1863/James Pottinger/Incoming Licensee/../../East London Observer +

May 1866/James Pottinger/Outgoing Licensee/../../Era

May 1866/John Richards/Incoming Licensee/../../Era

March 1869/John Richards/Outgoing Licensee/../../Era

March 1869/John George Ireland/Incoming Licensee/../../Era

1871/John George Ireland/Licensed Victualler/44/Woolwich, Kent/Census *
1871/Elizabeth Ireland/Wife/38/London Road, Surrey/Census
1871/Eliza Ireland/Daughter, Assistant to Father/21/Woolwich, Kent/Census
1871/Mary Ann Ireland/Daughter, Assistant to Father/17/Woolwich, Kent/Census
1871/Susanah Elizabeth Ireland/Daughter/8/Woolwich, Kent/Census
1871/Henry John Ireland/Son/5/Woolwich, Kent/Census
1871/Rebecca Ireland/Daughter/1/Mile End Old Town, Middlesex/Census
1871/Henry Read/Potman/19/Mile End New Town, Middlesex/Census

October 1872/John George Ireland/Outgoing Licensee/../../East London Observer

October 1872/Charles Cozens Taylor/Incoming Licensee/../../East London Observer

12th May 1877/Harriet Odger/Outgoing Licensee/../../East London Observer +

12th May 1877/Joseph Thomas Curzey/Incoming Licensee/../../East London Observer +

October 1877/William Robert Dyer/Outgoing Licensee/../../East London Observer

October 1877/John Charles PorterIncoming Licensee/../../East London Observer

1881/Isabel C G Young/Managing Barmaid/19/Bath Widcombe/Census
1881/Maud Haynes/Barmaid/18/Kingsland, Middlesex/Census
1881/Samuel Mathews/Waiter/28/Gravesend, Kent/Census
1881/Banny Bellinger/Step Daughter/11/Whitechapel, Middlesex/Census
1881/Emily Bellinger/Step Daughter/9/Whitechapel, Middlesex/Census

1882/Miss Kate Julia Greenslade Young/../../../Post Office Directory *

1884/Kate Young/../../../Post Office Directory

1891/Lyon & Webb/../../../Post Office Directory

1891/William Lyon/Licensed Victualler/29/New Zealand/Census
1891/Frances M Lyon/Wife/27/Stepney, London/Census
1891/Henry J Webb/Partner/33/London, Middlesex/Census
1891/Jane E Pike/General Servant/20/Old Ford, London/Census

1895/Percy Sly/../../../Post Office Directory

1899/Samuel George Shenston/../../../Post Office Directory

1901/F C Ganskon/Publican/36/Buffalo, America/Census
1901/Fram G Ganskon/Wife/29/St Johanm Germany/Census
1901/Letiter Ganskon/Son/1/Stepney E, London/Census
1901/Robert Dernial/Potman Barman/24/Berlin, Germany/Census
1901/Letiter Tompson/Widow/55/Stepney E, London/Census



+ Provided by Friends of Tower Hamlets Cemetery Park

* Provided By Ewan

** Provided By Stephen Harris