Search London wiki and Pub wiki history sites
All public house, restaurants, bars etc closed for the forseeable future from 20th March 2020, but this is a history site.
Earl Grey, 44 Mile End road, Mile End E1
Mile End Pubs history
At 22 Barnes Place, on the south side of Mile End Road in 1856; This pub is now demolished. **
Historical London public houses, Taverns, Inns, Beer Houses and Hotels.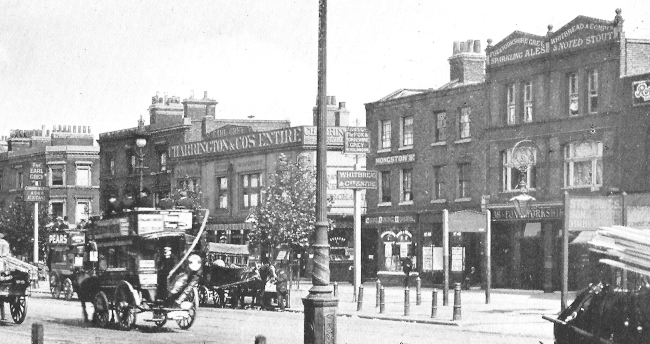 The Earl Grey & the Fox & Yorkshire Grey, in Mile End road
The Earl Grey is behind the tram advertising Pears on the left, and the Fox & Yorkshire Grey is on the right of the picture
Kindly provided by John Carnaby
Residents at this address.
1839/John Batt Clarke /../../../Pigotís Directory **

1841/Robert Roper/../../../P.O. Directory **

1842/Robt. Roper/../../../Robsonís Directory **

1844/Robt. Roper/../../../Thompsonís Directory **

1850/Robert Roper/../../../P.O. Directory **

1851/Robert Roper/../../../Kelly's

January 1854/Robert Roper/Outgoing Licensee/../../Era

January 1854/Mary Ann Roper/Incoming Licensee/../../Era

November 1854/Mary Ann Roper/Outgoing Licensee/../../Era Newspaper

November 1854/Charles Mitchell/Incoming Licensee/../../Era Newspaper

1856/Charles Mitchell/../../../Post Office Directory

September 1855/Charles Mitchell/Outgoing Licensee/../../Era

September 1855/Sutton Le Neve/Incoming Licensee/../../Era

William Brown is the son of George Brown (George was born about 1792). *

1861/William Brown/Victualler/38/Bethnal Green, Middlesex/Census *
1861/Elizabeth Brown/Wife/43/Bethnal Green, Middlesex/Census
1861/William Brown/Son, Barman/17/Bethnal Green, Middlesex/Census
1861/George Brown/Son/12/Bethnal Green, Middlesex/Census
1861/Richard Brown/Son/11/Bethnal Green, Middlesex/Census
1861/Elizabeth Brown/Daughter/9/Bethnal Green, Middlesex/Census
1861/Mary Ann Brown/Daughter/4/Bethnal Green, Middlesex/Census
1861/Sophia Hawkins/Barman/38/Spitalfields, Middlesex/Census
1861/Margaret Doke/Domestic Servant/19/Ireland/Census
1861/James Richardson/Potboy/19/Stepney, Middlesex/Census

1866/Wm. Brown/../../../P.O. Directory **

1869/William Brown/../../../P.O. Directory **

1871/William Brown/Licensed Victualler/48/Shoreditch, Middlesex/Census
1871/Elizabeth Brown/Wife/53/Spitalfields, Middlesex/Census
1871/Richard Brown/Son, Barman/21/Bethnal Green, Middlesex/Census
1871/Elizabeth Brown/Daughter/19/Bethnal Green, Middlesex/Census
1871/John Brown/Son/12/Mile End Old Town, Middlesex/Census
1871/Mary Ann Brown/Daughter in Law/22/Limehouse, Middlesex/Census
1871/John Dell/Barman/25/Woodford, Essex/Census

October 1873/William Brown/Outgoing Licensee/../../East London Observer

October 1873/Thomas Jennings/Incoming Licensee/../../East London Observer

1876/Thomas Jennings/../../../P.O. Directory **

1878/Thomas Jennings / Public House Keeper /../../Proceedings of the Old Bailey **

1882/Thomas Jennings/../../../Post Office Directory

1884/Thomas Jennings/../../../Post Office Directory

1888/Thomas Jennings/../../../P.O. Directory **

1891/Mrs Emma Jennings/../../../Post Office Directory

The young Hannah Cutmore, general Servant, belongs to my family, and later turns up as Annah Kiteley married to Herbert Kiteley of the Bancroft Arms, Moody Street MEOT (Census 1901). ***

1891/Mark Mayers/Licensed Victualler/41/Spitalfields, London/Census ***
1891/Hannah Mayers/Wife/37/Poland/Census
1891/Maria Mayers/Daughter/18/Mile End, London/Census
1891/Sarah Mayers/Daughter/14/Aldgate, City/Census
1891/Lizzie Mayers/Daughter/12/Mile End, London/Census
1891/Hyam Mayers/Son/10/Mile End, London/Census
1891/Harry Mayers/Son/8/Mile End, London/Census
1891/Priscilla Mayers/Daughter/6/Mile End, London/Census
1891/Daisy Mayers/Daughter/4/Mile End, London/Census
1891/Rab Mayers/Son/1/Mile End, London/Census
1891/Hannah Cutmore/General Servant/16/Mile End, London/Census
1891/Arthur Hallet/Barman/23/Devon/Census
1891/Emily Monk/Barmaid/19/London/Census

1894/Wm. Catherine/../../../P.O. Directory **

1895/William Catherine/../../../Post Office Directory

1899/William Catherine/../../../P.O. Directory **

1901/William Wood/Licensed Victualler/52/Roydon, Essex/Census
1901/Kate Wood/Wife/41/North America/Census
1901/Christian Wood/Daughter, Typist Clerk/22/Bermuda, West Indies/Census
1901/Maud A Wood/Daughter, Typist Clerk/18/Gibraltar/Census
1901/Charles H Wood/Son, Clerk/16/Woolwich/Census
1901/Joseph H Wood/Son, Clerk/14/Jersey/Census
1901/Norman A Wood/Son/11/Dorking, Surrey/Census
1901/Ada King/Barmaid/25/Grays, Essex/Census

1910/Barnett Blitsten/../../../Post Office Directory



* Provided by Ian Brown

** Provided By Stephen Harris

*** Provided By Elaine Johnson