Search London wiki and Pub wiki history sites
All public house, restaurants, bars etc closed for the forseeable future from 20th March 2020, but this is a history site.
Fountain, 436 Mile End road, Mile End E1
Mile End Pubs history
At 3 Artichoke Row, Mile End Road in 1856 at the intersection of Wades Place; This pub was renamed La Luna circa 2004. This pub closed and was demolished in 2010. **
A listing of historical public houses, Taverns, Inns, Beer Houses and Hotels in Mile End, East London - in East London.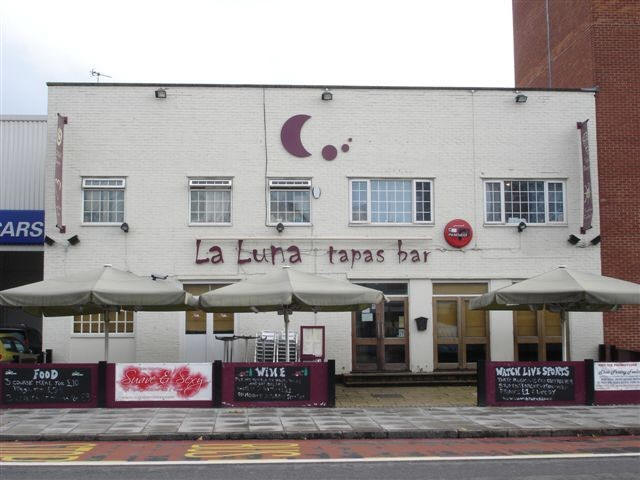 Fountain, 436 - 438 Mile End Road, E1 - in September 2006
Kindly provided by Stephen Harris
Residents at this address.
1805/Charles Gibson, Fountain, Mile End/../../Holdens Directory

1833-34/William Chandler, Fountain, Mile End road/../../Pigots Directory

1833/William Gooch / Victualler /../../Sun Fire Office Records, held at Guildhall Library **

1842/T J Caudlin/../../../Robsonís Directory **

1844/Thomas Jos. Candlin/../../../Thompsonís Directory **

1850/Benjamin Staines/../../../P.O. Directory **

1851/Benjamin Staines/../../../Kellys Directory

July 1851/Benjamin Staines/Outgoing Licensee/../../Era

July 1851/William Richardson/Incoming Licensee/../../Era

May 1853/Joseph Candlin, deceased/Outgoing Licensee/../../Era

May 1853/Elizabeth L Candlin, widow and adminstratrix of Joseph Candlin/Incoming Licensee/../../Era

January 1854/Elizabeth Lovell Candlin/Outgoing Licensee/../../Era

January 1854/Francis Lawrence/Incoming Licensee/../../Era

1855/Francis B Lawrance/../../../P.O. Directory **

1856/Francis B Lawrance/../../../Post Office Directory

1856/William Day / Ostler /../../Proceedings of the Old Bailey **

March 1867/Francis B Lawrence/Outgoing Licensee/../../Era Newspaper

March 1867/George Northwood/Incoming Licensee/../../Era Newspaper

September 1867/George Northwood/Outgoing Licensee/../../Era

September 1867/Mary White/Incoming Licensee/../../Era

1869/Mrs Mary White/../../../Post Office Directory

July 1869/Mary White/ Outgoing Licensee /../../The Era

July 1869/Alfred Johnson/ Incoming Licensee /../../The Era

October 1873/Alfred Johnson/Outgoing Licensee/../../East London Observer

October 1873/William Burton/Incoming Licensee/../../East London Observer

1874/W Burton/../../../H D Miles London & Suburban Licensed Victuallers Directory **

14th July 1874/William Burton/Outgoing Licensee/../../East London Observer +

14th July 1874/Thomas Read Hull/Incoming Licensee/../../East London Observer +

6th March 1875/Thomas Read Hull/Outgoing Licensee/../../East London Observer +

6th March 1875/Thomas Moore/Incoming Licensee/../../East London Observer +

1876/Thomas Moore/../../../P.O. Directory **

1881/Maria Moore/Licensed Victualler, Widow/49/Peckham, Surrey/Census
1881/Edgar Fairweather/Son/15/Poplar/Census
1881/Annis Johnson/Asst At Bar/19/Kent/Census
1881/Rob Watson/Barman/36/Southwark, surrey/Census
1881/Hart Horghton/Servant Domestic/19/Stepney/Census
1881/Sydney Edwards/Visitor, Clerk/15/Boro/Census

1882/Mrs Maria Moore/../../../Post Office Directory

1884/Maria Moore/../../../Post Office Directory

1888/Alfred Pike/../../../P.O. Directory **

1891/Alfred Pike/../../../Post Office Directory

1894/Chas. Henry Abrams/../../../P.O. Directory **

1895/Chas Hy Abrams/../../../Post Office Directory

1899/William Neale/../../../Post Office Directory

1901/William Neale/Licensed Victualler/42/Capel, Surrey/Census
1901/Agnes Neale/Wife/42/St Causton, Exmouth/Census
1901/Henry C Neale/Son/7/329 Mile End Road/Census
1901/Mary A M Neale/Daughter/12/329 Mile End Road/Census
1901/Mary A Hicks/Mother in Law, Widow/72/Ansty, Hertford/Census
1901/Jemima Pegreen/Aunt, Widow/40/Ansty, Hertford/Census
1901/Gertrude Evans/Barmaid/25/../Census
1901/Frances Hart/Barmaid/25/6 Ridly Road, Dalston/Census
1901/Rose Aitou/Domestic Servant/21/32 Mare, Bermondsey/Census

1910/Charles Galley/../../../Kelly's

1915/Mrs Agnes Mary Ann Barnes/../../../Kelly's

1917/Mrs Rose Joel/../../../P.O. Directory **

1921/Mrs Rosa Joel/../../../Kelly's

1922/Mrs Rosa Joel/../../../P.O. Directory **

1925/Mrs Rosa Joel/../../../P.O. Directory

1930/Sidney Alex Cheek/../../../P.O. Directory

1934/Sidney Alexander Cheek/../../../Kelly's

1938/Jn Compton/../../../Post Office Directory

1942/Edgar Cook/../../../Post Office Directory

1983/../Fountain: 438 Mile End Road E1 : Bass Charrington. /../../Pub Directory

1991/../Fountain: 438 Mile End Road E1 : Bass Charrington. /../../Pub Directory



+ Provided by Friends of Tower Hamlets Cemetery Park

** Provided By Stephen Harris