Search London wiki and Pub wiki history sites
All public house, restaurants, bars etc closed for the forseeable future from 20th March 2020, but this is a history site.
Gloster Arms , 93 Commercial road east, Mile End E1
Mile End Pubs history
This pub closed in 1989 and the premises are now in use as a clothes shop ** The address was listed as 23 Langley Place, Commercial Road East in the 1871 census and earlier, prior to street renumbering. *
Historical London public houses, Taverns, Inns, Beer Houses and Hotels.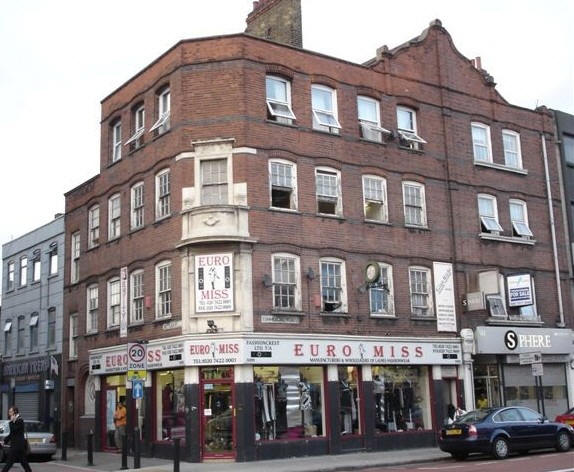 Gloster Arms, 93 Commercial Road - in August 2006
Kindly provided by Stephen Harris
Residents at this address.
1851/William Hodt/Beer Seller/50/Germany/Census *
1851/Susannah Hodt/Wife/38/Spitalfields/Census
1851/Susannah Hodt/Daughter/13/St Georges, Middlesex/Census
1851/George Hodt/Son/11/St Georges, Middlesex/Census
1851/Henry Hodt/Son/9/St Georges, Middlesex/Census
1851/Edward Hodt/Son/7/St Georges, Middlesex/Census
1851/Charles Hodt/Son/5/Mile End/Census
1851/Elizabeth Hodt/Daughter/3/Mile End/Census
1851/William Hodt/Son/1/Mile End/Census
1851/Carolin Coe/Sister/40/Spitalfields/Census

1853/William Hodt/beer retailer/../../Post Office Directory

1856/Mrs Susannah Hodt/beer retailer/../../Post Office Directory *

1861/Susanah Hodt/Beer Shop Keeper (Widow)/50/Spitalfields, Middlesex/Census *
1861/Susanah Hodt/Daughter, Tailoress/23/St Georges, Middlesex/Census
1861/George Hodt/Son, Cooper/21/St Georges, Middlesex/Census
1861/Henry Hodt/Son, Brass Turner/19/St Georges, Middlesex/Census
1861/Edward Hodt/Son, Cooper/17/St Georges, Middlesex/Census
1861/Charles Hodt/Son, Cooper/15/Stepney, Middlesex/Census

1869/Edward Westley/Beer Retailer/../../Post Office Directory

1871/Edward Westley/../../../per. Whitechapel Society Newsletter **

1871/Edward Westley/Beer Retailer/46/Aylesford, Kent/Census *
1871/Jane Westley/Wife/42/Southwark/Census
1871/William H. Westley/Son, Clerk out of employ/19/London/Census
1871/Bertha C. Westley/Daughter, Machinist/16/New York, United States/Census

1877/Edward Westley/Beer Retailer/../../Post Office Directory **

1881/Henry Davidson/Beer Retailer/42/Woolwich, Kent/Census
1881/Octavia Davidson/Wife/32/Romford, Essex/Census
1881/Sarah Davidson/Daughter/19/Woolwich, Kent/Census
1881/George Davidson/Son, Waterman/16/Woolwich, Kent/Census
1881/Orpha Davidson/Daughter/12/Woolwich, Kent/Census
1881/Emily Davidson/Daughter/10/Woolwich, Kent/Census
1881/Esmeralda Davidson/Daughter/6/Woolwich, Kent/Census
1881/Bertha Davidson/Daughter/3/Old Ford, Middlesex/Census
1881/Daisy Davidson/Daughter/1/Mile End Old Tow, Middlesex/Census
1881/Susan Hanchard/Visitor, Fancy Box Maker/17/Bethnal Green, Middlesex/Census

1882/Henry Davidson/Beer Retailer/../../Post Office Directory

1884/Henry Davidson/../../../Morris' Business Directory of London **

1894/Valentine Viel/Beer Retailer/../../Post Office Directory **

1895/Valentine Viel/beer retailer/../../Post Office Directory *

1896/Valentine August Viel / Born: Germany /../../London Gazette, 2 June 1896 **

1899/Charles Horton/beer retailer/../../Post Office Directory *

1901/Charles F Horton/Beer Retailer/30/London/Census
1901/Jessie Horton/Wife/30/London/Census
1901/Jessie H Horton/Daughter/3/../Census
1901/Charles W Horton/Son/7 months/../Census
1901/Rosie Watt/General Servant/16/../Census
1901/Ethel Dunn/Barmaid/20/../Census

1903/Charles Frederick Horton/beer retailer/../../Post Office Directory *

1910/Arthur George Mills/Beer Retailer/../../Post Office Directory **

1915/William Jealous/beer retailer/../../Post Office Directory *

1917/William Jealous/beer retailer/../../Post Office Directory

1921/William Jealous/Beer Retailer/../../Post Office Directory

1923/William Jealous/Beer Retailer/../../Post Office Directory **

1929/William Jealous/Beer Retailer/../../Post Office Directory **

1934/William Jealous/Beer Retailer/../../Kellys Directory **

1948/James Arthur Morris/Beer Retailer/../../.. **

1949/James Arthur Morris/Beer Retailer/../../.. **




* Provided By Ewan

** Provided By Stephen Harris