Search London wiki and Pub wiki history sites
All public house, restaurants, bars etc closed for the forseeable future from 20th March 2020, but this is a history site.
Hay Field Tavern, 158 Mile End road, Mile End E1
Mile End Pubs history
in 1856 & 1869, near to the intersection of Hayfield passage; This pub is thought to have been established in the 17th century. For many years it served as the brewery tap for Charringtonís Brewery, which stood across the road. This pub closed in 2009 and is now in restaurant use. **
Historical London public houses, Taverns, Inns, Beer Houses and Hotels.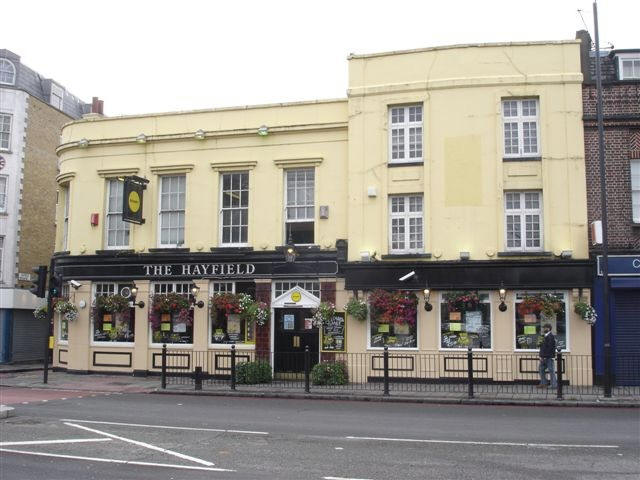 Hayfield, 158 Mile End Road - in September 2006
Kindly provided by Stephen Harris
Residents at this address.
1808/Henry Pearce / Formerly Alehouse Keeper, now confined for Debt in the Giltspur Street Comptor / a Lunatic /../../London Gazette, 1 November 1808 **

1809/Mr Pierce, Hay Field, Mile End /../../Licensed Victuallers Association

1831/James Lynn, Hayfield, Mile end road, in addition to 2 guineas, 3 guinea/../../Licensed Victuallers Association

1833-34/James Lynn, Hay Field, Mile End Road/../../Pigots Directory

1839/William Child/../../../Pigotís Directory **

1841/William Tyson/../../../P.O. Directory **

1842/William Tyson/../../../Robsonís Directory **

1844/William Tyson/../../../Thompsonís Directory **

1850/Henry Sturdy/../../../P.O. Directory **

1855/Henry Sturdy/../../../P.O. Directory **

1855/Henry Sturdy / Outgoing Licensee /../../The Era, Sunday 15 July 1855 **

1855/Edward Smith / Incoming Licensee /../../The Era, Sunday 15 July 1855 **

1856/Edward Smith/../../../Post Office Directory

November 1863/Edward Smith/Outgoing Licensee/../../Era

According to the 1851 census the landlord of the Steel Yard, Upper Thames Street, was Robert Burley, my great great grandmother Sarah Burley's brother. Subsequently, one of the staff members, John Oakes, (my great great grandfather) married Sarah and became landlord. He later became landlord of the Hayfield, by 1869 ***

November 1863/John Oakes/Incoming Licensee/../../Era

1869/John Oakes/../../../Post Office Directory

1871/John Oakes/Publican/38/Lincoln/Census ***
1871/Sarah M Oakes/Wife/50/Yorkshire/Census
1871/Geo Oakes/Son/8/London/Census
1871/Mary Daltry/Barmaid/20/Middlesex/Census
1871/Geo Bark/Potman/26/Bradley/Census
1871/Maria Shimper?/Servant/24/Norfolk/Census
1871/Charlotte Fennell/Servant/18/Middlesex/Census

1874/J Oakes/../../../H D Miles London & Suburban Licensed Victuallers Directory **

1875/John Oakes/../../../P.O. Directory **

1876/John Oakes/../../../P.O. Directory **

1881/John Oakes/Licensed Victualler, Widow/48/Hounslow, Middlesex/Census
1881/Jane P Oakes/Daughter/26/London, Middlesex/Census
1881/George K Oakes/Son/18/London, Middlesex/Census
1881/Mary Congleton/Cook, Widow/45/Newcastle/Census
1881/Emily Bush/Housemaid/20/Old Ford, Middlesex/Census
1881/James Cellers/Potman/30/Blackwall, Middlesex/Census

1882/John Oakes/../../../Post Office Directory

1884/John Oakes/../../../Post Office Directory

1888/Alfred Abrahams/../../../P.O. Directory **

1891/Chas Hopson/../../../Post Office Directory

1891/Charles Hopson/Licensed Victualler/56/Ilford, Essex/Census
1891/Mary A Hopson/Daughter/9/Leytonstone, Essex/Census
1891/Hannah Hole/Cousin, Manageress/24/Wilts/Census
1891/Henry Miller/Barman/22/Devon/Census
1891/William Holton/Barman/24/Stepney, London/Census
1891/Louisa W Leigh/Barmaid//Poplar, London/Census
1891/Frederick Williams/Waiter/15/Selling, Kent/Census

1895/Chas Hopson/../../../Post Office Directory

1899/Hooper & Coveney/../../../Post Office Directory

1901/John Coveney/Licensed Victualler/51/Mile End, London/Census
1901/Maria Coveney/Wife/53/Mile End, London/Census
1901/Amelia Ellen Coveney/Daughter/29/Mile End, London/Census
1901/Richard Yarham/Barman/21/../Census
1901/Thomas Littlewood/Barman/26/Notting Lane/Census
1901/Frederick Cockles/Barman/20/Stepney, London/Census
1901/Hilda Emily Hughes/Barmaid/22/Limehouse, London/Census
1901/Annie Hicks/General Servant/35/Mile End, London/Census
1901/Mary Ann Hunnisett/Kitchenmaid/34/Bow, London/Census

1910/Alfred Stickland/../../../Post Office Directory

1914/Mrs Daisy Cooper/../../../Post Office Directory

1915/Charles Stone/../../../Post Office Directory

1917/Charles Stone/../../../P.O. Directory **

1921/Mrs Nellie Chapman/../../../Post Office Directory

1922/Mrs Nellie Chapman/../../../P.O. Directory **

1925/Frank C Lochton/../../../Post Office Directory

1930/Frederick T Clark/../../../Post Office Directory

1934/Edward Samuel Fleet/../../../Kellys Directory

1938/Mrs Florence Ada Fleet/../../../Post Office Directory

1940/Mrs Florence Ada Fleet/../../../Post Office Directory

1944/Misses Ellen E Moss & Kathleen Knights/../../../Post Office Directory

1983/../Hayfield Tavern: 158 Mile End Road E1 : Bass Charrington. Adjoining Chinese restaurant, From 1970-78 the pub was named "The Pearly Queen". /../../Pub Directory

1991/../Hayfield Tavern: 158 Mile End Road E1 : Bass Charrington. Now a bright cocktail style (at one time called the Pearly Queen) bar but formerly the brewery tap of Charrington: the brewery opposite closed in 1975. The site is now offices of the brewery but it is rumoured that Charrington is to move from the area. The upstairs room used to be the brewery directors dinning room used by the Charrington family owners. /../../Pub Directory



** Provided By Stephen Harris

*** Provided By Christine Catlender