Search London wiki and Pub wiki history sites
All public house, restaurants, bars etc closed for the forseeable future on 20th March 2020, but this is a history site. But how about the landlords give their tenants a break, no business, then please charge them no rent.
Old King Harry, 279 Mile End road, Mile End E1
Mile End Pubs history
Formerly King Harry VIII (1850) and King Harryís Head (1844 & 1864). At 38 Mile End Road in 1851 census. The Old King Harry by 1891 & after. This pub is now demolished. **
Historical London public houses, Taverns, Inns, Beer Houses and Hotels.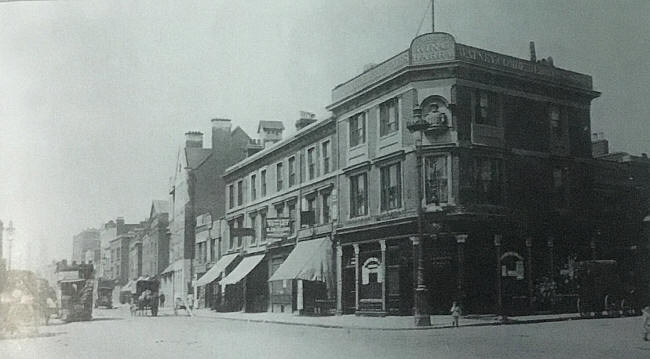 King Harry, Mile End Road - in 1906
Kindly provided by Jean Ellis
Residents at this address.
1814/Thomas Wright/Victualler/../../Sun Fire Office Records, held at Guildhall Library **

1823/James Palmer/Victualler/../../Sun Fire Office Records, held at Guildhall Library **

1839/Henry Abraham/../../../Pigotís Directory **

1841/Henry Abraham/../../../P.O. Directory **

1842/Henry Abraham/../../../P.O. Directory **

1843/Henry Abraham/King Harry VIII. P. H. Mile end road /../../Post Office Directory

1844/H Abraham/../../../Thompsonís Directory **

1844/Mr Walton / Public House Keeper /../../Proceedings of the Old Bailey **
1844/George William Henry Young / Lodger / Hawker & Peddler /../../Proceedings of the Old Bailey

1850/William Packwood/../../../P.O. Directory **

1851/William Packwood/../../../Kelly's

I was looking for 'Lord' George Sangar, the famous circus proprietor of the 19th Century, who died or was possibly murdered in 1911. I found him at a yard attached to the King Harry public house, on the 1851 census. Lord George in chapter XV11 , pages 83-87 , of his book, 'Lord George Sangar Seventy Years a Showman' , recalls an incident there in the pub and mentions the landlord , 'Packwood'.
The census for 1851 show William Packwood, victualler, and his wife Sophia at 38 Mile End Road and George Sangar, and nearby, his brother John Sangar, are on the yard attached to the pub.

George Sangar married Ellen Chapman who was (my wife) Brenda's great-great aunt. Brenda's mother was a Manders who belonged to another fair-ground family of that period and beyond famous for their , 'Mander's Menagerie' . ***

1851/William Packwood/Victualler/52/Middlesex/Census ***
1851/Sophia Packwood/Wife/54/Middlesex/Census

1856/Henry Smith/../../../Post Office Directory

1861/Henry Smith/Victualler/40/Bethnal Green, Middlesex/Census *+
1861/Elizabeth Smith/Wife/40/Bethnal Green, Middlesex/Census
1861/George Smith/Son/16/Bethnal Green, Middlesex/Census
1861/Jesse Smith/Daughter/7/Bethnal Green, Middlesex/Census
1861/Henry Smith/Son/6/Mile End, Middlesex/Census
1861/Ellen Reynolds/Servant/34/Borough, Southwark/Census

August 1863/Henry Smith/Outgoing Licensee/../../East London Observer +

August 1863/Thomas Turner and Jessie Turner/Incoming Licensee/../../East London Observer +

1864/Thomas Turner and Jessie Turner/ Outgoing Licensee /../../The Era, 22 May 1864 *

1864/Richard Eason/ Incoming Licensee /../../The Era, 22 May 1864 *

July 1865/Richard Eason/Outgoing Licensee/../../East London Observer +

July 1865/William Pinsent Hummerston/Incoming Licensee/../../East London Observer +

November 1865/W Pinsent Hummerston/Outgoing Licensee/../../Era

November 1865/William Thomas Mason/Incoming Licensee/../../Era

November 1866/William Thomas Mason/Outgoing Licensee/../../Era

November 1866/Girado Aitken Migotti/Incoming Licensee/../../Era

1867/William Thomas Mason / Formerly Licensed Victualler /../../London Gazette, 20 September 1867 **

1869/Girardo Migotti/../../../P.O. Directory **

1872/Girardo Migotti / Licensed Victualler /../../London Gazette, 25 April 1873 **

October 1873/Guardo Aitken Migotti/Outgoing Licensee/../../East London Observer

October 1873/Llewellyn Eykyn/Incoming Licensee/../../East London Observer

1874/L Eykyn/../../../H D Miles London & Suburban Licensed Victuallers Directory **

1875/Llewellyn Eykyn/../../../P.O. Directory **

July 1875/Llewellyn Eykyn/Outgoing Licensee/../../East London Observer

July 1875/Henry Richard Yates/Incoming Licensee/../../East London Observer

1876/Henry Richard Yates/../../../P.O. Directory **

1881/Henry R Yates/Licensed Victualler/44/Aldersgate, London, Middlesex/Census
1881/Henry R Yates/Son/21/Mile End, Middlesex/Census
1881/Elizabeth J Yates/Daughter/19Mile End, Middlesex//Census
1881/James Yates/Son/7/Mile End, Middlesex/Census
1881/George Yates/Son/5/Mile End, Middlesex/Census
1881/Mary A FitzPatrick/Domestic Servant/30/Whitechapel, Middlesex/Census

1882/Hy Richard Yates/../../../Post Office Directory

1888/Francis Follett Osborn/../../../P.O. Directory **

1891/Hy Rd Yates/../../../Post Office Directory **

1891/Henry Yates / Licensed Victualler /../../Proceedings of the Old Bailey **

1893/John Coveney / Public House Keeper /../../Proceedings of the Old Bailey **

1894/John Coveney/../../../P.O. Directory **

1895/Jn Coveney/../../../Post Office Directory

1899/Wm Makein/../../../Post Office Directory

1900/W Makein sen. / Resident /../../London Gazette, 14 December 1900 **

1901/William Makein/Publican/34/London/Census
1901/Ellen Makein/Wife/34/London/Census
1901/William Makein/Son/3/London/Census
1901/Walter Makein/Son/2/London/Census
1901/Harry Makein/Son/1/London/Census
1901/Harry Makein/Visitor/23/London/Census
1901/Alice Pavlett/Barmaid/35/London/Census
1901/Frances Pavlett/Servant/25/London/Census
1901/Rose Ellis/Barmaid/21/London/Census
1901/Harry Masterton/Barman/22/London/Census

1910/Julius Rosenthal/../../../Post Office Directory

1915/Henry Solomons/../../../Post Office Directory

1916/Elendor Hollands/../../../P.O. Directory **

1917/Charles Dark/../../../P.O. Directory **

1921/Charles Dark/../../../Post Office Directory

1922/Charles Dark/../../../P.O. Directory **

1925/John Chapman/../../../Post Office Directory

1930/John Chapman/../../../Post Office Directory

1937/John Chapman/../../../P.O. Directory **



+ Provided by Friends of Tower Hamlets Cemetery Park

* Provided By Ken Ripper

*+ Provided By Ewan

** Provided By Stephen Harris

*** Provided By David Gates

Provided By Kevan