Search London wiki and Pub wiki history sites
All public house, restaurants, bars etc closed for the forseeable future from 20th March 2020, but this is a history site.
Lion Arms , 18 Holford street, Mile End E1
Mile End Pubs history
The Red Lion, Holford Street in the 1860 license transfer. This road has now been renamed Holton Street. The whole area is still Victorian but the pub and a few houses around it have gone. It looks as though the pub was bombed on October 7th 1940. *
Historical London public houses, Taverns, Inns, Beer Houses and Hotels.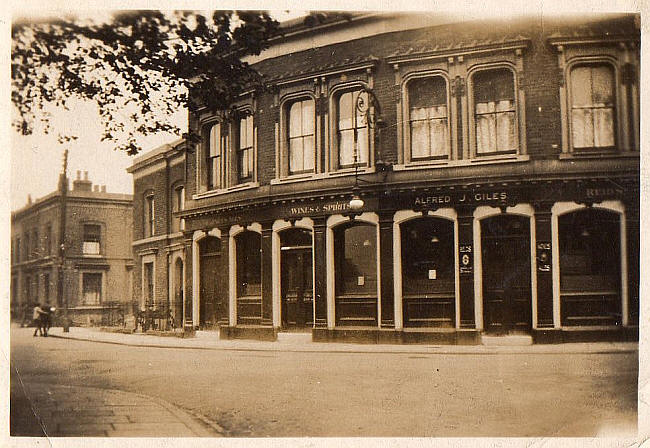 Lion Arms, Holford Street, Mile End - circa 1934 - Landlord is Alfred J Giles
Kindly provided by, and copyright of Stuart Giles
I believe this to be The Lion Arms, Holford Street when my great grand father, Alfred J Giles, ran it.
Residents at this address.
May 1858/William Goodman/Outgoing Licensee/../../East London Observer

May 1858/Henry Pantlin/Incoming Licensee/../../East London Observer

January 1860/Henry Pantlin/Outgoing Licensee/../../Era Newspaper

January 1860/Thomas Champion Reid/Incoming Licensee/../../Era Newspaper

August 1860/Thomas Champion/Outgoing Licensee/../../East London Observer

August 1860/Samuel Peeling/Incoming Licensee/../../East London Observer

July 1861/Samuel Peeling/Outgoing Licensee/../../Era

July 1861/Thomas Smith/Incoming Licensee/../../Era

May 1862/Thomas Smith/Outgoing Licensee/../../East London Observer +

May 1862/Charles Brookbank/Incoming Licensee/../../East London Observer +

July 1862/Charles Brook-bank/Outgoing Licensee/../../East London Observer

July 1862/Charles Frederick Fry/Incoming Licensee/../../East London Observer

July 1863/Charles Frederick Fry/Outgoing Licensee/../../Era

July 1863/William Richardson/Incoming Licensee/../../Era

November 1863/William Richardson/Outgoing Licensee/../../Era

November 1863/Joseph Weston Shaw/Incoming Licensee/../../Era

November 1865/Joseph Weston Shaw/Outgoing Licensee/../../Era

November 1865/James Thomas Waller/Incoming Licensee/../../Era

November 1866/James Thomas Waller/Outgoing Licensee/../../Era

November 1866/David Jenkin Davies/Incoming Licensee/../../Era

4th July 1868/John Burgess/Outgoing Licensee/../../East London Observer +

4th July 1868/John Sauds/Incoming Licensee/../../East London Observer +

1869/John Sands/../../../Post Office Directory

January 1870/John Sands/Outgoing Licensee/../../Era Newspaper

January 1870/Joseph Baring/Incoming Licensee/../../Era Newspaper

July 1870/Joseph Baring/Outgoing Licensee/../../East London Observer

July 1870/Thomas Watson/Incoming Licensee/../../East London Observer

May 1872/Thomas Watson/ Outgoing Licensee /../../The Era

May 1872/William Budd/ Incoming Licensee /../../The Era

1874/W Budd/../../../H.D. Miles London & Suburban Licensed Victuallers' Directory **

14th July 1874/William Budd/Outgoing Licensee/../../East London Observer +

14th July 1874/Arthur Mays/Incoming Licensee/../../East London Observer +

August 1874/Arthur Mays/Outgoing Licensee/../../East London Observer

August 1874/William Knighton/Incoming Licensee/../../East London Observer

20th May 1876/William Knighton/Outgoing Licensee/../../East London Observer +

20th May 1876/Albert Symes/Incoming Licensee/../../East London Observer +

January 1877/Albert Symes/Outgoing Licensee/../../East London Observer

January 1877/Benjamin Cundick/Incoming Licensee/../../East London Observer

August 1879/William Joseph Smith/Outgoing Licensee/../../East London Observer

August 1879/Geo Henry Willetts/Incoming Licensee/../../East London Observer

1881/Richard Willetts/Retired Confectioner, Widow/72/../Census
1881/George H Willetts/Son, Licensed Victualler/38/Shoreditch, Middlesex/Census
1881/Eliza Willetts/Daughter In Law, Widow/39/Shoreditch, Middlesex/Census
1881/Eliza H Willetts/Daughter/19/Shoreditch, Middlesex/Census
1881/Richard Willetts/Son/16/Clerkenwell, Middlesex/Census

1884/George H Willetts/../../../Post Office Directory

1895/William Henry Rutterford/../../../Post Office Directory

1899/Henry Samuel Moyford/../../../Post Office Directory

1910/Mrs Florence Lunnis Barnes/../../../Post Office Directory

1915/Colin Say/../../../Post Office Directory

1921/Roy Whillier/Lion, 83a Holford Street/../../Hughes Directory

1921/Roy Whillier/Lion, Holford Street/../../Post Office Directory

1934/Alfred James Giles/../../../Kelly's

1938/Alfred James Giles/../../../Post Office Directory



+ Provided by Friends of Tower Hamlets Cemetery Park

* Provided By Stuart Giles

** Provided By Stephen Harris