Search London wiki and Pub wiki history sites
All public house, restaurants, bars etc closed for the forseeable future from 20th March 2020, but this is a history site.
Mercers Arms, 116 Jubilee street, Mile End E1
This pub is said to have closed in 1915. The premises are now in use as a funeral parlour. **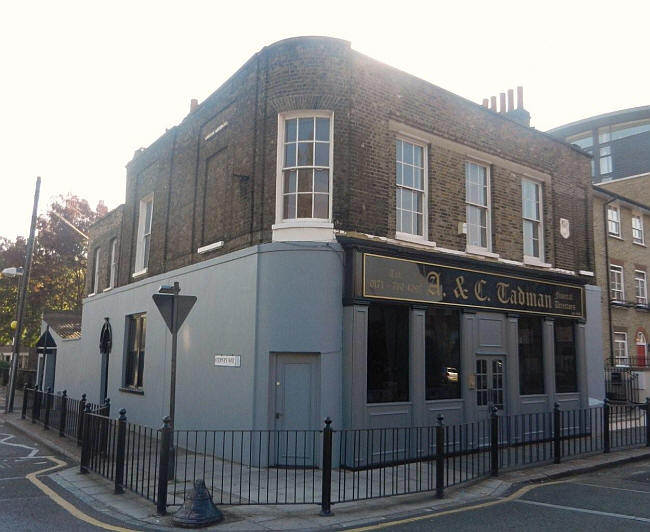 Mercers Arms, 116 Jubilee Street, E1 - in October 2011
Kindly provided by Stephen Harris
Mile End Pubs history
Historical London public houses, Taverns, Inns, Beer Houses and Hotels.
The following entries are in this format:
Residents at this address.
1830/Mr Cable, Mercers arms, Jubilee place, Commercial road/../../Licensed Victuallers Association

1832/William Cable/../../../Robsons Directory

1842/Thomas Catley/../../../Robsonís Directory **

1843/Thomas Catley/../../../Post Office Directory

1848/Thomas Catley/../../../Post Office Directory ***

March 1849/Thomas Catley/Outgoing Licensee/../../Morning Advertiser

March 1849/Charles D Wilson/Incoming Licensee/../../Morning Advertiser

1850/Charles Dames Wilson/../../../P.O. Directory **

1851/Charles Dames Willson/Licensed Victualler/33/St Georges, Middlesex/Census ***
1851/Mary Ann Willson/Wife/24/Deal, Kent/Census
1851/Elizabeth Weller/Servant/17/St Georges, Middlesex/Census
1851/Sarah Daniels/Servant/25/Islington, Middlesex/Census

1856/James Sansum Fairn/../../../Post Office Directory ***

March 1860/Mary Dorton/Outgoing Licensee/../../Era

March 1860/Mary Jolly and Emma Jolly/Incoming Licensee/../../Era

July 1862/Emma Read (late Emma Joly)/Outgoing Licensee/../../East London Observer

July 1862/to her husband Henry Benjamin Read/Incoming Licensee/../../East London Observer

1871/Henry Benj Read/Licensed Victualler/39/Middlesex/Census *
1871/Jane Read/Wife/23/Surrey/Census
1871/Henry Norris Read/Son/8/Middlesex/Census
1871/Lucy Gurney/Barmaid/22/Middlesex/Census
1871/Mary Beaumont/General Servant/30/Surrey/Census
1871/John Domonie/Potman/19/Middlesex/Census

1874/Hen. Benj. Read/../../../Post Office Directory **

1874/H P Read/../../../H D Miles London & Suburban Licensed Victuallers Directory **

1881/Henry Read/Licensed Victualler, Widow/49/Middlesex/Census *
1881/Henry Read/Son, Licensed Victualler/18/Middlesex/Census
1881/Walter Read/Son/9/Middlesex/Census
1881/Annie White/Domestic Servsnt/20/Middlesex/Census
1881/Charlotte Johnson/Barmaid/39/Middlesex/Census

1882/Henry Benjamin Read/../../../Post Office Directory ***

1884/Henry B Read/../../../Post Office Directory

1891/Henry M Reade/Licensed Victualler/28/Mile End Old Town, London/Census
1891/Mary J Reade/Wife/27/St Georges, London/Census
1891/Harry L Reade/Son/2/Mile End, London/Census
1891/Louie Craig/Barmaid/20/Inverness/Census

1895/Robert Critchell Blows/../../../Post Office Directory **

1899/Robert Critchell Blow/../../../Post Office Directory

1901/Robert C Blow/Licensed Victualler, Widow/57/Ratcliffe, London/Census
1901/Florence C Blow/Daughter/13/Mile End, London/Census
1901/William R Blow/Son/12/Mile End, London/Census
1901/Stanley H Blow/Son/10/Hoxton, London/Census
1901/Leonard A Blow/Son/7/Mile End, London/Census
1901/Grace A Blow/Daughter/4/Mile End, London/Census
1901/Marie Soff/Housekeeper/38/Stepney, London/Census
1901/Ada Newton/Barmaid/22/West Ham, Essex/Census
1901/Ada Tyler/Housemaid/21/West Ham, Essex/Census

1915/Jacob Rosenfeld/../../../Post Office Directory ***



* Provided By Chris Moore

** Provided By Stephen Harris

*** Provided By Ewan