Bancroft Arms, 410 Mile End road, Mile End E1
Mile End Pubs history
Historical London public houses, Taverns, Inns, Beer Houses and Hotels.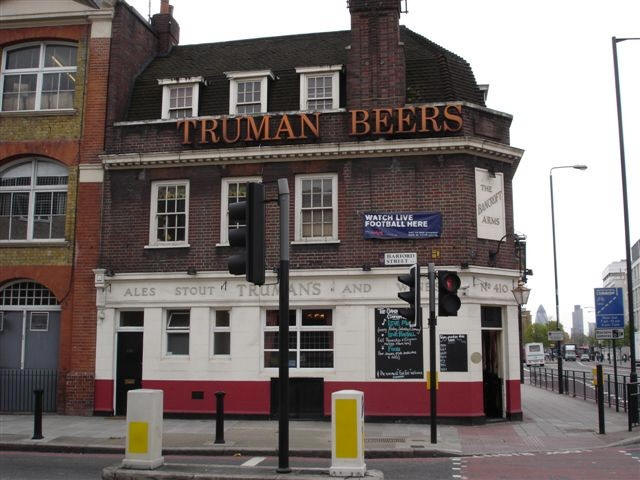 Bancroft Arms, 410 Mile End Road - in April 2006
Kindly provided by Stephen Harris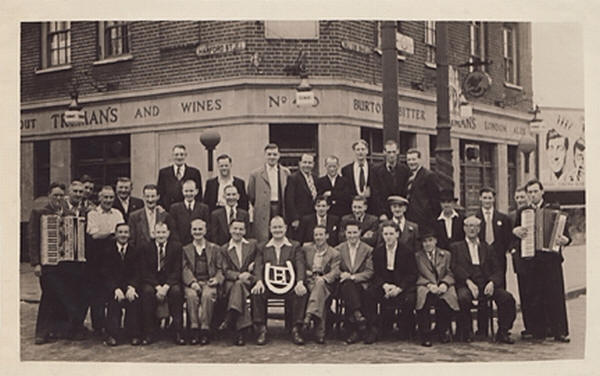 The Bancroft arms in c1950. My granddad is in amongst the crowd (front row, second from right) and appears to be heading out for the day with the boys.
Kindly provided by Kevin Carter
Residents at this address.
1844/Thos. Hazlewood/../../../Thompson's Directory **

1851/Thos. Hazlewood/../../../Kelly's Directory **

1869/Thomas Bonar Stevenson/../../../Post Office Directory

1871/Thomas B Stevenson/Wine & Beer Retailer/33/Spitalfields, Middlesex/Census
1871/Sophie Stevenson/Wife/28/Shoreditch, Middlesex/Census
1871/Annie Stevenson/Daughter/4/Mile End, Middlesex/Census
1871/Hannah Cheeseman/Mother in Law, Widow/71/Leyton, Essex/Census
1871/Mary Hodges/Domestic Servant/17/Bethnal Green, Middlesex/Census

1876/George Denne/Beer Retailer/../../P.O. Directory **

1881/Frank West/Licensed Victualler/34/Somerset/Census
1881/Mary J West/Wife/26/Somerset/Census
1881/Eleanor M West/Daughter/12/Somerset/Census
1881/Annie M West/Daughter/10/Somerset/Census
1881/George A Downing/Barman/28/London, Middlesex/Census

1882/Frank West/Beer Retailer/../../Post Office Directory

1888/Alex. Harry Mann/Beer Retailer/../../P.O. Directory **

1894/James Amiss/../../../P.O. Directory **

1895/James Amiss/Beer Retailer/../../Post Office Directory

1901/Frederick W Moyse/Beer Retailer/40/Mile End, London/Census
1901/Maria Moyse/Wife/37/Somersetshire/Census
1901/Mary A Moyse/Daughter/10/Clerkenwell/Census
1901/Fred Moyse/Son/7/Clerkenwell/Census
1901/Edward Moyse/Son/3/Mile End, London/Census
1901/William Moyse/Son/2/Mile End, London/Census
1901/Frank Moyse/Son/9 months/Mile End, London/Census
1901/H J Garnett/Barman/28/Parish of St James/Census
1901/Maria Doris/Bar Servant/28/Bethnal Green/Census

1910/Alfred Pitt/Beer Retailer/../../Post Office Directory

1916/Matthew Hy. Medcalf/Beer Retailer/../../P.O. Directory **

1917/Matthew Hy. Medcalf/Beer Retailer/../../P.O. Directory **

1921/Matthew Henry Metcalf/Beer Retailer/../../Post Office Directory

1925/James Grimmer/Beer Retailer/../../Post Office Directory

1934/James Grimmer/Beer Retailer/../../Post Office Directory

1944/Mrs Annie E Silverton/Beer Retailer/../../Post Office Directory

1983/../Bancroft Arms: 400 Mile End Road E1 : Trumans/../../Pub Directory

1991/../Bancroft Arms: 410 Mile End Road E1 : Grand Met-Trumans. /../../Pub Directory



** Provided By Stephen Harris