Search London wiki and Pub wiki history sites
All public house, restaurants, bars etc closed for the forseeable future on 20th March 2020, but this is a history site. But how about the landlords give their tenants a break, no business, then please charge them no rent.
Horn of Plenty, 588 Mile End Road, Mile End E3
Mile End Pubs history
By 1983, this pub was trading as the Horn of Plenty, but I have a note that it was "formerly called the Cornucopia". It had been rebuilt at some point between 1968 and 1974 as part of the development of the Eric Estate and might have been renamed at this time. In more recent years, the pub was renamed several more times, and closed in 2010 for conversion to restaurant use. ** This is named as the Horn of Plenty in the 1911 census return. *
Historical London public houses, Taverns, Inns, Beer Houses and Hotels.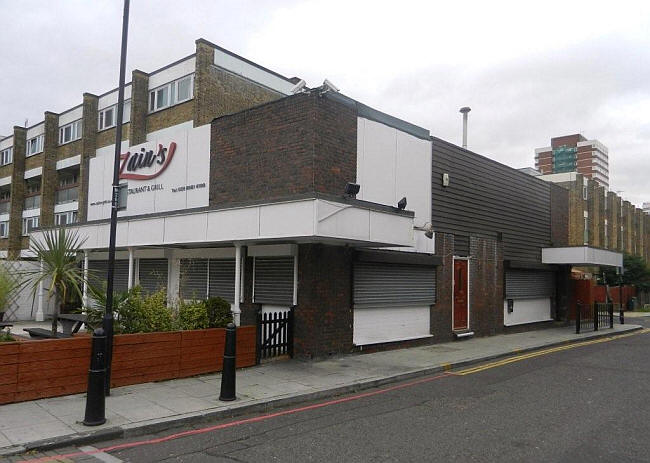 Horn of Plenty, 588 Mile End Road - in October 2011
Kindly provided by Stephen Harris
Residents at this address.
1889/William Whitehead / Grocer and Retailer of Beer, deceased / Died 14 June 1889 /../../London Gazette 30 August 1889 **

1891/Samuel Faiers/Beer Retailer/../../Post Office Directory

1894/Samuel Faiers / Beer Retailer /../../Post Office Directory **

1894/Sampson Faiers / Beerhouse Keeper /../../London Gazette, 1 May 1894 **

1895/Sampson Faiers / Beer Retailer /../../Post Office Directory **

1899/Mrs Emma Faiers/beer retailer/../../Post Office Directory *

1901/Sampson Faiers/Beer Seller/65/Suffolk/Census
1901/Emma Faiers/Wife/59/London//Census
1901/Percy Faiers/Son, Beer Seller/22/London//Census

1910/Alfred Webber/Beer Retailer/../../Post Office Directory

1911/A. Webber/beer retailer/../../Post Office Directory *

1914/Alfred Webber/Beer Retailer/../../Post Office Directory

1917/Alfred Webber / Beer Retailer /../../P.O. Directory **

1921/Alfred Webber/Beer Retailer/../../Post Office Directory

1925/George E Whessell/Beer Retailer /../../Post Office Directory

1930/Mrs Betsy Britten Tankard/Beer Retailer /../../Post Office Directory

1934/Arthur Williams / Beer Retailer /../../Kelly's Directory **

1936/Joseph Goss/Beer Retailer /../../Post Office Directory

1983/../HORN OF PLENTY, 588 Mile End Road E3. Allied Breweries. /../../Pub Directory

1991/../Horn of Plenty: 588 Mile End Road E3. : Ind Coope Taylor Walker. /../../Pub Directory



** Provided By Stephen Harris