Search London wiki and Pub wiki history sites
All public house, restaurants, bars etc closed for the forseeable future from 20th March 2020, but this is a history site.
Plough, 606 Mile End Road, Mile End E3
Mile End Pubs history
The address is also given as 1 New Grove East in the 1851 census return. * At New Grove, Mile End Road in 1856; This pub is now demolished. An 1870 painting of this pub by J. Wilson is reproduced in 'London's East End – Life & Traditions'. ** The Plough was still open until at least 1940, and the address not listed by 1942.

Historical London public houses, Taverns, Inns, Beer Houses and Hotels.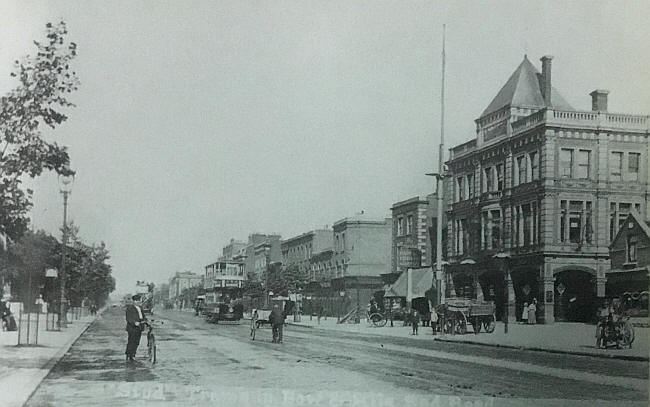 Plough, Mile End Road - in 1908
Kindly provided by Jean Ellis
Residents at this address.
Extract from Old Bailey Trial Record No t17850406-68 - 6th April 1785 Trial of Mary Pile ["Female highwayman"] *+

Abraham Abbot sworn. I lodge at the Plough, Mile-end .

Who keeps the Plough? - William Webb .

September 1791/Will of William Webb/Plough, Mile end old town/../../Access to Archives **

1803/Thomas Merrington/Victualler/../../Sun Fire Office records, held at Guildhall Library **

1804/James Rant/Victualler/../../Sun Fire Office records, held at Guildhall Library **

1805/James Rant, Plough Inn, Mile End/../../Holdens Directory

1828/Noeth/../../../Sun Fire Office records, held at Guildhall Library **

1833-34/James Camp, Plough, New grove, Mile end road/../../Pigot's Directory

1839/George Liddibard/../../../Pigot's Directory **

1841/Nicholas Neale/../../../Post Office Directory *

1842/Nicholas Neale/../../../../Robson's Directory **

1843/George Liddiard/../../../Post Office Directory *

1847/George Lidiard / Outgoing Licensee /../../../The Era, Sunday 28 March 1847 **

1847/Thomas Dosson / Incoming Licensee /../../../The Era, Sunday 28 March 1847 **

1848/George Lidiard/../../../Post Office Directory *

1850/John Garrett/../../../P.O. Directory **

1851/John Garrett/../../../Kelly's Directory **

1851/John Garrett/Licensed Victualler/47/Frome, Somerset/Census *
1851/Caroline Garrett/Wife/40/Marylebone, Middlesex/Census
1851/Francis C. Garrett/Son/6/Shoreditch, Middlesex/Census
1851/Emma M. Garrett/Daughter/5/Shoreditch, Middlesex/Census
1851/Henry T. Garrett/Son/3/Stepney, Middlesex/Census
1851/Fanny Garrett/Daughter/2/Stepney, Middlesex/Census
1851/Martha Cochrane/Aunt (Widow)/72/Devizes, Wiltshire/Census
1851/Harriet Roddenton/House Servant/21/Malden, Essex/Census
1851/George Rest/Potman/21/Shoreditch, Middlesex/Census

May 1852/John Garratt/ Outgoing Licensee /../../The Era

May 1852/John Bare/ Incoming Licensee /../../The Era

1856/John Bare/../../../Post Office Directory

July 1861/John Bare/Outgoing Licensee/../../Era

July 1861/Thomas Webb/Incoming Licensee/../../Era

1869/Thomas Webb/../../../Post Office Directory

1871/Thomas Webb/Publican/48/Barking, Essex/Census
1871/Louisa Webb/Wife/48/Mile End, Middlesex/Census
1871/Louisa Webb/Daughter/22/Mile End, Middlesex/Census
1871/Sarah Webb/Daughter/16/Mile End, Middlesex/Census
1871/Marian Webb/Daughter/13/Mile End, Middlesex/Census
1871/Thomas Webb/Son/10/Mile End, Middlesex/Census
1871/James Winkfield/Potman/19/../Census
1871/Rose Gomm/Domestic Servant/15/Bristol, Somerset/Census

1876/Thomas Webb/../../../P.O. Directory **

March 1877/Thomas Webb/Outgoing Licensee/../../East London Observer

March 1877/James Webb and Godwin Samuel Johnson/Incoming Licensee/../../East London Observer

12th May 1877/James Webb and Goodwin S Johnson/Outgoing Licensees/../../East London Observer +

12th May 1877/Louisa Webb/Incoming Licensee/../../East London Observer +

1881/Sophie E Keen/Housekeeper To Publican/38/Paddington, Middlesex/Census
1881/Edwin J Soffer/Manager To Publican/23/St Lukes, Middlesex/Census
1881/William Bishop/Barman/18//Census
1881/Edward H Harper/Barman/16/Mile End Old Town, Middlesex/Census
1881/Elizabeth Pope/General Servant Domestic/24/Limehouse, Middlesex/Census
1881/George Taylor/Potman/29/Norwich, Norfolk/Census

1882/Frederick Russell/../../../Post Office Directory

1884/Louisa Webb/../../../Post Office Directory

1888/Mrs Louisa Webb/../../../P.O. Directory **

1891/Rochester & Miller/../../../Post Office Directory

1894/Edward Rochester/../../../P.O. Directory **

1895/Edward Rochester/../../../Post Office Directory

1899/John George Cathie/../../../Post Office Directory

1901/Charles Crew/Licensed Victualler/35/Battersea, London/Census
1901/Alice Crew/Wife/35/St Pancras, London/Census
1901/John Crew/Son/10/Kilburn, London/Census
1901/Louie Crew/Daughter/7/Isliongton, London/Census
1901/Louisa Crew/Mother, Widow/70/Battersea, London/Census
1901/Sam Wilkinson/Barman/23/Stratford, Essex/Census
1901/Alfred Sparrow/Barman/21/Kenninghall, London/Census
1901/Hy Knott/Barman/19/Bermondsey, London/Census
1901/Geo Robinson/Barman/20/Marylebone, London/Census
1901/Wm Doe/Potman/26/St Georges, London/Census
1901/Mary Roach/Barmaid/19/Bow, London/Census
1901/Terrie Allday/Housemaid/25/Canning Town, London/Census
1901/Alice Gorman/Cook/23/Shepherds Bush, London/Census

1910/Charles James Crew/../../../Post Office Directory

1915/Max Lederman/../../../Post Office Directory

1917/Max Lederman/../../../P.O. Directory **

1921/Harris Strikiwsky/../../../Post Office Directory

In 1924, Harris Strikowsky, a victualler of 169 Western road, Brighton, and formerly of the Plough, 606 Mile end road changes his name to Jack Harris by deed poll according to the London Gazette

1927/David Chapman/../../../Post Office Directory

1934/Charles William Arnett/../../../Post Office Directory *

1939/Harold Godfrey Best/Licensed Victuallers Manager/Born 23 Dec 1896/../Electoral roll
1939/Daisy Best/Licensed Victuallers Manageress/Born 4 March 1905/../Electoral roll
1939/Michael A Cahill/Bar Cellerman/Born 5 Feb 1913/../Electoral roll
1939/Eugene G Murphy/Barman/Born 9 Sep 1913/../Electoral roll
1939/Thomas Smalley/Barman/Born 16 April 1909/../Electoral roll
1939/Greta Neagle/Barmaid & Waitress/Born 6 April 1906/../Electoral roll
1939/Annie A Hooker/Barmaid & Waitress/Born 28 September 1906/../Electoral roll
1939/Olive V Smith/Cook/Born 23 June 1897/../Electoral roll
1939/Dorothy C Abley/Housemaid/Born 1 June 1920/../Electoral roll

1940/Anchor Taverns Ltd/../../../Post Office Directory



* Provided By Ewan

*+ Provided By Bernard Guignard

** Provided By Stephen Harris