Search London wiki and Pub wiki history sites
All public house, restaurants, bars etc closed for the forseeable future on 20th March 2020, but this is a history site
Romford Arms, 3 Heneage Street , Spitalfields E1
Mile End Pubs history
This pub was called the Romford Arms, the Pride of Spitalfields name being modern, adopted in around 1985. ** Its proprietor, Pat, was an electrical engineer by profession who became involved in anti-racist activity in Brick Lane during the early 1980s and decided to take over the running of The Romford Arms (as it was) in 1983. After some refurbishments he changed the name to The Pride Of Spitalfields in early 1984 and I remember him explaining to me the original name related to the fact that the pub used to serve beer supplied by the Star Brewery in Romford. After Pat took over he switched suppliers and the pub served Fullers plus a guest ale and the name change reflected the fact that their flagship pint - as well as Patís personal favourite Ė was London Pride. So this is just to say that the pubís name change happened around March/April of 1984. * Still open for business in 2018.
Historical London public houses, Taverns, Inns, Beer Houses and Hotels.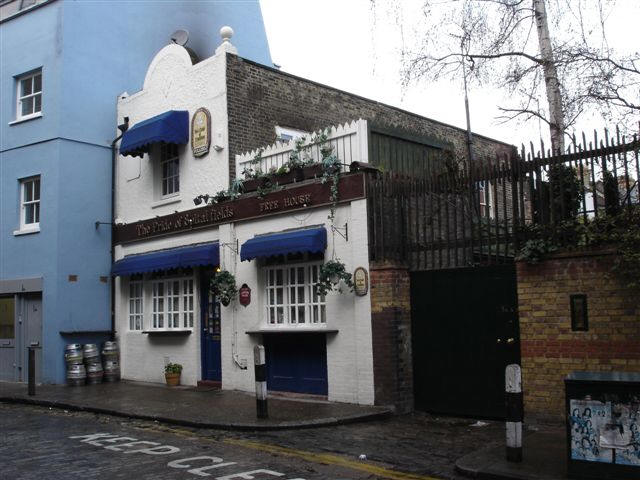 Pride of Spitalfields, 3 Heneage Street - in May 2006
Kindly provided by Stephen Harris
Residents at this address.
1891/Stewart James/Beer Retailer/../../Post Office Directory **

1891/Herbert Robertson/Retailer of Beer & Tobacco/25/St Pancras, London/Census
1891/Harriette Robertson/Wife/24/Clapham, London/Census

1895/John Joseph Lattimer / Beer Retailer /../../../Post Office Directory **

1899/George Waldman/Beer Retailer/../../Post Office Directory **

1900/John Josiah Lattimer / Beer Retailer /../../../P.O. Directory **

1901/John Josiah Lattimer/Beer Retailer/../../Post Office Directory **

1910/Edward Wheeler/Beer Retailer/../../Post Office Directory **

1911/Edward Wheeler/Beer House Keeper/40/Aylesbury, Buckinghamshire/Census
1911/Rachel Wheeler/Wife/39/Woolwich, Kent/Census
1911/Florrie Wheeler/Daughter/11/Bethnal Green/Census
1911/Lillie Wheeler/Daughter/10/Bethnal Green/Census
1911/William Wheeler/Son/6/Bethnal Green/Census
1911/Clara Glibbery/Servant/32/Bethnal Green/Census

1912/Edward Wheeler/Beer Retailer/../../Post Office Directory **

1915/Edward Wheeler/Beer Retailer/../../Post Office Directory **

1921/Edward Wheeler/Beer Retailer/../../Post Office Directory **

1931/Edward Wheeler/Beer Retailer/../../Post Office Directory **

1934/Edward Wheeler/Beer Retailer/../../Kellys Directory **

1938/Edward Wheeler/Beer Retailer/../../Post Office Directory

1944/Edward Wheeler/Beer Retailer/../../Post Office Directory

1983/../Romford Arms: 3 Heneage Street E1 : Allied Breweries. /../../Pub Directory

1991/../Pride of Spitalfields: 3 Heneage Street. E1 : Formerly the Romford Arms./../../Pub Directory



* Provided by Matthew Diamond

** Provided by Stephen Harris