Search London wiki and Pub wiki history sites
All public house, restaurants, bars etc closed for the forseeable future from 20th March 2020, but this is a history site.
Prince of Wales, 102 Grafton street, Mile End E1
Mile End Pubs history
The address is listed as 60 Grafton Street in 1861, prior to street renumbering. * Converted to residential use. Due to street renaming, this building's address is now 102 Grantley Street. ***
Historical London public houses, Taverns, Inns, Beer Houses and Hotels.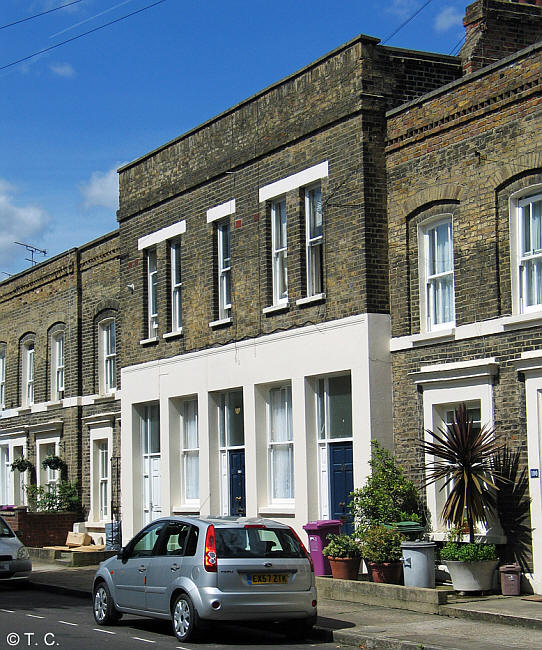 Prince of Wales, 102 Grafton Street, E1 - in June 2014
Kindly provided by Tris
Residents at this address.
2nd July 1860/Joseph Lucas/Outgoing Licensee/../../East London Observer +

2nd July 1860/Frances Stock/Incoming Licensee/../../East London Observer +

1861/Frances Stocks/Victualler (Widow)/47/Findon, Sussex/Census *
1861/Selina Watts/Bar Maid/26/Trowbridge, Wiltshire/Census
1861/Charles Morris/Pot Boy/16/Bethnal Green, Middlesex/Census

May 1863/Frances Stokes/Outgoing Licensee/../../Era

May 1863/Martha Roach/Incoming Licensee/../../Era

July 1864/Martha Roach/Outgoing Licensee/../../Era

July 1864/Henry Wickers/Incoming Licensee/../../Era

1866/Henry Wickers/../../../../P.O. Directory **

November 1865/Henry Wickers/Outgoing Licensee/../../Era

November 1865/Alexander John Riddick/Incoming Licensee/../../Era

May 1869/James Wilkinson/Outgoing Licensee/../../Era

May 1869/Albert Thomas Carter/Incoming Licensee/../../Era

November 1870/Albert Thomas Carter/Outgoing Licensee/../../Era

November 1870/Mary Kitt/Incoming Licensee/../../Era

May 1871/Mary Kitt/Outgoing Licensee/../../East London Observer

May 1871/Richard John Chapman/Incoming Licensee/../../East London Observer

March 1872/Richard John Chapman/Outgoing Licensee/../../Era

March 1872/Herbert Ernest Tidd/Incoming Licensee/../../Era

October 1873/Herbert Ernest Tidd/Outgoing Licensee/../../East London Observer

October 1873/Henry Prevost/Incoming Licensee/../../East London Observer

1882/Henry Prevost/../../../Post Office Directory *

1884/Henry Prevost/../../../Post Office Directory *

1895/Thomas Murphy/../../../Post Office Directory

1899/Peter Yates/../../../Post Office Directory

1901/William Blunden/Licensed Victualler/26/Tottenham, Middlesex/Census
1901/Alice Blunden/Wife/28/Gloucestershire/Census
1901/Edith Blunden/Daughter/2/Cheshunt, Herts/Census

1910/Mrs Florence Finch/../../../Post Office Directory

1915/Peter Reeves/../../../Post Office Directory *

1921/George L. Last/../../../Hughes Directory *

1927/Joseph Mendoza/../../../Hughes Directory



+ Provided by Friends of Tower Hamlets Cemetery Park

* Provided By Ewan

** Provided by Stephen Harris

*** Provided by Tris

Provided By Kevan