Railway Hotel, 30 Grove road, Mile End E3
Mile End Pubs history
Historical London public houses, Taverns, Inns, Beer Houses and Hotels.
At Trentham Terrace, Grove Road in 1871 census and earlier. In later years, this pub was called the Railway Tavern. It closed in 2000 and has been converted to residential use. **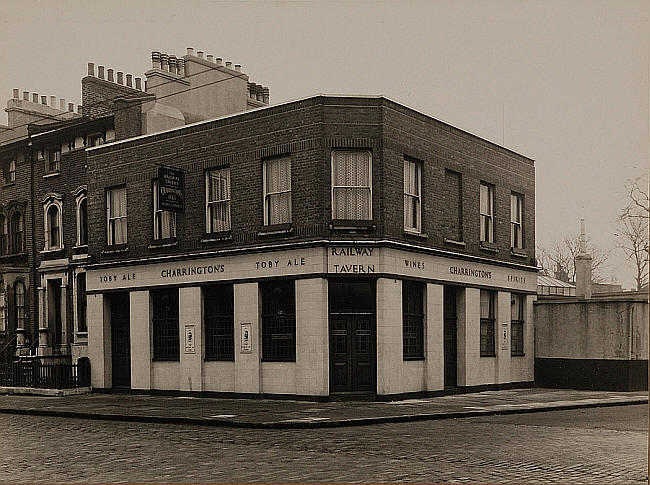 Railway Tavern, 30 Grove road, Mile End E3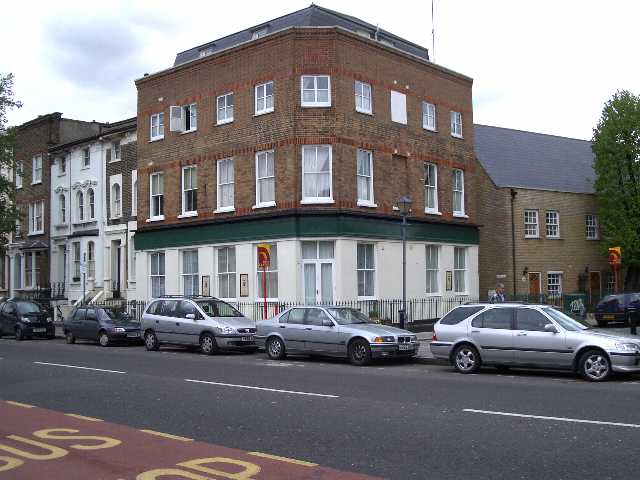 Railway Tavern, in recent years
Kindly provided by Philip Mernick
Residents at this address.
July 1864/George Pratt/Outgoing Licensee/../../Era

July 1864/Alfred Walters/Incoming Licensee/../../Era

1867/Alfred Walters/../../../Post Office Directory

1869/Alfred Walters/../../../Post Office Directory

1871/Alfred Walters/Licensed Victualler/40/Shoreditch, Middlesex/Census
1871/Charlotte L Walters/Wife/37/St Georges East, Middlesex/Census
1871/Amelia C Warwick/Daughter in Law/9/St Georges East, Middlesex/Census
1871/Eliza Stuselay/Barmaid/23/Limehouse, Middlesex/Census
1871/Elizabeth Booking/Barmaid/20/Mile End, Middlesex/Census
1871/Mary Bawcombe/Cook/26/City of London/Census
1871/Mary Bradley/Housemaid/26/Stepney, Middlesex/Census
1871/Henry Kemp/Potman/25/Strand, Middlesex/Census

March 1872/Alfred Walters/Outgoing Licensee/../../Era

March 1872/Robert Riches/Incoming Licensee/../../Era

1881/Robert Riches/Licensed Victualler/55/Thetford, Norfolk/Census
1881/Susannah A Riches/Wife/48/Heydon, Essex/Census
1881/Herbert Riches/Son, Architect & Surveyor Articled Pupil/17/City Of, London, Middlesex/Census
1881/Alice Riches/Daughter/15/City Of, London, Middlesex/Census
1881/Robert Riches/Son/14/City Of, London, Middlesex/Census
1881/Susannah Morgan/Barmaid/32/City Of, London, Middlesex/Census
1881/Edward Fuller/Barman/27/Brighton, Sussex/Census
1881/Thomas Charlton/Potman/22/Limehouse, Middlesex/Census
1881/Annie Sire/Cook/30/Ipswich, Suffolk/Census

1882/Robert Riches/../../../Post Office Directory

1884/Henry Tippett/../../../Post Office Directory

1891/Robert Lamb/../../../Post Office Directory

1891/Robert Lamb/Licensed Victualler/43/Scotland/Census
1891/Martha Lamb/Wife/25/Bethnal Green, London/Census
1891/Robert C Lamb/Son, Cabinet Makers Apprentice/15/Hackney, London/Census
1891/Thomas D Lamb/Son/2/Leytonstone, Essex/Census
1891/John R Lamb/Son/1/Mile End Old Town, London/Census
1891/Jane Lamb/Sister, Dressmaker/33/Scotland/Census
1891/Ada F Burden/Barmaid/22/Haymarket, London/Census
1891/Nellie Burgin/Barmaid/18/Penge, Surrey/Census
1891/Phoebe L Povey/Domestic Servant/19/Mile End Old Town, London/Census
1891/Susan Puiderai/Nursemaid/13/Bethnal Green, London/Census
1891/Mary A Dixon/Mother in Law, Retired Draper/64/St Lukes, London/Census

1895/Robert Lamb/../../../Post Office Directory

1899/George Davies/../../../Post Office Directory

1901/George Davies/Licensed Victualler (Proprietor Ralway Tavern)/29/Lewisham, London/Census
1901/Linda Myra/Wife/28/Poplar, London/Census
1901/Florence Linda/Daughter/3/Mile End Old Town, London/Census
1901/Sarah Kincey/Cook/32/Limehouse, London/Census
1901/Elizabeth Askam/Barmaid/26/Old Ford, London/Census
1901/Caroline E Bower/Barmaid/32/Dalston, London/Census

1906/George Davies/../../../Post Office Directory *

1910/Mrs Amelia Ellen Coveney/../../../Post Office Directory

1915/Mrs Amelia Ellen Coveney/../../../Post Office Directory

1921/Mrs Louisa Martha Cartledge/../../../Post Office Directory *

1927/Henry Thomas Yates/../../../Post Office Directory *

1934/Albert Edward Parrish/../../../Kelly's

1938/Albert Edward Parrish/../../../Post Office Directory *

1939/Mrs Parrish/../../../Freehold

1940/Mrs Eleanor W. Parrish/../../../Post Office Directory *

1944/Mrs Beatrice Biswell/../../../Post Office Directory *

1948/Mrs Biswell/../../../Freehold

1949 - 1965/Mrs V N Green/Daughter/../../Freehold

1966/F F Foley/../../../Freehold



* Provided By Ewan