Search London wiki and Pub wiki history sites
All public house, restaurants, bars etc closed for the forseeable future from 20th March 2020, but this is a history site.
Royal Duchess, 551 - 553 Commercial road, Mile End E1
Mile End Pubs history
It was re-built after World War II as the Royal Duchess, on a nearby site given the address 543 Commercial Road and opened Monday 16th September 1963 replacing a house of the same name next door. I'm not sure if this name was in use before the war - it stands opposite the Royal Duke. ** Closed in 2015 and demolished circa 2017 for housing. ***
Historical London public houses, Taverns, Inns, Beer Houses and Hotels.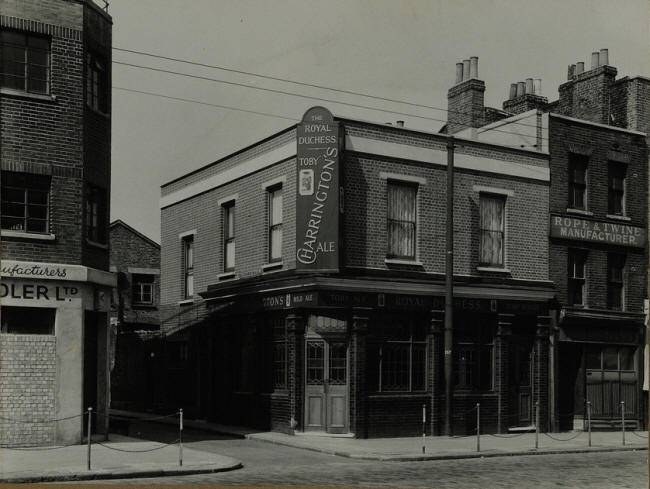 Royal Duchess, 553 Commercial Road, Stepney E1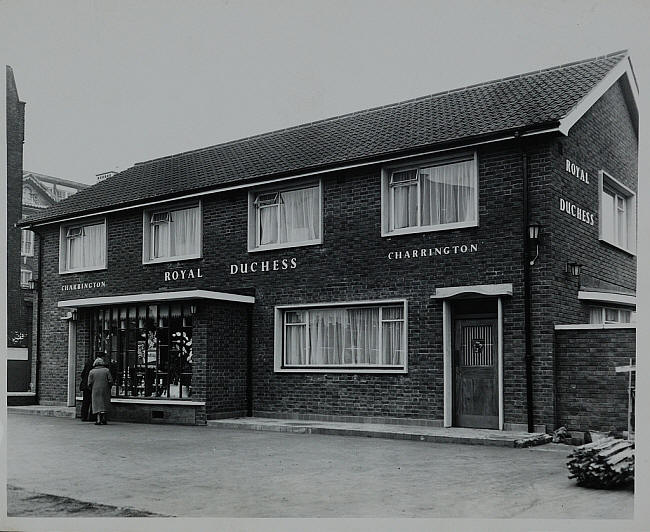 Royal Duchess, 543-547 Commercial Road, Stepney E1 - opened 1963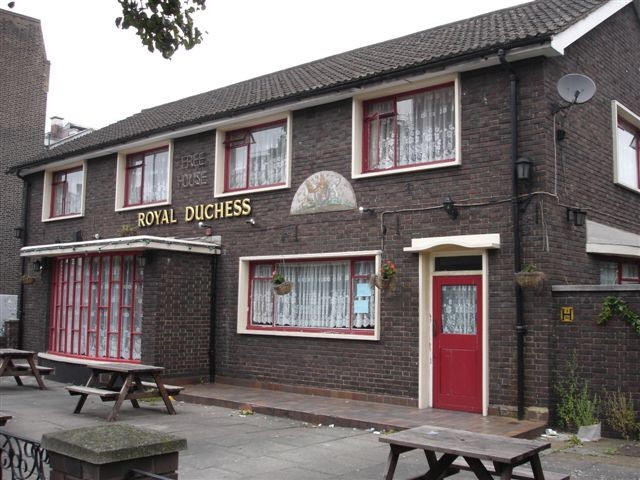 Royal Duchess, 551-553 Commercial Road, E1 - in September 2006
Kindly provided by Stephen Harris
Residents at this address.
1882/John Chas Hudson/Beer Retailer/../../Post Office Directory

1891/Roland William Tidder/Beer Retailer/../../Post Office Directory **

1891/Rowland W Tidder/Beer Retailer/54/Whitechapel, London/Census
1891/Mary Tidder/Wife/44/North Wold, Norfolk/Census
1891/Ralph A Tidder/Adopted Son/5/Mile End, London/Census
1891/Lily Scrivinger/General Servant/16/Mile End, London/Census

1895/Thomas Collins/Beer Retailer/../../Post Office Directory

1899/Albert Cowdrey/Beer Retailer/../../Post Office Directory

1901/Edwin S Avenell/Beer Retailer/27/Islington, London/Census
1901/Lillian Avenell/Wife/23/Stratford, Essex/Census
1901/William Avenell/Son/3/St Georges, London/Census
1901/Mary Harwood/Domestic Servant/17/St Georges, London/Census
1901/Peter Featherstone/Visitor, General Labourer/46/Middlesborough/Census

1903/Edwin Spencer Avenell/Beer Retailer/../../Post Office Directory

1904/Edwin Spencer Avenall / Licensee /../../Proceedings of the Old Bailey **

1910/Edwin Spencer Avenell/Beer Retailer/../../Post Office Directory

1914/Edwin Spencer Avenell/Beer Retailer/../../Post Office Directory

1917/John William Hollis/Beer Retailer/../../Post Office Directory

1921/Robert Peever/Beer Retailer/../../Post Office Directory **

1923/Robert Peever/Beer Retailer/../../Post Office Directory **

1934/Robert Peever/Beer Retailer/../../Kellys Directory **

1938/Cockett/../../../Freehold

1940/Charles Rd Cockett/Beer Retailer/../../Post Office Directory **

1942/John J Sage/Beer Retailer/../../Post Office Directory

1944/John J Sage/Beer Retailer/../../Post Office Directory **

1945 - 1950/Sage/../../../Freehold

1948/John J Sage/Beer Retailer/../../Post Office Directory **

1951/Mrs A Sage/../../../Freehold

1952 - 1954/H Moore/../../../Freehold

1955 - 1958/Mrs H L Gore, C T Brand/../../../Freehold

1959 - 1963/Andre Jaques Murray/../../../Freehold

1983/../Royal Duchess: 543 / 547 Commercial Road E1 : Bass Charrington./../../Pub Directory

1991/../Royal Duchess: 543 / 547 Commercial Road E1 : Bass Charrington. /../../Pub Directory



** Provided by Stephen Harris

*** Provided by Tris