Search London wiki and Pub wiki history sites
All public house, restaurants, bars etc closed for the forseeable future from 20th March 2020, but this is a history site.
Royal George, 110 Vallance Road, Mile End E1
Mile End Pubs history
The entries in 1861 and earlier are for 18 Charles Street, and it is named as the Blue Post in the 1861 census return. This may possibly be the same pub, as it is an earlier name for the street. * At 110 Bakers Row in 1895 & earlier. This pub was rebuilt in the 1950s and the address was latterly given as 7 Selby Street. It is now closed and in use as a cafe (2010). **
Historical London public houses, Taverns, Inns, Beer Houses and Hotels.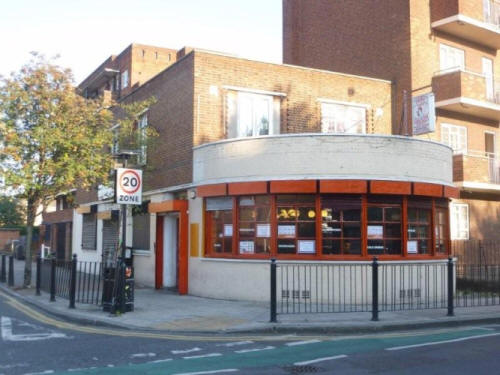 Royal George, 110 Vallance Road, London, E1 - in September 2010
Kindly provided by Stephen Harris
The following entries are in this format:
Residents at this address.
1856/Benjamin Cotton/beer retailer, 18 Charles Street/../../Post Office Directory *

1861/William Weaver/Beer Retailer, Blue Post, 18 Charles Street/40/St Sepulchre, Middlesex/Census
1861/Lydia Weaver/Wife/40/Bethnal Green, Middlesex/Census
1861/William Weaver/Son/7/Sydney, New South Wales/Census
1861/Lydia Weaver/Daughter/5/Sydney, New South Wales/Census
1861/Charles Weaver/Son/1/St Clement Danes, Middlesex/Census
1861/Emma Weaver/Daughter/6 months/Mile End New Town, Middlesex/Census

1882/Henry Voght/beer retailer/../../Post Office Directory *

1891/Walter Boldon/Beer Retailer/../../Post Office Directory

1891/Walter Bolton/Beer Retailer/20/Bethnal Green, London/Census

1895/Harry Friswell/Beer Retailer/../../Post Office Directory

1899/Harry Friswell/Beer Retailer/../../Post Office Directory

1901/Henry Friswell/Beer Retailer & Cabinet Maker/42/Mile End New Town, London/Census
1901/Clara K Friswell/Wife/29/Romford, Essex/Census
1901/Charles W Friswell/Son, Potman & Barman/17/Mile End New Town, London/Census
1901/Annie V Friswell/Daughter/8/Mile End New Town, London/Census
1901/Edward Z Friswell/Son/3/Mile End New Town, London/Census
1901/Florence C Friswell/Daughter/1/Mile End New Town, London/Census
1901/Ada E Friswell/Daughter/3 months/Mile End New Town, London/Census
1901/Ada F Wingrove/Sister in Law, Barmaid/24/Plaistow, London/Census

1910/Harry Friswell/Beer Retailer/../../Post Office Directory

1911/Henry Friswell/Beer Retailer/52/Mile End New Town, London/Census
1911/Clara Kate Friswell/Wife, Assistant/40/Romford, Essex/Census
1911/Annie Friswell/Daughter, Assistant/15/Mile End New Town, London/Census
1911/Edward George Friswell/Son/13/Mile End New Town, London/Census
1911/Florence Clara Friswell/Daughter/11/Mile End New Town, London/Census
1911/Ada Elizabeth Friswell/Daughter/10/Mile End New Town, London/Census
1911/Henry Friswell/Son/6/Mile End New Town, London/Census
1911/Robert Friswell/Son/5/Mile End New Town, London/Census
1911/Rose Mae Friswell/Daughter/3/Mile End New Town, London/Census
1911/Elizabeth Kate Friswell/Daughter/1/Mile End New Town, London/Census
1911/Rose Wingrove/Barmaid/22/East Ham, Essex/Census

1915/Harry Friswell/Beer Retailer/../../Post Office Directory

1921/Henry Friswell/beer retailer/../../Post Office Directory *

1929/Harry Friswell/Beer Retailer/../../Black Eagle Journal

1934/Mrs Clara Friswell/Beer Retailer/../../Kellys Directory

1938/Mrs Clara Friswell/Beer Retailer/../../Post Office Directory

1942/Mrs Clara Friswell/beer retailer/../../Post Office Directory *

1944/Mrs Clara Friswell/Beer Retailer/../../Post Office Directory

1956/Mrs Clara Friswell/Beer Retailer/../../Black Eagle Journal

Mrs C K Friswell, wife of the late Mr Henry Friswell, died on April 8th, 1968 at 94 years. She was living with her Son in Law, Harry Matthews at the time of her death. Her late husband had the licence of the Royal George from 1892 to his death in 1929, when she retained the licence until her retirement in 1956 - Black Eagle Journal ***

1983/../Royal George: 7 Selby Street E1 : Trumans/../../Pub Directory

1988/R Brown, Royal George, 7 Selby Street,Whitechapel,E1 : Watney Truman/../../../Pub Directory

1990/R Brown, Royal George, 7 Selby Street,Whitechapel,E1 : Watney Truman/../../../Pub Directory

1991/../Royal George: 7 Selby Street E1 : Grand Met-Trumans/../../Pub Directory



* Provided By Ewan

** Provided By Stephen Harris

*** Provided By Alex Wilkinson