Search London wiki and Pub wiki history sites
Sidney Arms, 131 Sidney Street, Mile End E1
Mile End Pubs history
The photograph on the 3rd January 1911 depicts the Sidney Arms at 131 Sidney street, (landlord William Walker) taken during the famous Siege of Sidney street.
Scots Guards based at the Tower of London were called in to support the police against Latvian anarchists and Home Secretary Winston Churchill visited the scene, (he is the first man in the top hat by the wooden door). The events were filmed by Pathe News and shown in cinemas the next day.
The pub closed some time in the mid 1930s, but much of Sidney street was destroyed during WW2. If you compare the 1941 and 1942 directories, many buildings disappear during this time. ***

A listing of historical public houses, Taverns, Inns, Beer Houses and Hotels in Mile End, East London - in East London.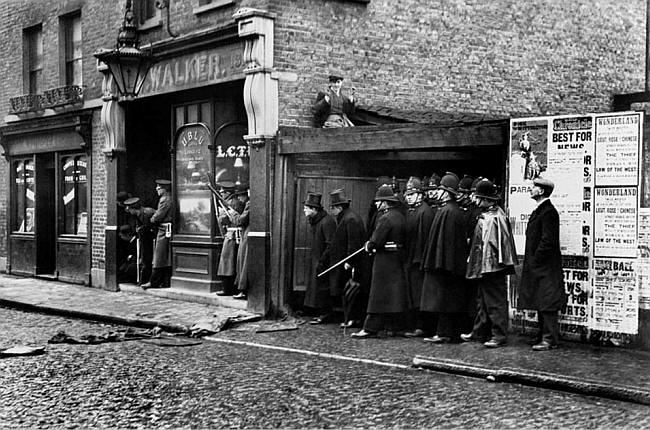 Sidney Arms, 131 Sidney Street, Mile End E1 - 3rd January 1911 with landlord William Walker, during the famous Siege of Sidney street.
Kindly provided by Vincent O'Loughlin
Residents at this address.
1869/Charles Ogden/../../../Post Office Directory **

1881/Allen Benson/Beer House Keeper/27/bethnal Green, Middlesex/Census
1881/Ellen Benson/Wife/27/Falmouth, Cornwall/Census

1882/Allen Benson/Beer Retailer/../../Post Office Directory

1891/Thomas Hawkins/Beer Retailer/../../Post Office Directory

1891/Thomas Hawkins/Beer House Keeper/42/Wapping, London/Census
1891/Robert W Start/Potman/36/Mile End Old Town, London/Census

1895/Robert William Start / Beer Retailer /../../Post Office London Directory **

1899/Robert William Start / Beer Retailer /../../Post Office London Directory **

1901/Robert Start/Beer House Keeper/49/Mile End, London/Census
1901/Sophia Start/Wife/33/Mile End, London/Census
1901/Robert Start/Son/9/Mile End, London/Census
1901/John Start/Son/7/Mile End, London/Census
1901/Sophia Start/Daughter/11/Mile End, London/Census
1901/James Warboys/Potman Barman/23/Bethnal Green, London/Census
1901/Amelia Wright/Domestic Servanr/22/Mile End, London/Census

1910/William Walker/Beer Retailer/../../Post Office Directory

1911/William Walker/Beer Retailer/33/Shadwell, London/Census
1911/Amelia Walker/Wife/34/Bethnal green, London/Census
1911/Ellen Eliza Walker/Daughter/8/Shadwell, London/Census
1911/Frederick William Walker/Son/6/Shadwell, London/Census
1911/Eliza Susan Walker/Daughter/3/Shadwell, London/Census
1911/Joshua Ridwell/Potman/31/Whitechapel, London/Census

1914/William Walker/Beer Retailer/../../Post Office Directory

1921/William Walker/Beer Retailer/../../Post Office Directory

1934/Frederick William Walker/Beer Retailer/../../Kellys Directory



** Provided By Stephen Harris

*** Provided By Vincent O'Loughlin