Search London wiki and Pub wiki history sites
All public house, restaurants, bars etc closed for the forseeable future from 20th March 2020, but this is a history site.
White Swan, 229 Mile End road, Mile End E1
Mile End Pubs history
This pub was present by 1750; aka the Swan in 1856 & 1881; The White Swan is the prominent building three from the left in the photo. It is now demolished **
Historical London public houses, Taverns, Inns, Beer Houses and Hotels.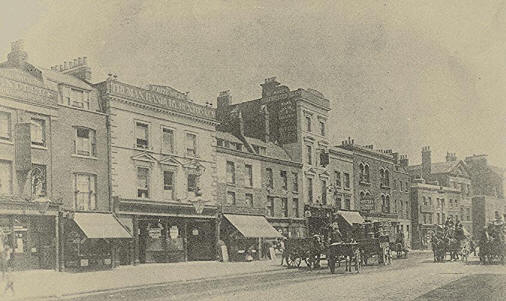 White Swan, 229 Mile End Road, E1 - in 1910
Kindly provided by Stephen Harris
Residents at this address.
1805/Peter Newbold, Swan, Mile End/../../Holdens Directory

1829/Thomas Grout, White Swan, Mile End road/../../Robsons Directory

1832/J Grant, White Swan/../../Robsons Directory

1836/Thomas Grout, White Swan, Mile End road/../../Pigotís Directory

1839/Thomas Grout/../../../Pigotís Directory **

1842/T Grout, White Swan/../../Robsonís Directory **

1844/Thomas Grout/../../../Thompsonís Directory **

1851/Thomas Spurging/../../../Kelly's

1852/Thomas Spurging/../../../Watkins Directory **

November 1852/Edward Edwards and _ Phillips, assignees of Thomas Spurging/Outgoing Licensee/../../Era

November 1852/Joseph Parker/Incoming Licensee/../../Era

1856/John Harrison/../../../Post Office Directory

March 1860/Thomas Wildash/Outgoing Licensee/../../Era

March 1860/Alfred Paine/Incoming Licensee/../../Era

1861/Alfred Paine/Victualler/30/Margate, Kent/Census *+
1861/Amelia Paine/Wife/29/Westminster, Middlesex/Census
1861/Alfred Paine/Son/6/Lambeth, Surrey/Census
1861/Amelia Paine/Daughter/11/Lambeth, Surrey/Census
1861/Alice M. Paine/Daughter/2/Lambeth, Surrey/Census
1861/Edward T. Paine/Son/1/Stepney, Middlesex/Census
1861/Eliza A. Matthews/Barmaid/16/Bethnal Green, Middlesex/Census
1861/Eliza A. Bailey/Shopwoman/23/../Census
1861/Martha E. Smith/Servant/18/Bethnal Green, Middlesex/Census
1861/John Aldridge/Waiter & Potman/20/Stepney, Middlesex/Census

January 1864/Alfred Paine/Outgoing Licensee/../../East London Observer +

January 1864/George Jacobs/Incoming Licensee/../../East London Observer +

1864/George Jacobs/ Outgoing Licensee /../../The Era, 22 May 1864 *

1864/Thomas Middleton Marshall/ Incoming Licensee /../../The Era, 22 May 1864 *

May 1866/Thomas M Marshall/Outgoing Licensee/../../Era

May 1866/Henry Turner/Incoming Licensee/../../Era

1869/Harry Tucker/../../../Post Office Directory

1874/H Tucker/../../../H.D. Miles London & Suburban Licensed Victuallers' Directory **

1874/John Richard Vinsun / Victualler, sued as ĎJames Richardsí /../../London Gazette, 16 June 1874 **

1875/James Richards/../../../P.O. Directory **

1875/Robert McIan Templeton / Licensed Victualler /../../London Gazette, 3 August 1875 **

August 1875/Robert M'Ian Templeton/Outgoing Licensee/../../East London Observer

August 1875/Richard William Motion/Incoming Licensee/../../East London Observer

21st October 1876/Richard W Motion/Outgoing Licensee/../../East London Observer +

21st October 1876/James Escott/Incoming Licensee/../../East London Observer +

1881/William Rose/Publican/28/St Georges East, Middlesex/Census
1881/Sarah Rose/Wife/27/Nuneaton, Warwick/Census
1881/William Frank Webb/Barman/14/Hackney, Middlesex/Census
1881/William T Whittaker/Barman/18/Blackfriars, Surrey/Census
1881/Frederick J Bellamy/Barman/23/Deptford, Kent/Census
1881/Sarah B Greenwood/Domestic Servant/15/Stoke Newington, Middlesex/Census
1881/Edward Seymour/Barman/18/Chamnor, Oxford/Census

1882/Edward John Rose/../../../Post Office Directory

1886/Edward J Rose/../../../Business Directory of London **

1888/Edward John Rose/../../../P.O. Directory **

1891/George Shrimpton/../../../Post Office Directory

1894/Thomas Shrimpton/../../../Post Office Directory **

1895/Thomas Shrimpton/../../../Post Office Directory

1899/Chas Jn Knowsley/../../../Post Office Directory

1901/John Griffin/Public House Manager/30/Hastings, Sussex/Census
1901/James Goodman/Barman/25/Willerham, Kent/Census
1901/Frank Younger/Barman/19/Long Melford, Kent/Census
1901/Esther Wright/Housekeeper, Widow/56/Hampstead/Census
1901/Alfred Wtight/Barman/18/St Pancras, London/Census

1910/Joseph Morris Levy/../../../Post Office Directory

1911/Joseph Morris Levy/../../../P.O. Directory **

1915/Joseph Morris Levy/../../../Post Office Directory

1916/Joseph Morris Levy/../../../P.O. Directory **

1917/Jacob Feldman/../../../P.O. Directory **

1921/Jacob Feldman/../../../Post Office Directory

1922/Jacob Feldman/../../../P.O. Directory **

1925/Jacob Feldman/../../../Post Office Directory

1930/Jacob Feldman/../../../Post Office Directory



+ Provided by Friends of Tower Hamlets Cemetery Park

* Provided By Ken Ripper

*+ Provided By Ewan

** Provided by Stephen Harris