Search London wiki and Pub wiki history sites
All public house, restaurants, bars etc closed for the forseeable future on 20th March 2020, but this is a history site. But how about the landlords give their tenants a break, no business, then please charge them no rent.
Victoria, 110 Grove road, Mile End E3
Mile End Pubs history
The Royal Victoria Tavern at Shaftesbury Terrace, Grove Road in the 1871 census
Historical London public houses, Taverns, Inns, Beer Houses and Hotels.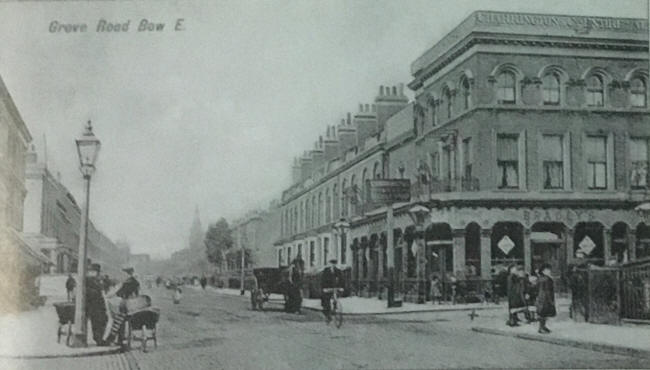 Victoria Tavern, Grove Road - in 1907
Kindly provided by Jean Ellis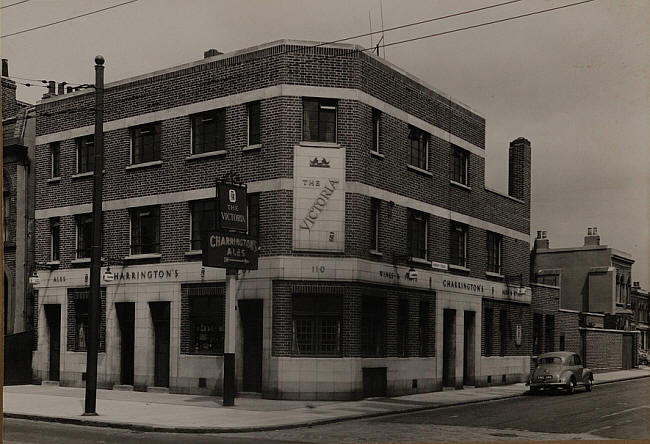 Victoria, 110 Grove Road, E3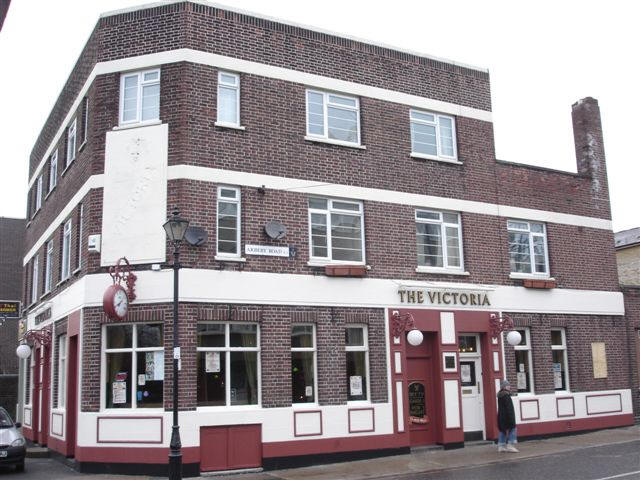 Victoria, 110 Grove Road, E3 - in January 2007
Kindly provided by Stephen Harris
Residents at this address.
1856/George Henley/../../../Post Office Directory *

May 1865/Sarah Coppen/Outgoing Licensee/../../Era

May 1865/Thomas Swindon/Incoming Licensee/../../Era

November 1866/Thomas Swindell/Outgoing Licensee/../../Era

November 1866/George Chamberlain/Incoming Licensee/../../Era

November 1867/George Chamberlain/Outgoing Licensee/../../Era

November 1867/John Davis/Incoming Licensee/../../Era

1869/John Davis/../../../Post Office Directory

1871/John Davis/Licensed Victualler/49/Bethnal Green/Census
1871/Mary Ann Davis/Wife/46/St Lukes, Middlesex/Census
1871/Samuel Yendle/Barman/22/Morpeth, Devon/Census
1871/Sarah Connely/Barmaid/23/Kings Lynn, Norfolk/Census
1871/Alfred Pittman/Potman/17/Stepney/Census
1871/Martha Wheeler/General Servant/13/Bethnal Green, Middlesex/Census

15th July 1871/John Davis/Outgoing Licensee/../../East London Observer +

15th July 1871/Coar Camp/Incoming Licensee/../../East London Observer +

1882/Henry Phillip/../../../Post Office Directory **

1884/Henry Phillips/../../../Post Office Directory *

1891/Edward Horton Bradley & Sons/../../../Post Office Directory **

1894/Edward Horton Bradley & Sons/../../../Post Office Directory **

1895/Edward Horton Bradly & Sons/../../../Post Office Directory *

1899/Edward Horton Bradley & Sons/../../../Post Office Directory **

1901/Jas E Buntin/Public House Manager/32/Stoke Newington, London/Census
1901/Hannah Buntin/Wife/30/Bethnal Green, London/Census
1901/Elizth Matton/Domestic Servant/19/Bethnal Green, London/Census
1901/Wm Trueman/Barman/21/Chingford, Essex/Census
1901/Wm W Webb/Barman/19/Homerton, London/Census

1906/Edward Horton Bradly & Son/../../../Post Office Directory *

1910/Edward Horton Bradley & Sons/../../../Post Office Directory

Mary Hannant, aka Mary Cooper is at the Queens Arms, 12 Bateman street in the 1901 census.

1911/Mary Hannant/Licensed Victualler, Widow/43/Dalston, London/Census
1911/Daisy Cooper/Daughter/23/Marylebone, London/Census
1911/Mabel Cooper/Daughter/17/Yarmouth, Norfolk/Census
1911/Nellie Coutauche/Barmaid/21/Marylebone, London/Census
1911/Florrie Adams/Barmaid/20/Upton Park/Census
1911/Arthur Cherry/Barman/40/Essex/Census
1911/Stanford Leaa Fisher/Visitor, Commercial Clerk/29/Wheelock, Cheshire/Census
1911/Lillian M A Fisher/Visitor/30/Tottenham, London/Census
1911/Lillian Lea Fisher/Visitor/3/Clapton, London/Census
1911/Dorothy Kate Snee/Visitor/21/Beckenham, Kent/Census
1911/Anne Elizabeth Haseldine/Visitor/58/Westwick, Norfolk/Census

1914/Mrs Mary Hannant/../../../Post Office Directory

1915/Mrs Mary Hannant/../../../Post Office Directory

1921/Mrs Mary Hannant/../../../Post Office Directory

1927/Vincent Henry Strong/../../../Post Office Directory *

1934/Mrs Annie O'Toole/../../../Post Office Directory *

1938/Mrs Annie O'Toole/../../../Post Office Directory *

1940/Mrs Annie O'Toole/../../../Post Office Directory *

1944/Mrs Annie O'Toole/../../../Post Office Directory *



+ Provided by Friends of Tower Hamlets Cemetery Park

* Provided By Ewan

** Provided by Stephen Harris