Search London wiki and Pub wiki history sites
All public house, restaurants, bars etc closed for the forseeable future from 20th March 2020, but this is a history site.
(Old) Red Cow, 67 Mile End Road, Mile End E1
Mile End Pubs history
This pub was rebuilt in its present form in 1895; aka Old Red Cow ; at 9 Park Place, Mile End Road at the intersection of Cleveland Street in 1856; The upper floors are in residential use, the ground floor was a restaurant for a while and is now vacant. This is listed as the Old Red Cross in 1921, maybe a typo? It is a departmental store by 1940. ***
Historical London public houses, Taverns, Inns, Beer Houses and Hotels.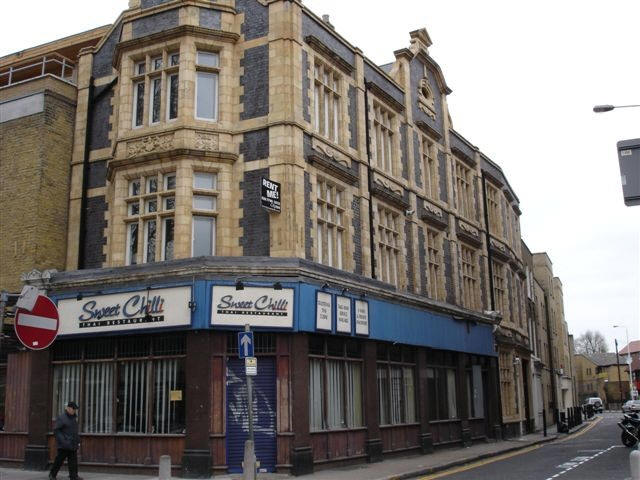 Old Red Cow, 67 Mile End Road - in April 2006
Kindly provided by Stephen Harris
Residents at this address.
1805/Richard Eastis, Red Cow, Mile End/../../Holdens Directory

1821/Alexander Hay/Victualler/../../Sun Fire Office records, held at Guildhall Library ***

1825/John Cronin/Victualler/../../Sun Fire Office records, held at Guildhall Library ***

1833-34/Elizabeth Morris, Red Cow, 9 Park Place, Mile End/../../Pigot's Directory

1836/Benjamin Wiffin/Victualler/../../Sun Fire Office records, held at Guildhall Library ***

1836/Thomas Taylor/Victualler & Spirit Merchant/../../Sun Fire Office records, held at Guildhall Library ***

1837/Thomas Taylor/Victualler/../../Sun Fire Office records, held at Guildhall Library ***

1839/Thos. Taylor/../../../Pigotís Directory ***

1842/M Brunt/../../../Robsonís Directory ***

1844/Matthew Brunt/../../../Thompsonís Directory ***

1850/Matthew Brunt/../../../P.O. Directory ***

1851/Matthew Brunt/../../../Kelly's

1852/Rees Williams/../../../Watkins Directory ***

1856/Henry Hodgkinson/../../../Post Office Directory

January 1856/Henry Hodgkinson/Outgoing Licensee/../../Era

January 1856/Joseph Shepherd/Incoming Licensee/../../Era

July 1861/Joseph Shepherd, deceased/Outgoing Licensee/../../Era

July 1861/Martha Shepherd, sole executrix of Joseph Shepherd/Incoming Licensee/../../Era

July 1862/Martha Alden (late Shepherd)/Outgoing Licensee/../../East London Observer

July 1862/to her husband, Thomas Alden/Incoming Licensee/../../East London Observer

July 1863/Thomas Alden/Outgoing Licensee/../../Era

July 1863/Thomas James Johnson/Incoming Licensee/../../Era

November 1864/Thomas James Johnson, deceased/Outgoing Licensee/../../East London Observer

November 1864/Susan Johnson, executrix of Thomas James Johnson, deceased, late occupier/Incoming Licensee/../../East London Observer

November 1867/Susan Johnson (deceased)/Outgoing Licensee/../../Era

November 1867/to her executors Jesse Carter and Edward Tilney/Incoming Licensee/../../Era

1869/Miss Susan Johnson/../../../Post Office Directory

1875/Mrs Emily Johnson/../../../P.O. Directory ***

January 1875/Jessie Carter and Edward Tilerey/Outgoing Licensee/../../East London Observer

January 1875/Arthur Billinghurst/Incoming Licensee/../../East London Observer

1876/Arthur Billinghurst/../../../P.O. Directory ***

1881/Anthony Billinghurst/Licensed Victualler/31/London, Middlesex/Census
1881/William Anderson/Manager/22/London, Middlesex/Census
1881/Fredrick Gentry/Barman/22/Dagenham, Essex/Census
1881/Thomas Ironmonger/Barman/22/Stratford, Essex/Census
1881/John Cook/Barman/20/Oakley, Essex/Census
1881/Thomas S Collinsay/Potman/18/Maidstone, Kent/Census
1881/Samuel Strutt/Potman/21/Hackney, Middlesex/Census
1881/Margaret Millet/Housekeeper/18/Hammersmith, Middlesex/Census
1881/Sarah Woodward/Housemaid/18/Leytonstone, Essex/Census

1882/Arthur Billinghurst/../../../Post Office Directory

1885/Joseph William Bansback/../../../Trade Directory **

1886/Joseph William Bansback/../../../Trade Directory **

[Joseph William Bansback is next at the Fox, 97 Paul Street, Shoreditch] **

1888/Bansback & Robinson/../../../Trade Directory **

1888/Joseph William Bansback & William Henry Robinson, trading as Bansback & Robinson / Licensed Victuallers /../../London Gazette, 13 April 1888 ***

1891/William Edward Dyne/../../../Post Office Directory

1894/William Edward Dyne/../../../P.O. Directory ***

1895/William Edward Dyne/../../../Post Office Directory

1899/John F Bates/../../../Post Office Directory

1901/John W Alexander/Licensed Victualler/33/Kingston, Surrey/Census
1901/Alice M Alexander/Wife, Manageress/30/Stepney, London/Census
1901/Frederick B Alexander/Son/1/Bow, London/Census
1901/Wm Oakfield/Barman/21/Canning Town, London/Census
1901/Lily Hayward/Barmaid/26/Wickham Skeif, Suffolk/Census
1901/Lucy Fitzgerald/Barmaid/22/India/Census
1901/Elizabeth Kerridge/Cook/48/Leicester/Census
1901/Florence Looker/Housemaid/26/Poplar/Census
1901/Violet Sharland/Nursemaid/14/Lower Edmonton, Middlesex/Census

1910/John William Alexander/../../../Post Office Directory

1915/Louis Rozelaar/../../../Morrisí Directory ***

1917/Louis Rozelaar/../../../P.O. Directory ***

1921/Samuel Leewarden/../../../Post Office Directory

1922/Mrs Annie Leewarden/../../../P.O. Directory ***

1925/Alfred Abrahams/../../../Post Office Directory

1927/Reginald G Elston/../../../Post Office Directory

1930/Maurice Cohen/../../../Post Office Directory

1934/Maurice Cohen/../../../Post Office Directory



** Provided by Mike Bansback

*** Provided by Stephen Harris