Search London wiki and Pub wiki history sites
Black Horse, 254 Tabard Street, Borough, Newington, Surrey, London
Newington pub history index
Tabard Street is renamed from Kent Street sometime before 1879. The early address is at 174 Kent Street, Borough. The Black Horse continues to exist - in a rebuilt, modern form. **
A listing of historical London public houses, Taverns, Inns, Beer Houses and Hotels in Newington, Surrey, London. The Newington, Surrey , London listing uses information from census, Trade Directories and History to add licensees, bar staff, Lodgers and Visitors.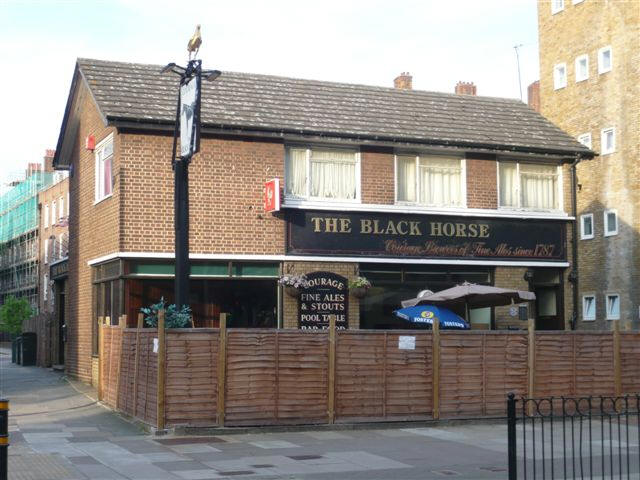 Black Horse, 254 Tabard Street, SE1 - in May 2008
Kindly provided by Stephen Harris
Residents at this address.
1790/Joseph Lamb/victualler and chandler/../../Sun Fire Office records held at the London Metropolitan Archives *

1822/Gregory Board/Black Horse, Kent street/../../Victuallers Recognizance

March 1823/Robert Keene/Black Horse, Kent street/../../Victuallers Recognizance

1825/Charles Hilyer/Black Horse, Kent street/../../Victuallers Recognizance

1825/Mr Keene/../../../Licensed Victuallers Association

1826/Charles Hillyer/../../../Licensed Victuallers Association

1827/Charles Hillyer/victualler/../../Sun Fire Office records held at the London Metropolitan Archives *

1828/Charles Hillier/victualler/../../Sun Fire Office records held at the London Metropolitan Archives *

1833-34/James Frist/../../../Pigots Directory

1839/Joseph William Wooley/../../../Pigot's Directory *

1851/John Cunningham/174 Kent Street/../../Kellys Directory

March 1852/John Cunningham/Outgoing Licensee/../../Era

March 1852/William Tillyard/Incoming Licensee/../../Era

February 1854/William Larter/ Outgoing Licensee /../../The Era

February 1854/Thomas Byers/ Incoming Licensee /../../The Era

September 1855/Thomas Byers/ Outgoing Licensee /../../The Era

September 1855/Michael James Welch/ Incoming Licensee /../../The Era

1856/Michael James Welch/174 Kent Street/../../Post Office Directory

January 1857/James Hugeman/Outgoing Licensee/../../Era

January 1857/David Charles Waters/Incoming Licensee/../../Era

1869/Fras Shelton Poole/174 Kent Street/../../Post Office Directory

November 1871/Francis Sheldon Poole/Outgoing Licensee/../../Era

November 1871/John Henry Thurston and George Emarton Thurston/Incoming Licensee/../../Era

1874/J H Thurston/../../../Licensed Victualler & Hoteliers Directory

1877/Martin Willis/../../../Post Office Directory

1879/Robert Bennell/../../../Post Office Directory

1880/Alfred Reeves/../../../Post Office Directory

1881/Alfred Reeves/Licensed Victualler/39/N K/Census
1881/Mary A Reeves/Wife/37/N K/Census
1881/Maria Reeves/Niece/27/N K/Census
1881/Thomas Adams/Barman/19/N K/Census
1881/Alice M Reeves/Daughter/12/N K/Census
1881/Beatrice E Reeves/Daughter/3/N K/Census
1881/Louisa Clark/Barmaid/20/N K/Census

1882/Thomas Elnaugh/../../../Post Office Directory

1884/Thomas Elnaugh/../../../Post Office Directory

1889/Thomas Elnaugh/../../../Post Office Directory **

1891/Thomas Elnaugh/../../../Post Office Directory

1895/Wm Grayson/../../../Post Office Directory

1899/Henry Jeffery/../../../Post Office Directory

My Great Grandfather George Francis Hall and his wife Charlotte (formerly Pocknell) were the Licensed Victuallers at 254 Tabard Street London SE1 ***

1910/Geo Francis Hall/../../../Post Office Directory

1914/Geo Francis Hall/../../../Post Office Directory

1915/Geo Francis Hall/../../../Post Office Directory

1921/Geo Francis Hall/../../../Post Office Directory

1934/Abraham Weddon/../../../Kellys Directory

1938/Abraham Weddon/../../../Post Office Directory

1944/Jn William Gibbs/../../../Post Office Directory

1951/Albert A Graham/../../../Post Office Directory **



*** Provided by Gill Hopkins