Search London wiki and Pub wiki history sites
Duke of Clarence, 154 Manor Road, Newington SE17
Newington pub history index
A listing of historical London public houses, Taverns, Inns, Beer Houses and Hotels in Newington, Surrey, London. The Newington, Surrey , London listing uses information from census, Trade Directories and History to add licensees, bar staff, Lodgers and Visitors.
At 111 Penton Place in 1884 and earlier, then at 80 Manor Place, then 136 Manor place in 1891 census, and at 154 Manor Place by 1899 until 1938, then the address is 154 Manor Road SE17 by 1944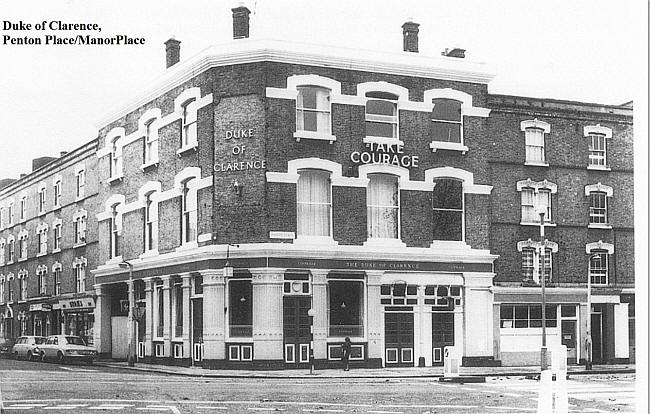 Duke of Clarence, 154 Manor Road, Newington SE17
Kindly provided by Paul Prior
Residents at this address.
1805/J Gaywood, the Duke of Clarence, Penton place, Walworth/../../Holdens Directory

1823/Henry William Tullet/Duke of Clarence, Penton place/../../Victuallers Recognizance

1825/James Habit Cunnew/Duke of Clarence, Penton place/../../Victuallers Recognizance

1827/James H Cunnew/../../../Licensed Victuallers Association

1839/John Walsh/../../../Pigots Directory

1842/Jno Walsh/../../../Robsons Directory

Henry Oliver is a Licensed Victualler in Princes street in the 1841 census.

1843-44/Henry William Oliver/Penton place/../../Electoral Register

1848/Henry William Oliver/../../../Post Office Directory

1851/Henry William Oliver/Licensed Victualler/51/St Georges East, Middlesex/Census
1851/Frances Oliver/Wife/53/Canterbury, Kent/Census
1851/Margaret Oliver/Daughter/22/Southwark, Surrey/Census
1851/Mary Oliver/Daughter/20/Southwark, Surrey/Census
1851/Frances Oliver/Daughter/18/Southwark, Surrey/Census
1851/Helen Oliver/Daughter/16/Lambeth, Surrey/Census
1851/John Hathway/Servant/29/Chichester, Sussex/Census
1851/William Hathway/Lodger, Sailor/27/Chichester, Sussex/Census
1851/Anne Lockwood/House Servant/31/Shoreditch/Census

1856/H W Oliver/../../../Post Office Directory

1861/Henry William Oliver/Licensed Victualler/62/Middlesex/Census
1861/Frances Oliver/Wife/65/Ash, Kent/Census
1861/Mary Oliver/Daughter/29/Southwark, Surrey/Census
1861/Lucy Hannington/Daughter, Widow/31/Southwark, Surrey/Census
1861/Helen Hannington/Grand Daughter/11/Camberwell, Surrey/Census
1861/James Cresswell/Potman/25/Mitcham, Surrey/Census
1861/Catherine Cresswell/House Servant/27/Mitcham, Surrey/Census

1863/The Will of Henry William Oliver formerly of Princes street Lambeth but late of the Duke of Clarence Penton place in the Parish of St Mary Newington both in the County of Surrey Victualler deceased who died 5 November 1863 at Penton place aforesaid was proved at the Principal Registry by the oaths of Henry John Hunt of Princes street aforesaid gentleman and William Robert Cuthbert of 18 Canterbury row Kennington road in the said County Gentleman tow of the Executors. Effects under £3000/Probate

February 1864/executors of Henry William Oliver, late occupier/Outgoing Licensee/../../Era

February 1864/Frances Oliver/Incoming Licensee/../../Era

1869/Mrs Frances Oliver/../../../Post Office Directory **

1881/John S Clark/Licensed Victualler/27/Surrey/Census
1881/Mary A Clark/Wife/31/Southampton/Census
1881/Edith M Clark/Daughter/11 months/Surrey/Census
1881/Edith James/Sister In Law/19/Middlesex/Census
1881/James Wyburn/Servant/21/Surrey/Census
1881/Louisa Stevens/Domestic Servant/22/../Census

1882/John S Clark/../../../Post Office Directory

1884/Jno S Clark/../../../Post Office Directory

1891/George Evans/../../../Post Office Directory

1891/George Evans/Licensed Victualler/28/Newington, London/Census
1891/E S Evans/Wife/27/Portsea/Census
1891/Kate Luton/General Servant/21/Isle of Wight/Census
1891/Walter Mears/Barman/20/Hammersmith, London/Census
1891/Edward Stanford/Barman/21/Norwood, London/Census
1891/Fred Moorcock/Barman/19/Regents Park, London/Census
1891/Henry Knight/Barman/19/Deal, Kent/Census

1895/David Greig/../../../Post Office Directory

1899/Alfred Yates/../../../Post Office Directory

1910/W Ferris & Co/../../../Post Office Directory

1915/George Bentley/../../../Post Office Directory

1921/George Bentley/../../../Hughes Directory

1938/Hy Dever Widdicombe & Harold Jn Drewell/../../../Post Office Directory

1944/Albert George Norman & Herbert Samuel Timms/../../../Post Office Directory