Search London wiki and Pub wiki history sites
George, 99 & 101 Newington Butts, Newington, Surrey
Newington pub history index
Named as Brittains in the 1895 Directory. The address is 8 High Street, Newington Butts in 1856 and earlier, prior to street renumbering. *
A listing of historical London public houses, Taverns, Inns, Beer Houses and Hotels in Newington, Surrey, London. The Newington, Surrey , London listing uses information from census, Trade Directories and History to add licensees, bar staff, Lodgers and Visitors.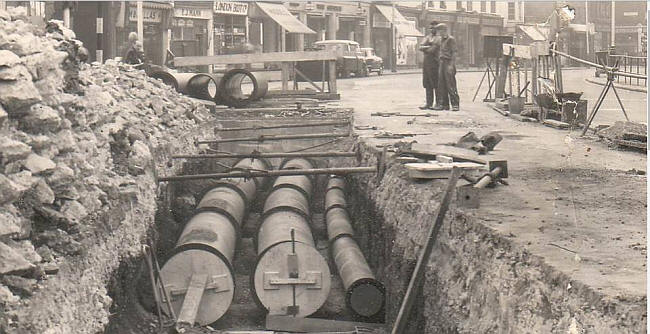 George, 99 & 101 Newington Butts - circa 1950
Kindly provided by Mark Brady
Residents at this address.
1806/George Howarth/victualler/../../Sun Fire Office records held at the London Metropolitan Archives *

1811/George Howarth/victualler/../../Sun Fire Office records held at the London Metropolitan Archives *

1812/George Howarth/victualler/../../Sun Fire Office records held at the London Metropolitan Archives *

1819/Maria Rawlins/victualler/../../Sun Fire Office records held at the London Metropolitan Archives *

1821/Jeremiah Smith/victualler/../../Sun Fire Office records held at the London Metropolitan Archives *

1823/Jeremiah Smith/victualler/../../Sun Fire Office records held at the London Metropolitan Archives *

1824/Jeremiah Smith/victualler/../../Sun Fire Office records held at the London Metropolitan Archives *

1825/Jeremiah Smith/George, Newington Butts/../../Victuallers Recognizance

1827/Jeremiah Smith/victualler/../../Sun Fire Office records held at the London Metropolitan Archives *

1833-34/William Mouls, George, 8 High street, Newington/../../Pigots Directory

1839/William Mouls/../../../Pigot's Directory *

1856/William Vince/../../../Post Office Directory *

1869/Charles Brittain/Wine Merchant/../../Post Office Directory

1881/Thomas H Brittain/Licensed Victualler/55/Hadlow, Kent/Census
1881/Mary A Brittain/Wife/51/Dublin, Ireland/Census
1881/Priscilla Edwards/Barmaid/23/Middlesex/Census
1881/Cecilia Newman/Barmaid/20/Great Leigh, Essex/Census
1881/Alice Frost/Barmaid/22/Finsbury, Middlesex/Census
1881/Clara Treherne/Barmaid/22/Plumstead, Kent/Census
1881/Eliza Dawe/Barmaid/21/Islington, Middlesex/Census
1881/Prudence Clark/Servant Domestic/23/Lixton, Devon/Census
1881/Phillip Wakeman/Potman/19/Boro Green, Kent/Census
1881/George Curel/Lodger, Gas Fitter Out Of Employ/15/Newington, Surrey/Census

1882/Charles Brittain/../../../Post Office Directory

1884/Charles Brittain/../../../Post Office Directory

1891/William Severn Thorne/../../../Post Office Directory

1891/William S Thorne/Licensed Victualler/43/City, London/Census
1891/Elizabeth S Thorne/Wife/43/Derby/Census
1891/Mary Thorne/Daughter/15/Nottingham/Census
1891/Severn Thorne/Son/13/Nottingham/Census
1891/Harold Thorne/Son/12/Nottingham/Census
1891/Ida Thorne/Daughter/11/Nottingham/Census
1891/George H Thorne/Brother, Barman/57/Hackney, London/Census
1891/Lena Alderman/Barmaid/27/London SE/Census
1891/Kate Snell/Barmaid/27/London N/Census
1891/John Vickery/Barman/27/London W/Census
1891/Ellen Holdkiss/Barmaid/20/London SE/Census
1891/Annie Towell/Barmaid/18/London SE/Census
1891/Bessie Snell/Barmaid/34/Roche, Cornwall/Census
1891/Earnest Sherwood/Billiard Marker/26/London EC/Census
1891/Mary Harding/Cook/22/London E/Census

1895/William Henry Burney & Co./[Brittains]/../../Post Office Directory *

1899/George William Albert Fletcher/../../../Post Office Directory

1915/William Goodchild jun/../../../Post Office Directory

1921/William Goodchild jun/../../../Post Office Directory

1938/Hy Bayford Geo Reeve/../../../Post Office Directory

1944/Hy Bayford Geo Reeve/../../../Post Office Directory



* Provided By Ewan