Giraffe, 45 Penton Place, Kennington, London SE17
Newington pub history index
The early address in 1856 and earlier is at Newington Crescent. Closed in the 1990s and since demolished. *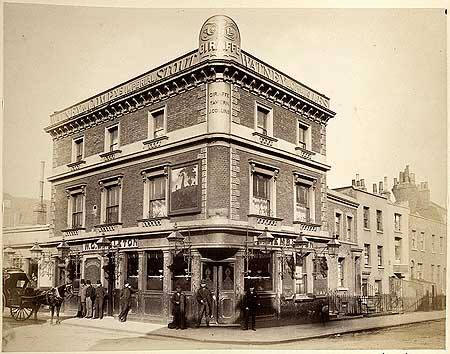 Giraffe, 45 Penton Place, Kennington, London SE17 - just prior to 1986
We can date this as being before 1986 as the Pullens estate, which you can see in the picture below commenced being built. The name J Collins can be seen on the higher facia, but also the name W G Embleton above the lower windows.
Kindly provided by Mark Brady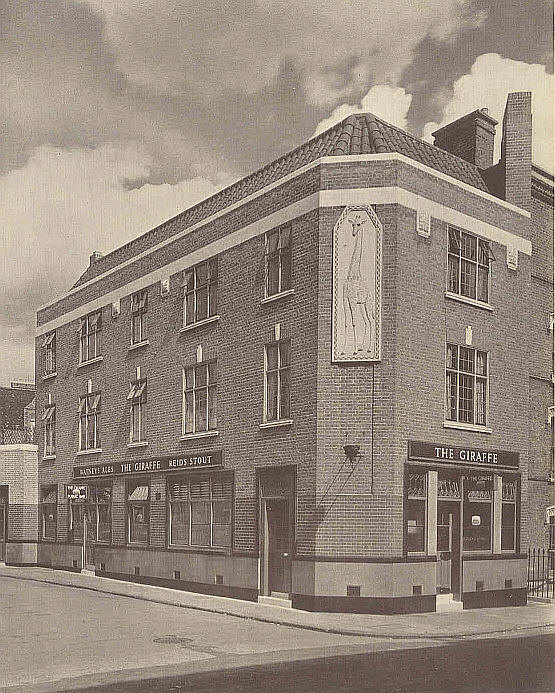 The Giraffe, Kennington - new premises for Watney, Combe, Reide & Co Ltd
Kindly provided by Alex Wilkinson
Residents at this address.
1848/James Collins/../../../Post Office Directory

1851/James Collins/Licensed Victualler/34/Sevenoaks, Kent/Census
1851/Susannah Collins/Wife/30/St Lukes, Middlesex/Census
1851/James Collins/Son/5/Newington, Surrey/Census
1851/Susannah Collins/Daughter/4 months/Newington, Surrey/Census
1851/Mary Inman/Barmaid/18/Walworth, Surrey/Census
1851/Susannah Mills/Servant/23/Thorpe, Essex/Census

1856/James Collins/../../../Post Office Directory

1861/James Collins/Licensed Victualler/44/Sevenoaks, Kent/Census
1861/Susannah Collins/Wife/40/Blackfriars, Surrey/Census
1861/James Collins/Son, Warehouseman Clerk/15/Newington, Surrey/Census
1861/Susannah Collins/Daughter/10/Newington, Surrey/Census
1861/Helena Collins/Daughter/8/Newington, Surrey/Census
1861/Mary Collins/Daughter/2/Newington, Surrey/Census
1861/Ann Westrop/Barmaid/29/Bow, Middlesex/Census
1861/Mary Unwin/Housemaid/31/Limehouse, Middlesex/Census
1861/Emma Harman/Nursemaid/16/Chelsea, Middlesex/Census

1869/James Collins/../../../Post Office Directory

1871/James Collins/Licensed Victualler/24/Newington, Surrey/Census
1871/Helena Collins/Sister/18/Newington, Surrey/Census
1871/Mary Unwin/Servant/39/Limehouse, Middlesex/Census
1871/Kate Ellisdon/Barmaid/18/Newington, Surrey/Census

In 1873/James Collins, a Licensed Victualler aged 27 of Clap[ham marries Harriet Reeve, aged 21, daughter of James William Reeve, of Clapham.

1874/James Collins jun/../../../LV Directory

1881/James Collins/Licensed Victualler/34/Lambeth, Surrey/Census
1881/Harriett Collins/Wife/29/Clapham, Surrey/Census
1881/Harriett Collins/Daughter/7/Lambeth, Surrey/Census
1881/Florence Collins/Daughter/4/Lambeth, Surrey/Census
1881/James Collins/Son/2/Lambeth, Surrey/Census
1881/Mary J Bishop/Barmaid/19/Lambeth, Surrey/Census
1881/May Summers/Servant General/19/Bromyard, Hereford/Census
1881/Mary Smith/Nurse Maid/16/Stowmarket, Suffolk/Census

1882/James Collins jun/../../../Post Office Directory

1884/James Collins/../../../Post Office Directory

1891/Edmund Harwood Tyrrell/../../../Post Office Directory

1891/Edmund H Tyrrell/Licensed Victualler/45/Kensington, London/Census
1891/William Herne/Barman/26/Lambeth, London/Census
1891/Emma Pratt/Barmaid/32/Finsbury, London/Census
1891/Edith K Hainsworth/Barmaid/22/Rayleigh, Essex/Census

1895/George Gray/../../../Post Office Directory

1899/Edward Ernest Pryer/../../../Post Office Directory

1901/Albert Pryer/Licensed Victualler/32/Strand, London/Census
1901/Alice Pryer/Wife/32/Kensington, London/Census
1901/George Pryer/Son/8/Marylebone, London/Census
1901/Alberta Pryer/Daughter/6/Marylebone, London/Census
1901/John Brook Lear/Father in Law/64/Chudleigh, Devon/Census
1901/Mary Ann Lear/Mother in Law, Manager/62/Marylebone, London/Census
1901/Benjamin Lear/Brother in Law, Barman/24/Fulham, London/Census
1901/Bessie Dunn/Barmaid/27/Sampford Peverell, Devon/Census
1901/Lizzie Wilton/Barmaid/21/St George East/Census
1901/Maud Harrington/Barmaid/21/Lambeth/Census
1901/Sarah Ward/Servant, Widow/66/Fulham, London/Census

1910/Albert Joseph Pryer/../../../Post Office Directory

1911/Benjamin Lear/Licensed Victualler/34/Fulham, London/Census
1911/Edith Ann Chiles/Assistant/43/Bermondsey, London/Census
1911/Ada Florence Chiles/Boarder, Dressmaker/22/Ramsgate, Kent/Census
1911/Edith Caroline Chiles/Boarder/15/Marylebone, London/Census
1911/Edwin Percival Bannell/Servant/37/Bermondsey, London/Census
1911/Winifred Mary Johnstone/Servant/24/Dublin, Ireland/Census
1911/Elizabeth Mary An Stacey/Servant/21/Vauxhall, London/Census
1911/Minnie Eates/General Servant/28/Islington, London/Census

1915/Albert Joseph Pryer/../../../Post Office Directory

1921/Mrs Alice Audin Pryer/../../../Post Office Directory

1938/Abraham Campbell Garrett/../../../Post Office Directory

1944/Anthony & Mrs M Chismon/../../../Post Office Directory



* Provided By Tris