Masons Arms, 31 Harper Road, Newington SE1
Newington pub history index
A listing of historical London public houses, Taverns, Inns, Beer Houses and Hotels in Newington, Surrey, London. The Newington, Surrey , London listing uses information from census, Trade Directories and History to add licensees, bar staff, Lodgers and Visitors.
The Masons Arms, Horsemonger lane in 1825, 1843 directory and the 1853 license transfer. The 1856 directory states the Horsemonger Lane is now called Union Road. Union Road has been renamed by 1938, and the later address changes from 31 Union road to 31 Harper Road; the site is now occupied by a newly built mosque. *** The Swan street sign is consistent with being at this junction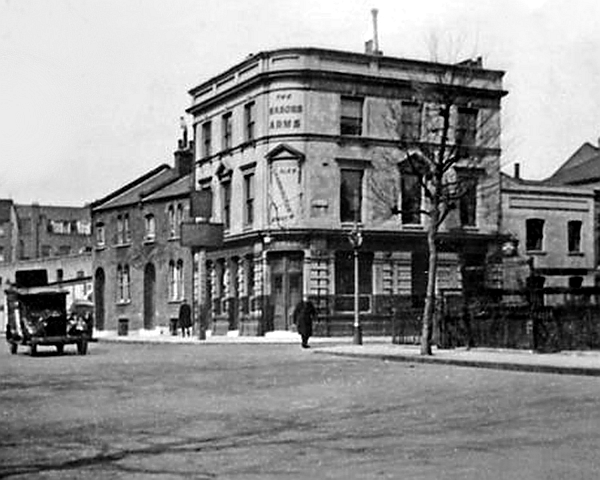 Masons Arms, 31 Union Road, Newington SE1
Kindly provided by Fred Roll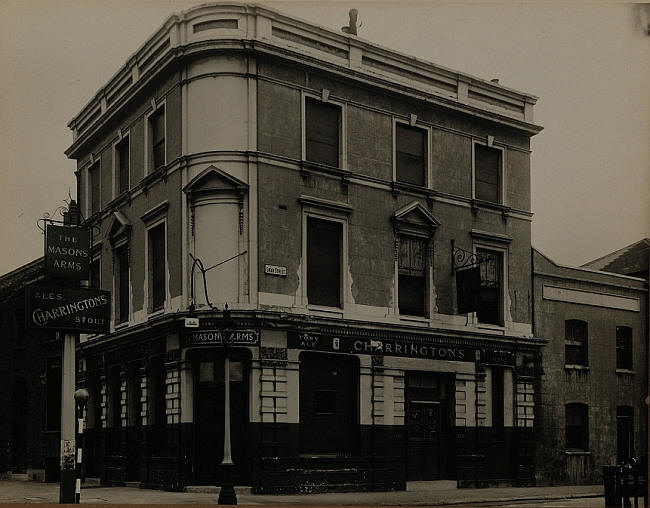 Masons Arms, 31 Harper Road, Newington, SE1
Residents at this address.
1797/Joseph Barnes/victualler/../../Sun Fire Office records held at the London Metropolitan Archives *

1804/Joseph Barnes/victualler/../../Sun Fire Office records held at the London Metropolitan Archives *

1811/Joseph Barnes/victualler/../../Sun Fire Office records held at the London Metropolitan Archives *

1822/Joseph Barnes/Masons Arms, Horsemonger lane/../../Victuallers Recognizance

1825/Joseph Barnes/Masons Arms, Horsemonger lane/../../Victuallers Recognizance

1826/Joseph Barnes/Masons Arms, Horsemonger lane/../../Victuallers Recognizance

1836/Matthew Seymour Jonn/victualler/../../Sun Fire Office records held at the London Metropolitan Archives *

1841/Mrs Eliza Champ/../../../Post Office Directory *

1842/Eliz Champ/../../../Robsons Directory

1843/Mrs Eliza Champ/../../../Post Office Directory

1848/John W Monk/../../../Post Office Directory

1851/John W Monk/../../../Kellys Directory

July 1853/Joseph Dickeson/Outgoing Licensee/../../Era

July 1853/James Frederick Wrangham/Incoming Licensee/../../Era

1856/James Frederick Wrangham/../../../Post Office Directory

1869/Mrs M A Wrangham/../../../Post Office Directory

1874/M A Wrangham/../../../Licensed Victualler & Hoteliers Directory

Era 13 January 1878 - Masons Arms :
Mr R H Neville, the proprietor, offers the lease for a term of over 45 years, at a rental of £120 per annum, of a newly erected and substantially built corner wine and spirit vaults known as the Masons Arms, conspicuously situate and being in Union Road, Newington Causeway.
Within a few yards is the Southwark County Court, immediately opposite is the entrance to Horsemonger lane County Prison; and adjacent is the Surrey Sessions House.

1881/Jas Hildreth/Victualler/56/Darlington, York/Census
1881/Chris Hildreth/Wife/52/Darlington, York/Census
1881/Marian Hildreth/Daughter/22/London, Middlesex/Census
1881/Sarah H Hildreth/Daughter/17/London, Middlesex/Census
1881/George W Hildreth/Son/14/London, Middlesex/Census
1881/Stout/Barmaid/16/London, Middlesex/Census

1882/James Hildreth/../../../Post Office Directory

1884/John Palmer/../../../Post Office Directory

1888/James Henry Nicholls/../../../Post Office Directory

1889/Frederick Charles Porter/../../../Post Office Directory

1891/John Palmer/../../../Post Office Directory

1895/George Thomas Tye/../../../Post Office Directory

1899/Robert Stuart Walker/../../../Post Office Directory

1915/Alfred James Branch/../../../Post Office Directory *

1921/Alfred Jas Branch/../../../Post Office Directory

1930 - 1932/Branch/../../../Leasehold

1934/Alfred James Branch/../../../Kellys Directory

1933 - 1934/Newton/../../../Leasehold

1935 - 1936/Dyson/../../../Leasehold

1938/Jas Dennis Dyson/../../../Post Office Directory

1937/Cox/../../../Leasehold

1938 - 1939/Martindale/../../../Leasehold

1940/McIntyre/../../../Leasehold

1941 - 1943/Mrs Roberts/../../../Leasehold

1944/Mrs Maud Lilian Roberts/../../../Post Office Directory

1944 - 1950/A T Robinson/../../../Leasehold

1951 - 1952/J T High/../../../Leasehold

1953 - 1959/Mrs A S Jones/Surname High crossed out/../../Leasehold

1960 - 1961/S E Mansfield/../../../Leasehold



* Provided By Ewan

*** Provided By Fred Roll