Search London wiki and Pub wiki history sites
Rising Sun, 98 Harper Street, London SE1
Newington pub history index
A listing of historical London public houses, Taverns, Inns, Beer Houses and Hotels in Newington, Surrey, London. The Newington, Surrey , London listing uses information from census, Trade Directories and History to add licensees, bar staff, Lodgers and Visitors.
The address is at 98 Harper Road by 1938, following street renaming. *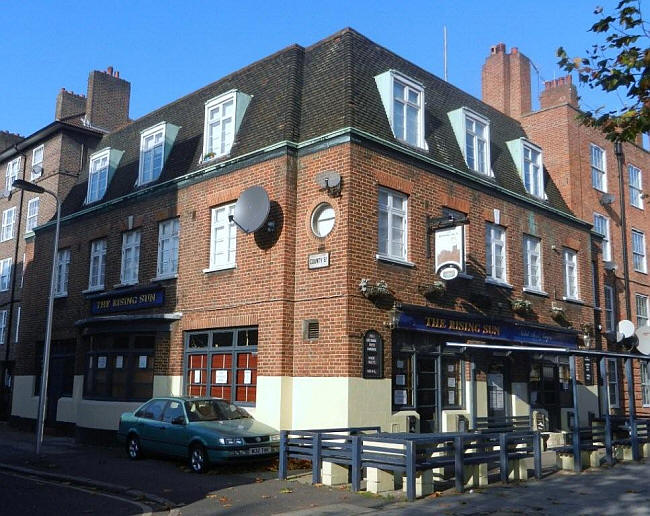 Rising Sun, 98 Harper Street, SE1 - in November 2011
Kindly provided by Stephen Harris
Residents at this address.
1822/Samuel Barrett/Rising sun, Harper street/../../Victuallers Recognizance

1825/Sarah Barrett/Widow, Rising sun, Harper street/../../Victuallers Recognizance

1826/Sarah Barrett/Widow, Rising sun, Harper street/../../Victuallers Recognizance

1833-34/Thomas Hind, Rising Sun, Richmond place, Walworth/../../Pigots Directory

1839/John P. Hitchcock/../../../Pigot's Directory ***

1841/Jno Pomroey Hitchcock/../../../Post Office Directory **

November 1847/Harriet Hitchcock, widow/Incoming Licensee/../../Era Newspaper

1856/Mrs Harriet Hitchcock/../../../Post Office Directory

September 1860/George Bond, executor of Harriet Hitchcock, late occupier/Outgoing Licensee/../../Era

September 1860/John Hitchcock/Incoming Licensee/../../Era

Henry Hodges can earlier be found at the Dolly Chop House Tavern

"The Era" of 9 June 1861 mentions in Newington on June 5 the licence of The Rising Sun, Harper Street was passed from John Hitchcock to Henry Hodges. *

1861/Henry Hodges/Publican/44/Southwark, Surrey/Census *
1861/Mary A Hodges/Wife/38/Maidstone, Kent/Census
1861/Mary Ann Hodges/Daughter/15/Poplar, Middlesex/Census
1861/Lousia Hodges/Daughter/11/City, Middlesex/Census
1861/Henry J Hodges/Son/6/Southwark, Surrey/Census
1861/William E Hodges/Son/2/Southwark, Surrey/Census
1861/Mary Dawson/Aunt/55/Ryde, Sussex/Census
1861/Mary A Noakes/Servant/19/Spour Line, Staffordshire/Census
1861/Thomas Johnson/Servant/16/Lambeth, Surrey/Census

1869/H Hodges/../../../Post Office Directory

1871/Henry Hodges/Publican/53/Southwark, Surrey/Census *
1871/Mary Ann Hodges/Wife/48/Maidstone, Kent/Census
1871/John H Hodges/Son, Assistant/16/Southwark, Surrey/Census
1871/William E Hodges/Son/12/Southwark, Surrey/Census
1871/Amy Matilda Hodges/Daughter/9/St Mary, Newington/Census
1871/Catherine J Martin/General Servant/10/St Luke/Census
1871/George H Cowell/Potman/18/St Mary, Newington/Census

Henry Hodges is at the Carlton Tavern, 58 Culmore Road by 1878

1874/T J Maidwell/../../../HD Miles Directory **

1881/Dougall Cowan/Licensed Victualler/55/Scotland/Census
1881/Helen Cowan/Wife/42/Scotland/Census
1881/Elizabeth Cowan/Daughter, Barmaid/20/Scotland/Census
1881/Helen Cowan/Daughter, Barmaid/16/Plumstead, Kent/Census
1881/Jane Cowan/Daughter/6/Scotland/Census
1881/Catherine Cowan/Daughter/1/Surrey/Census
1881/Christina Cowan/Domestic Servant, Widow/53/Scotland/Census

1882/Dougall Cowan/../../../Post Office Directory

1895/William Spencer/../../../Post Office Directory ***

1899/Alfred Herbert Nicholson/../../../Post Office Directory

1915/Arthur Ernest Rice/../../../Post Office Directory ***

1921/Arthur Ernest Rice/../../../Post Office Directory

1934/James Henry Lavell/../../../Post Office Directory ***

1938/James Henry Lavell/../../../Post Office Directory ***

1944/Mrs May Lavell/../../../Post Office Directory ***



* Provided By Gerald Soper

** Provided By Stephen Harris

*** Provided By Ewan