Pub history and pub wiki
Sir William Walworth, 297 & 299 Walworth Road, Newington, SE17
Newington pub history index
A listing of historical London public houses, Taverns, Inns, Beer Houses and Hotels in Newington, Surrey, London. The Newington, Surrey , London listing uses information from census, Trade Directories and History to add licensees, bar staff, Lodgers and Visitors.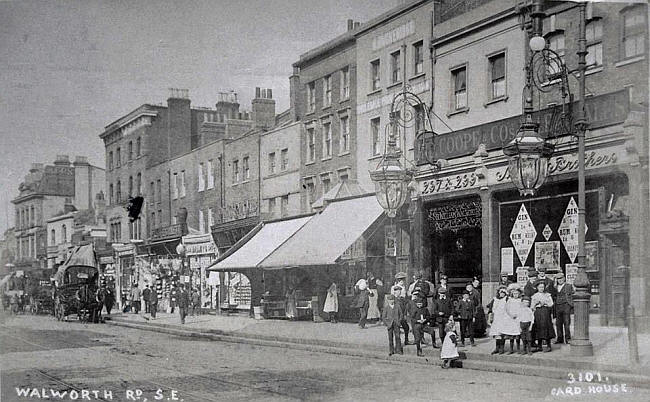 Sir William Walworth, 297 & 299 Walworth Road, Newington - Mills Brothers are the Licensees
Kindly provided by Mark Brady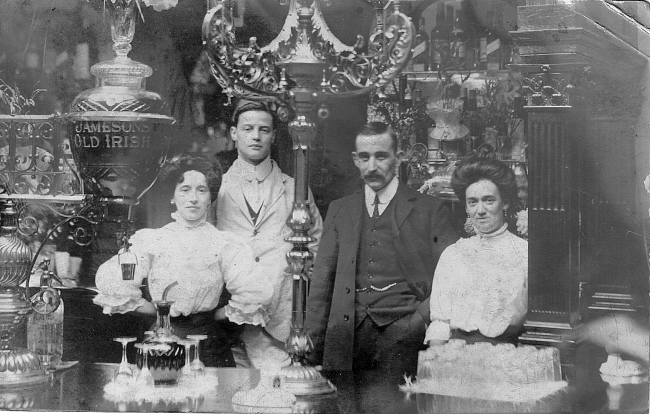 The Sir William Walworth, George Henry & Ellen Maria Holland behind the bar with staff members - circa 1910
Kindly provided by Janet Mann
Residents at this address.
November 1862/Alfred Gurney/Outgoing Licensee/../../Era

November 1862/James Peart/Incoming Licensee/../../Era

1865/Mr James Peart, Sir William Walworth, Beckford row, Walworth /../../Licensed Victuallers Association

1869/James Peart/../../../Post Office Directory

1881/John M Young/Public House Manager/22/L Brickhill, Buckingham/Census
1881/Annie Young/Wife/30/Kings Cross, Middlesex/Census
1881/Sophia Friend/Sister/18/Westminster, Middlesex/Census
1881/William Friend/Brother/16/Westminster, Middlesex/Census
1881/John Friend/Brother/13/Westminster, Middlesex/Census
1881/Joseph T Bear/Barman/20/Bermondsey, Surrey/Census

1882/John Markham Young/../../../Post Office Directory

1895/Mills Brothers/../../../Post Office Directory

1899/Mills Brothers/../../../Post Office Directory

1910/Mrs Emma Marian Thorn/../../../Post Office Directory

My grandfather was the manager of this pub, which was owned by a relative by marriage. He was given the job about the time he married into the family in 1907 and stayed until called up in 1916. I think he the moved to North London after the war. His name was George Henry John Holland, known to all as Jack. His wife was Ellen Maria, and she collected china ornaments which customers would bring back from their holidays. The marriage broke down before 1916 & she moved out with her son. *

1911/William Frederick Nicholson/Barman/20/Clapham/Census *
1911/Nellie Teage/Barmaid, Widow/28/Kennington/Census
1911/George Henry Ashby Looker/Barman/25/../Census
1911/Charles Edward Riley/Barman/19/Holborn/Census
1911/John Thames Brown/Barman/29/Bermondsey/Census
1911/Thames William Kemmitt/Barman/20/Kent/Census
1911/Ellen Maria Holland/Manageress/32/St Pancras/Census
1911/Stanley Jack Holland/Son/3/Mortlake/Census
1911/George Henry Holland/Manager/27/East Milesey/Census
1911/Lizzie Barnett/Housemaid/22/Kensington/Census
1911/Lillian Filmer/Nursemaid/15/Clapham/Census
1911/Esther Heather/Cook/35/Marylebone/Census

1915/Mrs Emma Marian Thorn/../../../Post Office Directory

1921/Albert Edward Morgan/../../../Post Office Directory

1934/C & E Mills & Co Ltd/../../../Kellys Directory

1944/C & E Mills & Co Ltd/../../../Post Office Directory



* Provided By Janet Mann


Search for a pub, an address or person
And Last updated on: Tuesday, 13-Aug-2019 23:45:36 BST