Temple Bar, 286 Walworth Road, Newington, Surrey
Newington pub history index
The earlier name for the Temple Bar is the Ship and Blue Coat Boy until at least 1869. Earlier than this, the address is at 15 Keens Row, Walworth Road - west side.
A listing of historical London public houses, Taverns, Inns, Beer Houses and Hotels in Newington, Surrey, London. The Newington, Surrey , London listing uses information from census, Trade Directories and History to add licensees, bar staff, Lodgers and Visitors.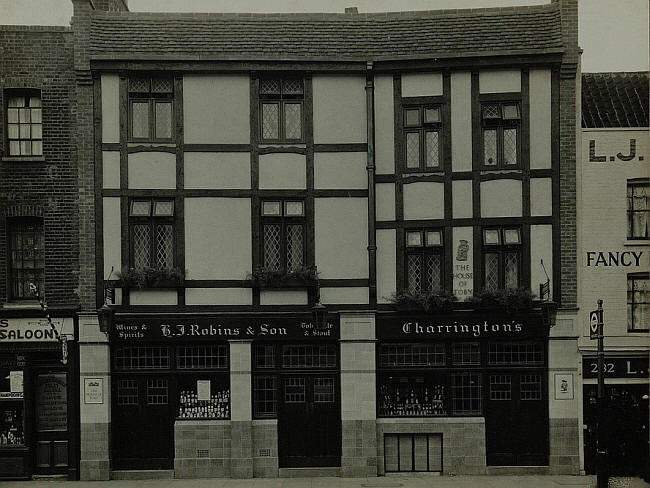 Temple Bar, 286 Walworth Road, Newington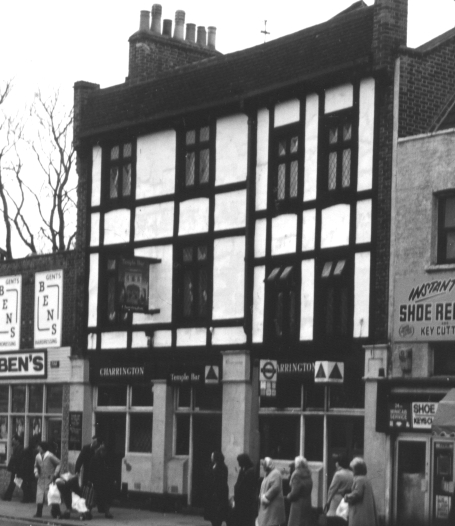 Temple Bar, 286 Walworth Road in modern times
Kindly provided by Tony Robins
Residents at this address.
1805/C Plowman, the Old Ship and Blue Coat Boy, Walworth/../../Holdens Directory

1825/William Bullock/Ship and Blue Coat Boy, Walworth road/../../Victuallers Recognizance

1836/Joseph Farren/Ship & Blue Coat Boy, Walworth Road, publican & creditor/../../../Perrys Bankrupt Gazette

Edmund Fish marries Martha Floyd in 1835 at St Mary Lambeth.

1841/Edmund Fish/Licensed Victualler/28/../Census
1841/Martha Fish/../25/../Census
1841/Elizabeth Fish/../4/Surrey/Census
1841/Edmund Fish/../2/Surrey/Census

1843/Edmund Fish/Ship & Blue Coat Boy, 15 Keens Row, Walworth/../../../Post Office Directory

1848/Samuel Clark/Ship & Blue Coat Boy, 15 Keens Row, Walworth/../../../Post Office Directory

1851/Samuel S Clark/Ship & Blue Coat Boy, 15 Keens Row, Walworth/../../../Kellys Directory

September 1850/Samuel Small Clark/Outgoing Licensee/../../Era

September 1850/Eliza Smith/Incoming Licensee/../../Era

September 1852/Edward Rountree/Ship & Blue Coat Boy, Walworth Road, witness in case/../../../London Standard

1856/Edward Rountree/Ship & Blue Coat Boy, 15 Keens Row, Walworth/../../../Post Office Directory

December 1856/E Rountree/Ship & Blue Coat Boy, Walworth Road, presiding over the licensed victuallers incorporated society/../../../Era

December 1858/Edward Rountree/Ship & Blue Coat Boy, Walworth Road, witness in case of forgery/../../../London Standard

July 1864/Walter Hyslop/Outgoing Licensee/../../Era

July 1864/Michael Robert Jenkins/Incoming Licensee/../../Era

March 1867/Mr Woods/Ship & Blue Coat Boy, Walworth Road, Tradesmen meeting/../../../South London Press

July 1867/W Wood/Outgoing Licensee/../../South London Press

July 1867/E Lang/Incoming Licensee/../../South London Press

April 1868/Edwin Lang/Outgoing Licensee/../../Era Newspaper

April 1868/George Leppard/Incoming Licensee/../../Era Newspaper

1869/George Lippard/Ship & Blue Coat Boy, 286 Walworth Road/../../../Post Office Directory

September 1870/George Lippard/Outgoing Licensee/../../Era

September 1870/Edward Ireland Hodson/Incoming Licensee/../../Era

July 1869/George Lippard/Ship & Blue Coat Boy, Walworth Road, Suicide of barmaid/../../../Western Daily Press
July 1869/Eleanor Scaping Rickett/barmaid, Suicide aged 16 years old/../../../Western Daily Press

October 1876/Mr Rantzen/Ship & Blue Coat Boy, Walworth Road, music license/../../../Era

1884/George Cooper/Temple Bar, 286 Walworth Road/../../Post Office Directory

1899/Mills Bros/../../../Post Office Directory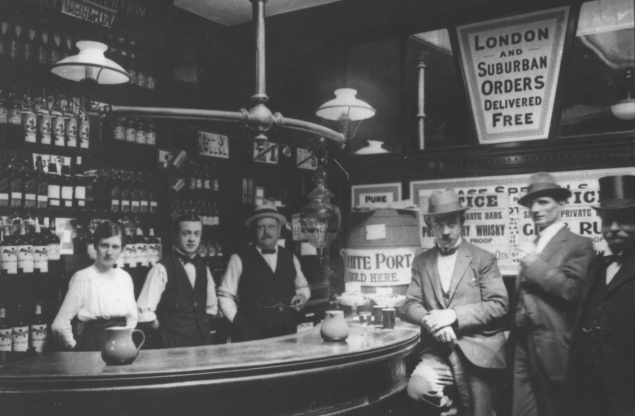 The interior of the Temple Bar in Walworth Road has my grandfather, Henry James ROBINS, in hat, with my father, Harry ROBINS. Dad was born 1900, & I estimate circa 1919 for this photograph. My father was manager there for about 3 years, but the hotel trade was not for him. At 30 he became a London City Missionary - quite a change. **

My ROBINS family were in the hotel trade in the Walworth Road, Old Kent Road area, 1900 to 1940s. My father was born at The Dun Cow, 1900, and by the 1901 census they were at the Temple Bar, which was in the family until about the end of World War 2. Also in their hands 1930s was the Rock. **
1901/Henry J Robins/Licensed Victualler/26/Battersea, London/Census **
1901/Maud E Robbins/Wife/27/Stratford, London/Census
1901/Henry L Robbins/Son/5 months/Southwark, London/Census
1901/Waldermar Endermann/Barman/22/Germany (German Subject)/Census
1901/Alfred Thompson/Barman/21/Catford, London/Census
1901/James Corbett/Barman/24/America (American citizen)/Census
1901/Nellie Ellis/Housemaid/26/Bermondsey, London/Census

1910/Hy Jas Robins/../../../Post Office Directory

1914/Henry James Robins/../../../Post Office Directory

1915/Henry James Robins/../../../Post Office Directory

1913/Rolles Bros/Wine & Spirit Merchants/../../BT Telephone Directory

1914/Rolles Bros/Wine & Spirit Merchants/../../BT Telephone Directory

1921/Rolles Brothers/../../../Post Office Directory

1933/Henry J Robins/../../../../B T Telephone Directory [RODney 4117]

1938/H J Robins & T A Kirby/../../../Post Office Directory

1944/M E & G E Robins & T A Kirby/../../../Post Office Directory



** Provided by Tony Robins