Princess Royal, 20 Theobald Street, Newington SE1
Newington pub history index
At 34 Theobald Street in 1881 census & 1882, at 20 Theobald Street by 1891. Named in the 1911 census summary
A listing of historical London public houses, Taverns, Inns, Beer Houses and Hotels in Newington, Surrey, London. The Newington, Surrey , London listing uses information from census, Trade Directories and History to add licensees, bar staff, Lodgers and Visitors.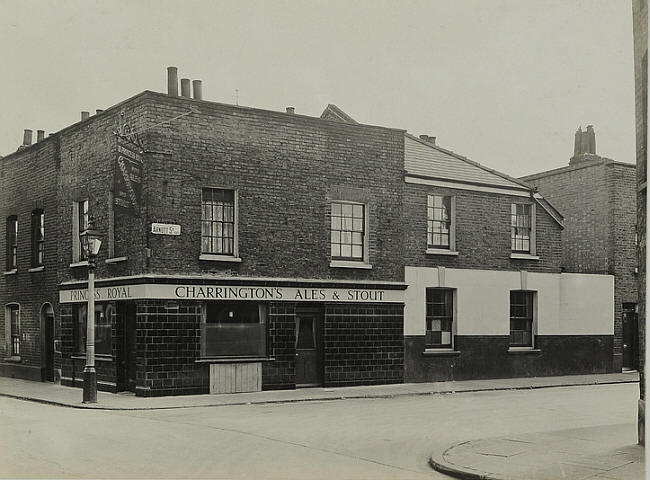 Princess Royal, 20 Theobald Street, Newington SE1 - in 1930
Residents at this address.
1881/Charles Hardy/Beer Retailer/27/London, Middlesex/Census
1881/Florence Hardy/Wife/21/London, Middlesex/Census

1882/James Hardey/Beer Retailer/../../Post Office Directory

1891/Geo Truckell/Beer Retailer/../../Post Office Directory

1895/George Truckell/beer retailer/../../Post Office Directory *

1899/George Truckell/beer retailer/../../Post Office Directory *

1910/James Frost/Beer Retailer/../../Post Office Directory

1911/James Frost/Beer Retailer/31/Bury St Edmunds, Suffolk/Census
1911/Edith Mary Frost/Wife/32/Clapham, London/Census

1914/James Frost/Beer Retailer/../../Post Office Directory

1915/James Frost/beer retailer/../../Post Office Directory *

1921/James Frost/Beer Retailer/../../Post Office Directory

1924/Frost/../../../Freehold

1925/Williams/../../../Freehold

1926 - 1929/Litten/../../../Freehold

1930 - 1932/Cousins/../../../Freehold



* Provided By Ewan