Victory, 32 Barlow Street, Walworth, Newington, Surrey SE17
Newington pub history index
A listing of historical London public houses, Taverns, Inns, Beer Houses and Hotels in Newington, Surrey, London. The Newington, Surrey , London listing uses information from census, Trade Directories and History to add licensees, bar staff, Lodgers and Visitors.
This pub has closed recently (2011). ** Its earlier address is in John Street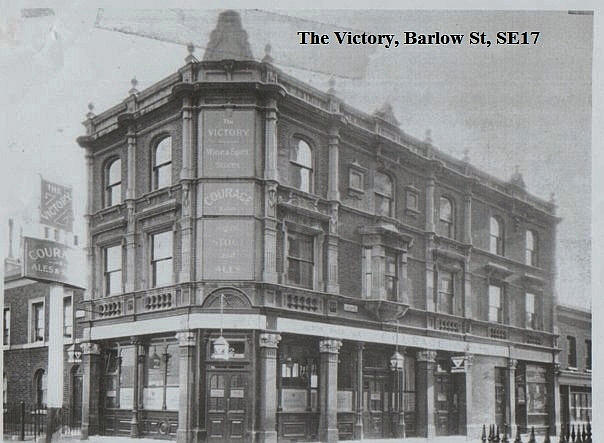 Victory, 32 Barlow Street SE17
Kindly provided by Paul Prior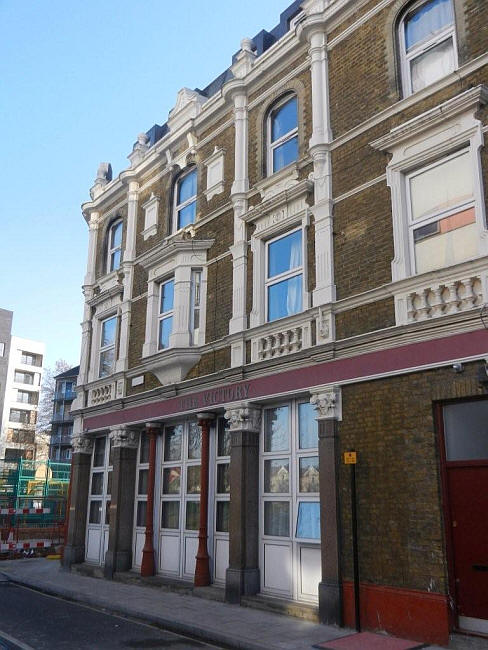 Victory, 32 Barlow Street, SE17 - in November 2011
Kindly provided by Stephen Harris
Residents at this address.
1856/Charles Jones/Victory, John Street, East Lane, Walworth/../../Post Office Directory

Thomas Batey was the brother of my 3 x great grandfather. ***

April 1864/John Busby Seamark/Outgoing Licensee/../../Era

April 1864/Thomas Batey/Incoming Licensee/../../Era

1869/Thomas Batey/Victory, Barlow street, East street, Walworth SE/../../Post Office Directory

1871/Thomas Batey/Licensed Victualler/35/Shoredirch, Middlesex/Census ***
1871/Julia Batey/Wife/27/Putney, Surrey/Census
1871/Julia Batey/Daughter/6/Walworth, Surrey/Census
1871/William Batey/Son/3/Walworth, Surrey/Census
1871/Emma Batey/Daughter/10 months/Walworth, Surrey/Census
1871/George Reuton/Barman/19/Walworth, Surrey/Census
1871/Hannah Berniges/Servant/19/Southwark, Surrey/Census
1871/Henry J Hibberd/Servant/18/Blackwall, Middlesex/Census

At the time of Administration of Thomas Batey's estate on 7th December 1872, his widow, Julia Batey was at The Black Prince, Princes Road. Thomas was brother of William Batey who founded Batey's Ginger Beer. ***

November 1871/Thomas Batey/Outgoing Licensee/../../Era

November 1871/Frederick Smith/Incoming Licensee/../../Era

1881/James Milne/Licensed Victualler/54/Marylebone, Middlesex/Census
1881/Emily Milne/Wife/29/Sawbridgeworth, Hertford/Census
1881/Ellen Milne/Daughter/9/Islington, Middlesex/Census
1881/Albert Milne/Son/1 month/Newington, Surrey/Census
1881/Ann Brace/Barmaid/25/Sawbridgeworth, Hertford/Census
1881/Mary Leaby/Servant/19/Newington, Surrey/Census
1881/Henry Taylor/Barman/22/New York/Census
1881/Henry Whybrow/Visitor, Apprentice/18/Essex/Census

1882/Samuel Milne/../../../Post Office Directory

1891/Frank Barnes/../../../Post Office Directory

1895/Poole & Venner/../../../Post Office Directory

1899/James Fysh/../../../Post Office Directory

1910/Edward Samuel Hardiman/../../../Post Office Directory

1915/George Charles Moorcroft/../../../Post Office Directory

1921/Walter Osmond Knight/../../../Post Office Directory

1938/Wm Geo Pilditch/../../../Post Office Directory

1944/Hy E Ross/../../../Post Office Directory



** Provided By Stephen Harris