Virginia Plant, 82 Great Dover Street SE1
Newington pub history index
The early address is at 22 Virginia Terrace, Great Dover Street to at least 1841. The Virginia Plant was totally destroyed by a V2 rocket in December 1944 with the loss of 17 lives. **
A listing of historical London public houses, Taverns, Inns, Beer Houses and Hotels in Newington, Surrey, London. The Newington, Surrey , London listing uses information from census, Trade Directories and History to add licensees, bar staff, Lodgers and Visitors.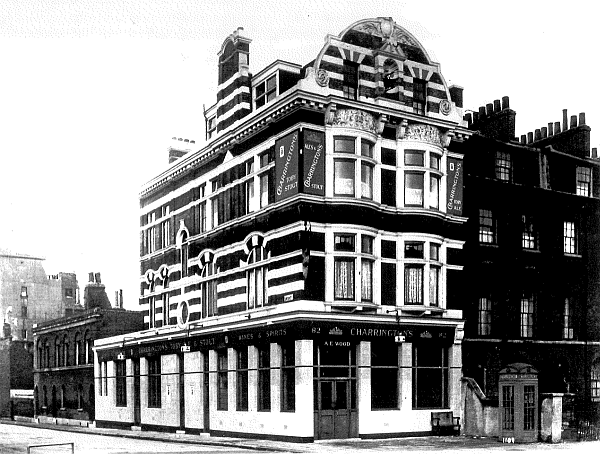 Virginia Plant, 82 Great Dover Street, Newington, London SE - circa 1940
Kindly provided by Peter Embling & Southwark Local History Library
Residents at this address.
1825/James Rogers/Virginia Plant, Great Dover street/../../Victuallers Recognizance

1832/Henry William Tullett/../../../Robsons Directory

1839/Richard Wallis/../../../Pigots Directory

1841/R Wallis/../../../Kellys Directory

1842/Lewis Rich/../../../Robsons Directory

June 1846/Mr Butterfield/../../../West Kent Guardian

1848/Thomas Winterbotham/../../../Post Office Directory

1856/Thomas Winterbotham/../../../Post Office Directory *

July 1860/Thomas Winterbotham/Meeting regarding increased spirit duties/../../South London Chronicle

May 1862/Thomas Winterbotham/Licensed Victuallers Association/../../Era

April 1863/Thomas Winterbotham/Outgoing Licensee/../../South London Chronicle

April 1863/William Chaplin/Incoming Licensee/../../South London Chronicle

1869/George Chaplin/../../../Post Office Directory

1877/William Chaplin/../../../Post Office Directory

1881/Abdou Crimmen/Manager (Public House)/26/Fulham, Middlesex/Census
1881/Frank Eveleigh/Barman/23/Rockbeare, Devon/Census
1881/Walter Brown/Barman/18/York/Census
1881/George Reicket/Barman/17/Peterboro, Cambridge/Census
1881/Sarah Baynham/Barman/43/Southwark, Surrey/Census

1882/Deakin & Co/../../../Post Office Directory

1884/Deakin & Co/../../../Post Office Directory

1891/Charles Deakin & Co/../../../Post Office Directory

1895/C. Deakin & Co./../../../Post Office Directory *

1899/Harry Albert Winn Weston/../../../Post Office Directory

1901/Harry Albert Winn Weston/../../../Post Office Directory

1904/Godfrey Langhelt/../../../Post Office Directory

1906/Godfrey Langhelt/../../../Post Office Directory

1908/William Wortley/../../../Post Office Directory

1910/William Wortley/../../../Post Office Directory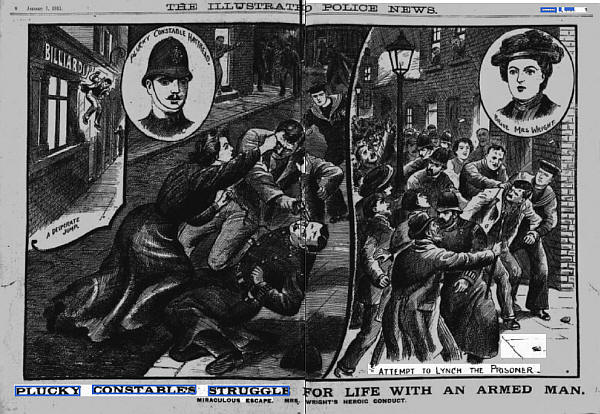 The Illustrated Police News - Plucky Constable Haytread & Brave Mrs Wright
Kindly provided by Peter Embling

10th January 1911/William Sumpton/Licensee/../../Old Bailey case of armed robbery **
The trial relates to the attempted murder of PC George Haytread, and the actions of a passer by, Mrs Wright. **

20th January 1911/PC Haytread was awarded the Kings Police Medal for his actions, the perpetrator Charles Graham received a life sentence. Mrs Wright was awarded £10 for her plucky actions./Western Gazette **

1911/William Sumpton/Licensed Victualler/60/St Sepulchre, City of London/Census
1911/Selina Burton/Housekeeper/38/Battersea/Census
1911/Richard Hartwell Williams/Barman/23/Exeter, Devon/Census
1911/Walter Gibbons/Barman/25/Brentwood, Essex/Census

1913/William James Burgess/../../../Post Office Directory

1915/William James Burgess/../../../Post Office Directory *

1921/Death of William James Burgess on 17th July, at Worthing, of the Virginia Plant, and formerly of Wimborne, Dorset/../../../Post Office Directory

July 1921/William James Burgess/../../../Western Gazette

1934/Mrs Florence Burgess/../../../Kellys Directory

1938/Mrs Amelia Ellen Wood/../../../Post Office Directory

1940/Mrs Amelia Ellen Wood/../../../Post Office Directory

1944/William H Grundy/../../../Post Office Directory



* Provided By Ewan

** Provided By Peter Embling