Elephant & Castle, 464 Harrow road, Paddington W9
Paddington pub history index
The address is 19 Chippenham Terrace, Harrow Road in the 1869 Directory. At 51 Chippenham Terrace in 1882 and earlier. The slightly more modern address is at 464 Harrow Road. The pub is near to the junction with Chippenham Mews in 1938 (The modern Chippenham Mews has been moved). The modern pub building at 12 Elgin Avenue was rebuilt to the north-west of the original site on Harrow Road. *
A listing of historical public houses, Taverns, Inns, Beer Houses and Hotels in Paddington, West London.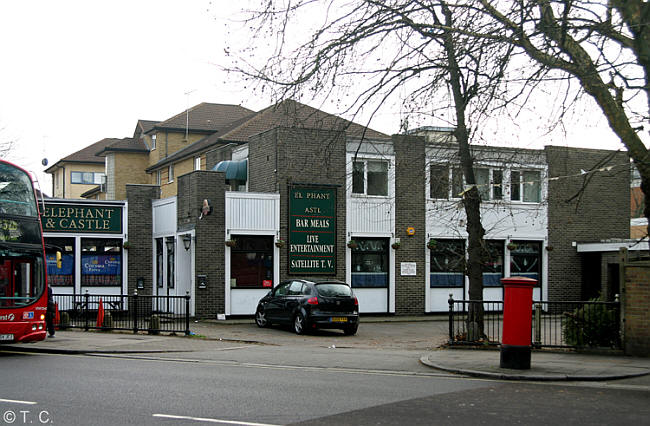 Elephant & Castle, 12 Elgin Avenue, Paddington W9
The licence for the Elephant & Castle is resurrected in this modern pub of the same name, and reasonably local to the original. It closed in 2012.
Kindly provided by Tris
Residents at this address.
Elephant & Castle, Chippenham Terrace, Harrow Road :

1869/Daniel Rudkin/../../../Post Office Directory

1881/Charles D Shannaw/Licensed Victualler/32/St Lukes, Middlesex/Census
1881/Harriet H Shannaw/Wife/31/Bures, Essex/Census
1881/Eliza Birch/Mother In Law/64/St Osyth, Essex/Census
1881/Charles Cheese/Barman/36/Bayswater, Middlesex/Census
1881/Charles M Hutton/Barman/25/Vauxhall, Surrey/Census
1881/Rebecca Rowlands/Cook/54/City Of London, Middlesex/Census
1881/Elizabeth Rowlands/Housemaid/25/St Pancras, Middlesex/Census
1881/Stephen Finch/Potman/17/Islington, Middlesex/Census

1882/Charles Shannaw/../../../Post Office Directory

Elephant & Castle, 464 Harrow Road :

1891/John Newbery/../../../Post Office Directory *

1895/Newbery & Tratt/../../../Post Office Directory *

1899/Newberry & Tratt/../../../Post Office Directory

1910/Newberry & Tratt/../../../Post Office Directory

1915/Charles Burrough/../../../Post Office Directory *

1921/Charlie Burrough/../../../Hughes Directory

1938/Allens (Caterers) Ltd/../../../Post Office Directory

1944/Jas Duffell/../../../Post Office Directory



* Provided By Ewan

** Provided By Tris