Western Counties Hotel, 8 London street, Paddington W2
Paddington pub history index
Existed from at least 1871. Now known as the Sawyers Arms (2014). *
A listing of historical public houses, Taverns, Inns, Beer Houses and Hotels in Paddington, West London. The Paddington, London listing uses information from census, Trade Directories and History to add licensees, bar staff, Lodgers and Visitors.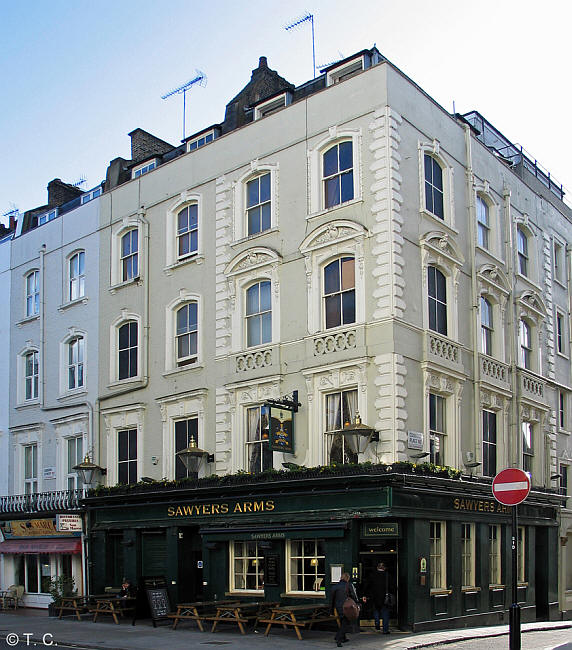 Western Counties Hotel, 8 London Street, W2 - in February 2014
Kindly provided by Tris
Residents at this address.
1871/John Headon/Hotel Keeper/47/Parkham, Devon/Census
1871/Jane Headon/Wife/54/Bidford, Devon/Census
1871/William Drew/Nephew, Assistant/24/Bidford, Devon/Census
1871/Sarah Drew/Niece, Barmaid/21/Bidford, Devon/Census
1871/Horace Sadd/Waiter/28/Mendham, Suffolk/Census
1871/Edward Butler/Potman/32/Bethnal Green, Middlesex/Census
1871/Louisa Gunn/Barmaid/22/Bumpstead, Essex/Census
1871/Annie Dean/Cook/23/London, Middlesex/Census
1871/Rose Andrew/Chambermaid/21/Bartley, Hampshire/Census
+ Lodgers

1881/James Headon/Lisenced Victualler, Widow/63/Bideford, Devon/Census
1881/Letitia R Headon/Daughter/24/Bow, Middlesex/Census
1881/Arthur W Headon/Son/19/Paddington, Middlesex/Census
1881/John K Cripps/Barman/24/Waddesson, Buckingham/Census
1881/Kate Spilton/Barmaid/30/Woolwich, Kent/Census
1881/Minnie Spilton/Barmaid/22/Wimbury, Devon/Census
1881/Charles Shepard/Waiter/25/Wariornston Coneley/Census
1881/Jane Hallstone/Chambermaid/25/Margate, Kent/Census
1881/Jane Sturgeon/Cook/23/Boydon, Norfolk/Census
1881/Walter J Banks/Potman/25/Manchester, Lancashire/Census
1881/William Knight/Boarder, Merchant Clerk/63/Leicester/Census
1881/Lucy Knight/Boarder/39/Standlow, Derby/Census
1881/Frederick Harrington/Boarder, Tea Dealer/27/Cobham, Surrey/Census
1881/John Quin/Boarder, Veterinary Surgeon/22/Stantly, Wales/Census
1881/Edward (George) Wilson/Boarder, Licensed Vitualler/34/Barmly, York/Census
1881/George D Edwards/Boarder, Civil Enginer/32/Cressage, Shropshire/Census

1899/George Alfred Newman/../../../Post Office Directory

1901/James Fay/Licensed Victualler/48/Germany/Census
1901/Alice Fay/Wife/39/Abingdon, Berkshire/Census
1901/George Reeve/Nephew, Cellerman/17/Oxford/Census
1901/Henry A Chamberlain/Barman/28/Upminster, Essex/Census
1901/Louise Herley/Barmaid/26/High Wycombe, Buckinghamshire/Census
1901/Rose Huggins/Domestic Servant/19/Abingdon, Berkshire/Census
1901/Fanny Huggins/Domestic Servant/18/Abingdon, Berkshire/Census
1901/Minnie M Hawkins/Barmaid/22/Pyllswell, Gloucestershire/Census

1910/Alice Fay/../../../Post Office Directory

1911/James Fay/Publican/58/Frankfurt, Germany/Census
1911/Alice Fay/Wife/49/Appleford, Berkshire/Census
1911/Herbert Turner/Barman/33/Bristol, somerset/Census
1911/Henry Williams/Potman/32/Westminster, London/Census
1911/Mary Goring/Barmaid/20/Holloway, London/Census
1911/Louise Harper/Barmaid/25/Banbury, Oxfordshire/Census
1911/Sunbeam Preston/Barmaid/19/Hammersmith, London/Census
1911/Blanche Sawkins/Cook, Widow/38/Clommell (Tipperary)/Census
1911/Emily Kennedy/Housemaid/20/Acton, London/Census

1921/Mrs Alice Fay/../../../Post Office Directory

1938/William Geo Bessell/../../../Post Office Directory

1944/William Geo Bessell/../../../Post Office Directory



* Provided By Tris