Search London wiki and Pub wiki history sites
All public house, restaurants, bars etc closed for the forseeable future on 20th March 2020, but this is a history site. But how about the landlords give their tenants a break, no business, then please charge them no rent.
Prince Albert Hotel, 11 Craven road, Paddington W2
Paddington pub history index
The Albert Tavern in 1869. Converted to restaurant use. *
Historical London public houses, Taverns, Inns, Beer Houses and Hotels.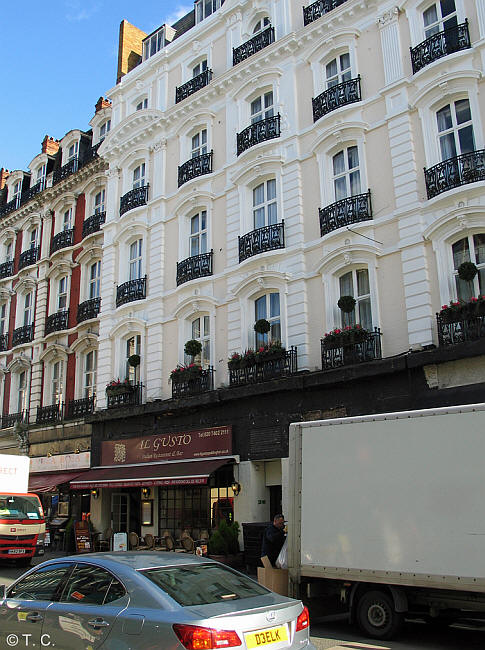 Prince Albert Hotel, 11 Craven Road, W2 - in February 2014
Kindly provided by Tris
Residents at this address.
1869/John Bonny/../../../Post Office Directory

1871/Charles J Pope/Licensed Victualler/32/Tiverton, Devon/Census
1871/Elizabeth Pope/Wife/32/Lambeth, Surrey/Census
1871/William Pope/Father, Retired farmer,Widow/72/Lambeth, Surrey/Census
1871/Mary Jacques/Wifes Sister, Farmers Wife/35/Lambeth, Surrey/Census
1871/Ann Jacques/Niece/9/Clerkenwell, Middlesex/Census
1871/Jessie Cawdrey/Barmaid/26/Lambeth, Surrey/Census
1871/Jeremiah Elmy/Barman/25/Southwold, Suffolk/Census
1871/Ellen Harwood/Cook/22/Swindon, Wiltshire/Census
1871/Betsey A Wootten/Housemaid/25/Stafford/Census
1871/Alfred White/Potman/21/London, Middlesex/Census

1881/Abraham J Mullins/Hotel Manager/24/Pilton, Somerset/Census
1881/Frederick Burt/Barman/22/London, Middlesex/Census
1881/Arthur T Riches/Billiard Marker/20/Marylebone, Middlesex/Census
1881/Thomas W Herbert/Potman/48/Lambeth, Surrey/Census
1881/Hannah Cranmer/Housekeeper/37/Stratford On Avon, Warwick/Census
1881/Amelia Simmonds/Barmaid/25/Camberwell, Surrey/Census
1881/Kate Flynn/Cook/30/Westminster, Middlesex/Census
1881/Alice A Gates/Housemaid/26/Swanbourne, Buckingham/Census

1882/R A Cook/../../../Post Office Directory

1884/Edward A Cook/../../../Post Office Directory

1891/Henry Adolphus Gray/../../../Post Office Directory

1891/Henry A Gray/Hotel Proprietor/38/St Pancras, London/Census
1891/Sarah J Gray/Wife/40/Kings Lynn, Norfolk/Census
1891/Edith Gray/Daughter/11/St Georges, London/Census
1891/Claud Gray/Son/1/Paddington, London/Census
1891/Charlotte Arnold/Mother in Law, Widow/59/Norfolk/Census
1891/Robert Hoyes/Barman/23/Camberwell, London/Census
1891/Mildred Daniels/Barmaid/28/Camberwell, London/Census
1891/Alice M Aris/Barmaid/21/Peckham/Census
1891/Helen M Higham/Barmaid/19/Kensal Green, London/Census
1891/Mary A Lines/Cook, Widow/40/Sheffield/Census
1891/Annie Vince/Housemaid/22/Tilehurst, Berkshire/Census

1895/George Janes/../../../Post Office Directory

1899/William Henry Lowe/../../../Post Office Directory

1910/Cooper Brothers/../../../Post Office Directory

1921/John Walker/../../../Hughes Directory

1938/R V Goodhew Ltd/../../../Post Office Directory

1971/../Prince Albert Hotel/../../Pub Directory



* Provided By Tris