Search London wiki and Pub wiki history sites
All public house, restaurants, bars etc closed for the forseeable future on 20th March 2020, but this is a history site
Mitre, 13 Edgware road, Paddington W2
Paddington pub history index
Existed from at least 1839. The early address in 1856 and earlier is at 7 Connaught Terrace, Edgware Road. The Mitre disappears for a while after 1921 as an address, but reappears by 1971 as the King & Queen, 13 Edgware Road; although note the 1935 matchbox.
Historical London public houses, Taverns, Inns, Beer Houses and Hotels.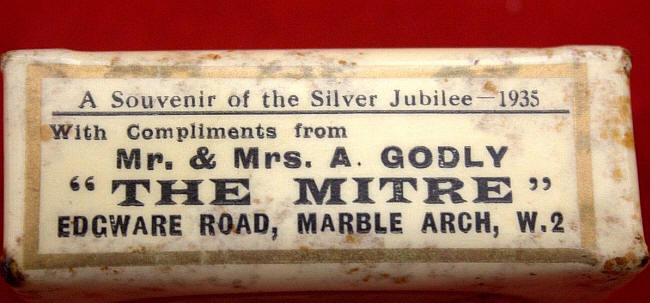 A souvenir of the Silver Jubilee - 1935 : With compliments from Mrs & Mrs A Godly
Kindly provided by Dawn Wigley
Residents at this address.
1839/Francis Ward/../../../Pigots Directory

1848/Edward Minton/../../../Post Office Directory

1851/Edward Minton/../../../Kellys Directory

1856/Edward Benjamin Minton/../../../Post Office Directory

1869/Richard Grinslade/../../../Post Office Directory

1871/Richard Grinslade/Licensed Victualler/54/Southwark St Saviour/Census
1871/Ann B Grinslade/Wife/54/St Clements Danes/Census
1871/Agnes M A Morney/Barmaid/18/Kennington, Surrey/Census
1871/Amelia A North/Visitor/7/Poplar, Middlesex/Census
1871/Jane Goodall/General Servant/51/West Hartlepool/Census
1871/George Jones/Potman/33/Shoreditch, Middlesex/Census

1881/Richard Webb/Publican/56/Whitechapel/Census
1881/Emily Webb/Wife/39/Mayfair/Census
1881/Emily Webb/Daughter/13/St James/Census
1881/Emma Dunnett/Mother In Law/68/Holborn/Census
1881/Mary O'Bryan/Domestic Servant/24/Ireland/Census
1881/Sarah Oettmon/Barmaid/24/Aldegate E/Census

1882/Richard Webb/../../../Post Office Directory

1884/John H Charles/../../../Post Office Directory

1891/Leonard Hunt Hargrave/../../../Post Office Directory

1891/Leonard Hunt Hargrave/Licensed Victualler/30/Ilford, Essex/Census
1891/Jerssie Marie Eugenie Hargrave/Wife/22/Paddington, Middlesex/Census
1891/Leonard Oswald Hargrave/Son/11 months/Paddington, Middlesex/Census
1891/Eliza Ann Hargrave/Mother, Widow/54/Chelsea/Census
1891/Mary Elizabeth Kilby/Sister/29/Chelsea/Census
1891/Evelyn Pyke Smith/Barmaid/34/Paddington/Census
1891/Ellen Mary Connelly/Barmaid/28/Pheerness, Kent/Census
1891/William Dennis/Barman/23/Highgate, Middlesex/Census
1891/Emily Amelia Pope/Servant/26/West Drayton/Census
1891/Minnie Rosa Sanson/Nursemaid/15/Buenos Ayres, South America/Census

1895/James Brown/../../../Post Office Directory

1899/Ecclestone & Evento/../../../Post Office Directory

1910/John Richmond/../../../Post Office Directory

1911/John Richmond/Licensed Victualler/34/Camberwell, London/Census
1911/George Lapworth/Assistant/28/Hillingdon, Middlesex/Census
1911/Rose Lapworth/Cook/28/Paddington, London/Census
1911/Wilfred Cotman/Assistant/25/Hornsey, London/Census
1911/Arthur Webb/Assistant/24/Norwich, Norfolk/Census
1911/John Colwell/Assistant/19/Old Ford, London/Census
1911/William Davis/Assistant/25/Devizes, Wiltshire/Census

1915/John Richmond/../../../Post Office Directory

1921/Christopher Kelly Regan/../../../Post Office Directory

1934/Arthur Godly/../../../Kellys Directory

1935/Mr & Mrs Godly/../../../Souvenir Match box *

1971/../King & Queen/../../Pub Directory Directory



* Provided By Dawn Wigley