Search London wiki and Pub wiki history sites
All public house, restaurants, bars etc closed for the forseeable future on 20th March 2020, but this is a history site. But how about the landlords give their tenants a break, no business, then please charge them no rent.
Duke of Clarence, 128 Elgin road, Paddington W11
Paddington pub history index
Existed from at least 1881. This is named in an 1886 licensing record, but it appears to no longer be a pub by the 1891 Directory, after which point it has become an off licence. The address is 128 Elgin Avenue by 1891, following street renaming. *
Historical London public houses, Taverns, Inns, Beer Houses and Hotels.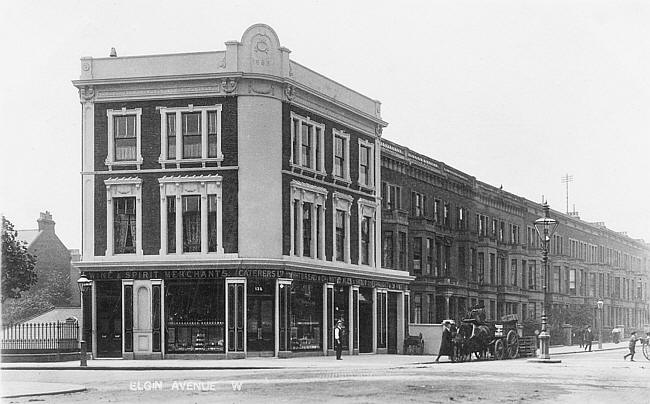 The former Duke Of Clarence, at the corner of Elgin Avenue and Shirland road, Paddington - in 1915
Kindly provided By Vincent O'Loughlin
128 Elgin Avenue W11 - in July 2011
Kindly provided by Tris
Residents at this address.
1881/John Marchant/Beer Seller/28/Beverley, York/Census
1881/Mary Marchant/Wife/20/Wendover, Buckingham/Census
1881/George E Marchant/Son/2/Ealing, Middlesex/Census

1882/James George Haden/Beer Retailer/../../Post Office Directory

1886/Richard Henry Jackson/[Duke of Clarence]/../../Middlesex Sessions of the Peace County Licensing Committee records, held at the London Metropolitan Archives

1891/Richard H. Jackson/Wine & Spirit Merchant/48/Bere Ferrers, Devon/Census *
1891/Sarah J. Jackson/Wife/44/Plymouth, Devon/Census
1891/Janie A. Jackson/Daughter/22/Shoreditch/Census
1891/Alice W. Jackson/Daughter/21/Clerkenwell/Census
1891/Florence E. Jackson/Daughter/20/Clerkenwell/Census
1891/Edith M. Jackson/Daughter/13/Paddington/Census
1891/Charlotte Hutchings/Domestic Servant/23/Southampton, Hampshire/Census

1895/Richard Henry Jackson/wine & spirit merchant/../../Post Office Directory *

1899/Richard Henry Jackson/wine & spirit merchant/../../Post Office Directory *

1901/Richard H. Jackson/Wine & Spirit Merchant/58/Bere Ferrers, Devon/Census *
1901/Sarah J. Jackson/Wife/54/Plymouth, Devon/Census
1901/Edith M. Jackson/Daughter/23/Paddington/Census
1901/Esther Wickles/Wine & Spirit Merchant's Manageress (Widow)/49/Staines, Surrey/Census
1901/Helena A. Wickles/Wine & Spirit Merchant's Assistant/23/Kensington/Census

1911/Alfred William Porter/Manager Off Licence/32/Beckenham, Kent/Census *
1911/Jane Esther Porter/Wife, Manageress Off Licence/27/Uxbridge, Middlesex/Census
1911/Gladys Rosa Porter/Daughter/10 months/Paddington/Census
1911/Lizzie Mabel Reynolds/Sister-in-Law, Assistant in Off Licence/24/Luton, Bedfordshire/Census

1915/Caterers Ltd/Wine Merchants/../../Post Office Directory

1921/Caterers Ltd/Wine Merchants/../../Post Office Directory

1938/Caterers Ltd/Wine Merchants/../../Post Office Directory



* Provided By Ewan