Search London wiki and Pub wiki history sites
All public house, restaurants, bars etc closed for the forseeable future from 20th March 2020, but this is a pub history site.
Westminster Arms, 10 Praed street, Paddington W2
Paddington pub history index
The street numbering in Praed street is limited to number 154 until at least 1864, when this is a beer house at 154 Praed street. At 153 Praed Street in 1869 and 1871 when it begins to be named as a licensed public house. Now in commercial use. *
A listing of historical public houses, Taverns, Inns, Beer Houses and Hotels in Paddington, West London. The Paddington, London listing uses information from census, Trade Directories and History to add licensees, bar staff, Lodgers and Visitors.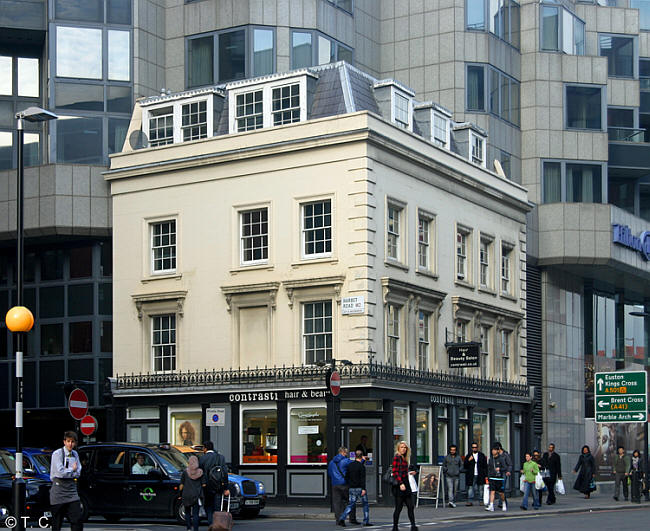 Westminster Arms, 10 Praed Street, Paddington W2
Kindly provided by Tris
Residents at this address.
1854/Henry Thould, beer retailer, 154 Praed street/../../Post Office Directory

Morning Post - 4th September 1854 : Mrs Harriet Thould, landlady of the Westminster Arms, Praed street, Paddington, was summoned for selling beer on a Sunday before one o'clock. Brown, 29 Division, and Clears 99 Division, watched the house, and then entered and purchased a pint of ale at 4d. Nine men at the bar were served with 6 pots of ale at 6d per pot, and two pots of beer at 4d a pot. After leaving, they saw eighteen more men admitted.
Fined 40 shillings, and costs. **

1856/Mrs H Thould, beer retailer, 154 Praed street/../../Post Office Directory

1860/George Basing, beer retailer, 154 Praed street/../../Post Office Directory

1864/George Basing, beer retailer, 154 Praed street/../../Post Office Directory

1869/Charles Daniel Tennant, Westminster Arms, 153 Praed street/../../Post Office Directory

October 1869/Charles Daniel Tennant, deceased/Outgoing Licensee/../../Era

October 1869/Mary Ann Tennant, executrix of Charles Daniel Tennant, late occupier/Incoming Licensee/../../Era

1871/Alfred Chipperfield, Westminster Arms, 153 Praed street/../../Post Office Directory

1875/Alfred Chipperfield, Westminster Arms, 153 Praed street/../../Post Office Directory

1881/Thomas B Turnham/Manager Of Public House/32/Whitechapel, Middlesex/Census
1881/Ann Turnham/Wife/30/Islington, Middlesex/Census
1881/Laura E Turnham/Daughter/1/Paddington, Middlesex/Census
1881/Benjamin Turnham/Brother, Barman/30/Whitechapel, Middlesex/Census
1881/James Andrews/Barman/23/Aldershot, Kent/Census
1881/Emma Capel/Nurse, Domestic Servant/18/Marylebone, Middlesex/Census
1881/Rachel Atle/Domestic Servant, Cook/49/Newport, Essex/Census

1882/John Turnham/../../../Post Office Directory

1899/Thomas Braithwaite Turnham/../../../Post Office Directory

1944/Jack Berger/../../../Post Office Directory



* Provided By Tris

** Provided By Joanna Moncrieff