Search London wiki and Pub wiki history sites
All public house, restaurants, bars etc closed for the forseeable future from 20th March 2020, but this is a history site.
Load of Hay, 144 Praed street, Paddington W2
Paddington pub history index
Existed from at least 1825. At 62 Praed Street in 1871 and earlier. Trading by at least 1975, this pub is now in restaurant use at bar level below a hotel. ***
Historical London public houses, Taverns, Inns, Beer Houses and Hotels.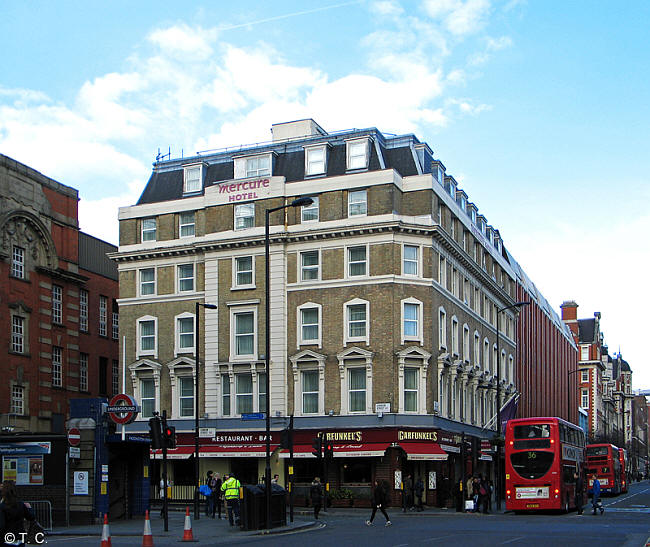 Load of Hay, 144 Praed Street, W2 - in February 2014
Kindly provided by Tris
Residents at this address.
1825/Mr Clark, Load of Hay, Praed street, Paddington/../../Licensed Victuallers Association

1832/_ Oliver/../../../Robsons Directory

1833/Mr George Haynes, Load of Hay, Praed street, Paddington/../../Licensed Victuallers Association

1834/Mr George Haynes, Load of Hay, Praed street, Paddington/../../Licensed Victuallers Association

1839/George Haynes/../../../Pigots Directory

1842/David Holloway/../../../Robsons Directory

1843/David Oliver/../../../Kellys Directory

1848/David Oliver/../../../Post Office Directory

1851/David Oliver/../../../Kellys Directory

1856/David Oliver/../../../Post Office Directory

July 1861/David Oliver/Outgoing Licensee/../../Era

July 1861/Frederick Collingwood/Incoming Licensee/../../Era

1867/Mrs Rosetta Louisa Neate, Load of Hay, 62 Praed street, Paddington/../../Licensed Victuallers Association

1869/Stephen Neate/../../../Post Office Directory *

Stephen Neate, who marries Emma Hart in 1896, is found as follows at Load of Hay pub, 62 Praed Street, Paddington. *

1871/Stephen Neate/Licensed Victualler/42/Surrey/Census *
1871/Rosetta Neate/Wife/48/Middlesex/Census
1871/Rachel Peverly/Sister in law/50/Middlesex/Census
1871/Jane A Hart/Visitor, Professor of Languages/29/Surrey/Census
1871/Henry Ashley/Assistant/29/Middlesex/Census
1871/William Venner/Assistant/20/Sussex/Census
1871/Henry Nelson/Assistant/21/Middlesex/Census
1871/Willian Aliva/Assistant/20/Middlesex/Census
1871/James Richards/Assistant/21/Devon/Census
1871/Ann Wilson/Cook/40/Ireland/Census
1871/Anne Broome/Housemaid/20/Colchester, Essex/Census
1871/Amelia Newport/Visitor/16/Middlesex/Census
1871/John Prior/Assistant/50/Surrey/Census

1881/Silas P Greenslade/Licensed Victualler/40/S Michals, Somerset/Census
1881/Sarah A Greenslade/Wife/23/North Petherton, Somerset/Census
1881/Robert Furrage/Barman/32/Clutworthy, Somerset/Census
1881/William H Drury/Barman/19/Battle, Sussex/Census
1881/Edward M Curry/Barman/20/Westminster, Middlesex/Census
1881/Edward J Clark/Barman/17/Hampstead, Middlesex/Census
1881/Fanny S Goorpey/Barmaid/23/Ichelson, Essex/Census
1881/Fanny M Hallet/Barmaid/16/Isle of Wight, Hampshire/Census
1881/Mary Fang/Cook/32/Lambeth, Surrey/Census

1882/S P Greenslade/../../../Post Office Directory

1884/Silas P Greenslade/../../../Post Office Directory

1891/Richard Baker/../../../Post Office Directory

1895/Richard Baker/../../../Post Office Directory

1899/Baker & Co/../../../Post Office Directory

1906/William Baker & Co/../../../Post Office Directory

1910/William Baker & Co/../../../Post Office Directory

1938/Carrs (London) Ltd/../../../Post Office Directory

1940/Carrs (London) Ltd/../../../Post Office Directory

1944/Carrs (London) Ltd/../../../Post Office Directory

1971/../Load of Hay,144 Praed Street W2/../../Pub Directory



* Provided By Mary Brodbin

*** Provided By Tris