Search London wiki and Pub wiki history sites
All public house, restaurants, bars etc closed for the forseeable future on 20th March 2020, but this is a history site. But how about the landlords give their tenants a break, no business, then please charge them no rent.
Swan, 17 Needham Road, London W11 2RP
Paddington pub history index
Existed from at least 1856. The White Swan in 1884 and earlier. Norfolk Road is renamed and also renumbered between 1938 and 1944. The later address is at 17 Needham Road, and is currently called the Cock & Bottle (2013). *
A listing of historical public houses, Taverns, Inns, Beer Houses and Hotels in Paddington, West London.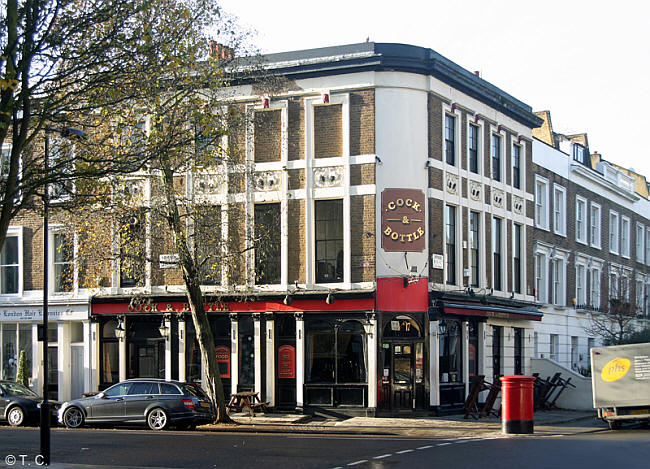 Cock & Bottle, 17 Needham Road, W11 - in 2011
Kindly provided by Tris
Residents at this address.
1856/J Hart/../../../Post Office Directory

1869/William James/../../../Post Office Directory

1881/Philip Barrett/Licensed Victualler/26/Lambeth, Surrey/Census
1881/Sarah Barrett/Wife/26/Woolwich, Kent/Census
1881/Edith Barrett/Daughter/10 months/Paddington, Middlesex/Census
1881/Martha Whitgrove/Visitor/35/Worcester/Census
1881/Agnes Weldon/Barmaid/27/Southampton/Census
1881/Emily Geddes/Cook/33/Shepperton, Middlesex/Census
1881/William Rich/Barman/20/Cottenham, Cambridge/Census
1881/George Searson/Potman/18/Chesham, Hertford/Census

1884/Philip Barrett/../../../Post Office Directory

1895/Edward John Green/../../../Post Office Directory

1899/Walter Charles Skinner/../../../Post Office Directory

1910/Walter Charles Skinner/../../../Post Office Directory

1911/Walter Charles Skinner/Licensed Victualler/48/Lympstone, Devon/Census
1911/Anne Elizabeth Skinner/Wife, Licensed Victualler/47/Montreal, Canada/Census
1911/Walter George Skinner/Son, Licensed Victualler/20/Marylebone, London/Census
1911/Gladys Evelyn Skinner/Daughter, Milliners Assistant/18/Fulham, London/Census
1911/Ethel May Skinner/Daughter, Book Keeper/16/Kensington, London/Census
1911/Doris Winifred Skinner/Daughter/15/Kensington, London/Census

1915/Walter Charles Skinner/../../../Post Office Directory

1921/Walter C Skinner/../../../Hughes Directory

1938/Walter Charles Skinner/../../../Post Office Directory

1944/Alfred Chas Norman/../../../Post Office Directory



* Provided By Tris