Search London wiki and Pub wiki history sites
All public house, restaurants, bars etc closed for the forseeable future on 20th March 2020, but this is a history site
Masons Arms, 18 Tichborne street, Paddington W2
Paddington pub history index
Existed from at least 1848. Although the Masons Arms is no longer there, I don't think it was destroyed during WW2, as the exterior seems to have appeared in the film 1956 film '23 Paces from Baker Street" which contained a lot of London location filming. The Tyburnia section of Volume 9 of the Victoria County History of Middlesex suggests that the area was redeveloped circa 1961 to make way for the Water Gardens luxury flats that are there now. Tichborne Street is now under that development. The pub is not quite dead as when the Water Gardens were built a pub called The Heron was built into the ground floor of the flats on a site very close to the Masons Arms. *
Historical London public houses, Taverns, Inns, Beer Houses and Hotels.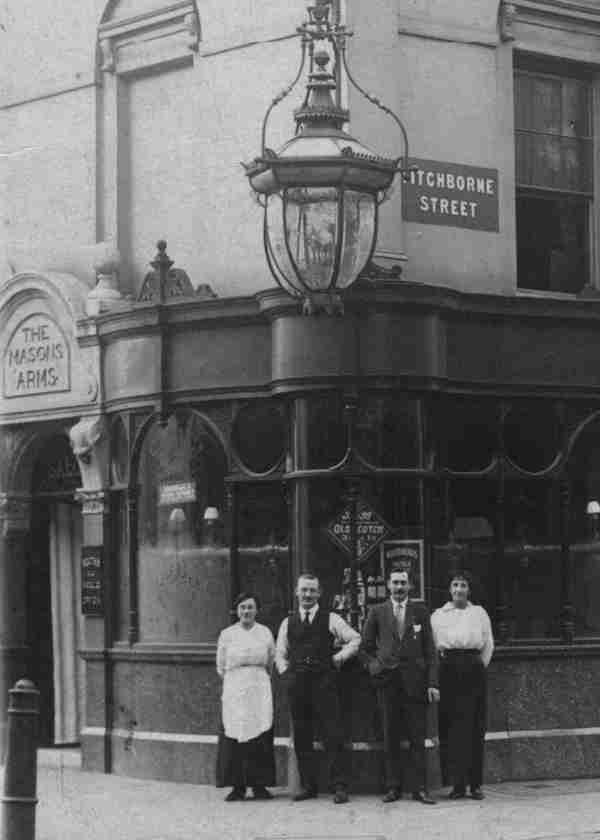 Masons Arms taken in about 1915. I have been told that my Grandparents Herbert Stapley and Sarah Penney worked in the kitchen there as a Kitchen Clerk and Sauce Chef. They are the couple on the left in the picture. I think that the pub was probably destroyed during a bombing raid in WWII. **
Kindly Provided By David Scotter
Residents at this address.
September 1849/Samuel West/Outgoing Licensee/../../Era

September 1849/John Stokes/Incoming Licensee/../../Era

1851/John Stokes/../../../Kellys Directory

1856/William Hulbert/../../../Post Office Directory

July 1864/William Hulber/ Outgoing Licensee /../../The Era

July 1864/William Lawford/ Incoming Licensee /../../The Era

October 1865/Mary Ann lawford, executrix of William lawford, late occupier/Outgoing Licensee/../../Era Newspaper

October 1865/Henry Hart/Incoming Licensee/../../Era Newspaper

July 1867 /Henry Hart/Outgoing Licensee/../../Era

July 1867 /William Edward Harrison/Incoming Licensee/../../Era

1869/W E Harrison/../../../Post Office Directory

1871/William E Harrison/Licensed Victualler/37/Paddington, Middlesex/Census
1871/Marion Harrison/Wife/28/Southwark, Surrey/Census
1871/Frederick W Harrison/Son/3/Paddington, Middlesex/Census
1871/Ada Harrison/Daughter/1/Paddington, Middlesex/Census
1871/Amelia Worlidge/Barmaid/28/Ipswich, Suffolk/Census
1871/Louisa Alexander/Nursemaid/31/London, Middlesex/Census
1871/Mary A McCarthy/General Servant/26/London, Middlesex/Census
1871/George Hewbury/Potman/21/London, Middlesex/Census
1871/Thomas Holmer/Lodger/14/Luton, Bedfordshire/Census

1881/Thomas H Barrett/Licensed Victualler/27/Quarley, Hampshire/Census
1881/Ellen Barrett/Licensed Victualler Wife/26/Plumstead, Kent/Census
1881/Thomas R Barrett/Son/1/Paddington, Middlesex/Census
1881/Mary Anne Pennington/Visitor, Nurse (SMS)/32/Deptford, Kent/Census
1881/Alice Melbourne/Cook/?/Marylebone, Middlesex/Census
1881/Annie L Swire/Housemaid/26/Marylebone, Middlesex/Census

1882/Thomas H Barrett/../../../Post Office Directory

1884/Thomas H Barrett/../../../Post Office Directory

1891/Henry Gordon/../../../Post Office Directory

1891/Alfred G Barker/Publican/46/Walworth, Surrey/Census
1891/Hannah Barker/Wife/34/Ilford, Essex/Census
1891/George Barker/Son/9/Islington, London/Census
1891/Ann Clarke/General Servant/34/Deptford, kent/Census
1891/Alice Launchbury/Barmaid/17/Islington, London/Census

1895/George Best Winter/../../../Post Office Directory

1899/Henry Everson/../../../Post Office Directory

1902/Francis White/../../../Post Office Directory

1910/Philpot Bros/../../../Post Office Directory

1915/Percy Walters/../../../Post Office Directory

1934/Percy Walters/../../../Kellys Directory

1938/E G Johnson/../../../Post Office Directory

1944/E G Johnson/../../../Post Office Directory



* Provided By Simon Finch

** Provided By David Scotter