Search London wiki and Pub wiki history sites
All public house, restaurants, bars etc closed for the forseeable future from 20th March 2020, but this is a pub history site.
City Arms, 1 West Ferry Road, Poplar E14
Poplar pub history index
Existed from at least 1811. Listed at 1 Ord Street, Millwall, Poplar in 1869 and earlier; It was built in 1811 - to replace a pub called the Gut House which had stood nearby. It was rebuilt in its present form in 1937 and was re-named the City Pride in 1987. This pub is closing its doors in March 2012. ** Demolished in 2012. *
Historical London public houses, Taverns, Inns, Beer Houses and Hotels.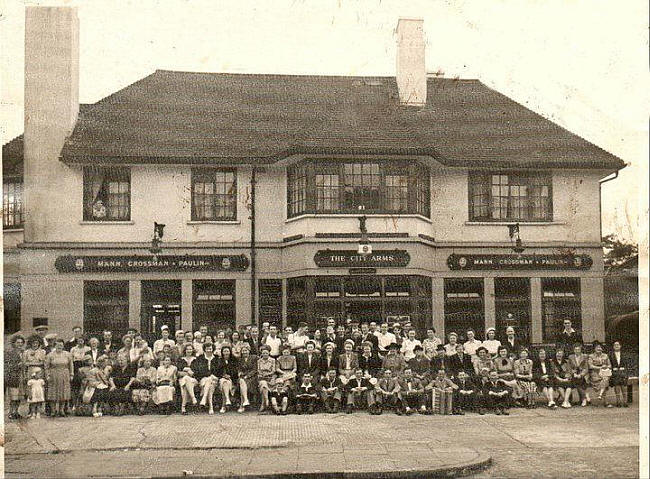 City Arms, 1 West Ferry Road, Poplar - Mann, Crossman Paulin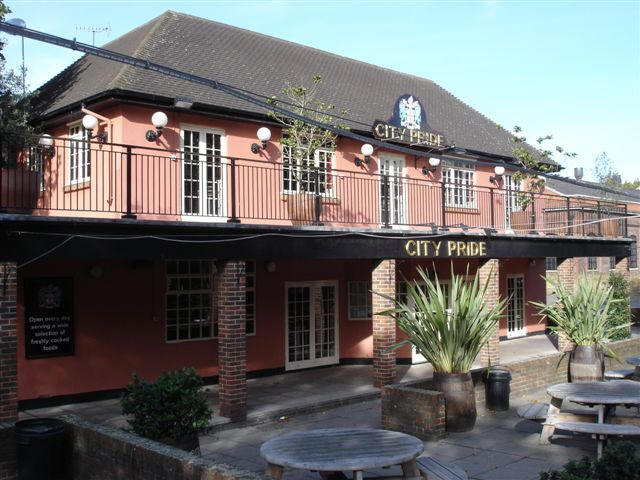 City Arms, 1 West Ferry Road - in October 2006
Kindly Provided by Stephen Harris
The following entries are in this format:
Year/Publican or other Resident/Relationship to Head and or Occupation/Age/Where Born/Source.
1811/James Oughton/../../../Survey of London **

1833-34/Eliza Newman, City Arms, Millwall, Poplar/../../Pigots Directory

1839/Charles Newman/../../../Pigots Directory

1842/Chas. Newman/../../../Robsonís Directory **

1844/Charles Newman/../../../Thompsonís Directory **

1848/William Vince/../../../Post Office Directory

1856/William Vince/../../../Post Office Directory

1861/William Vince/Victualler/53/Spitalfields, Middlesex/Census
1861/Amelia Vince/Wife/45/St james, Westminster/Census
1861/Arthur Vince/Son/6/Newington St Mary, Surrey/Census
1861/Susan E Seymore/Barmaid/22/St Leonards Bromley, Middlesex/Census
1861/Mary Shea/Servant/22/Ireland/Census
1861/Abraham Chittock/Servant/20/Harwich, Essex/Census
1861/Thos Higgs/Potman/47/Willesden, Middlesex/Census

1869/Alfred Cole/../../../Post Office Directory

1872/Alfred Alexander Cole/../../../Survey of London **

October 1873/Alexander Cole/Outgoing Licensee/../../East London Observer

October 1873/Alexander Cole (late of the Railway Tavern, West India road)/Incoming Licensee/../../East London Observer

January 1879/Alfred Alexander Cole/Outgoing Licensee/../../East London Observer

January 1879/Henry Cole/Incoming Licensee/../../East London Observer

1881/Henry A H Cole/Son/13/Felixstow, Suffolk/Census
1881/Emily G Cole/Daughter/7/Islington, Middlesex/Census
1881/Marguerite E Cole/Daughter/4/Kentish Town, Middlesex/Census
1881/Bessie Williams/House Keeper & Licensed Victualler/29/Dorsetshire/Census
1881/Bessie Carlin/Barmaid/20/Derbyshire/Census
1881/Mahalah Rumsey/Barmaid/19/Highgate, Middlesex/Census
1881/Mary A Linnaham/Cook, Widow/36/Tralee, Ireland/Census
1881/Anne Esplin/Housemaid/20/Aberdeen, Scotland/Census
1881/Alfred Harrison/Waiter & Licensed Victualler/18/Bristol W Phillip/Census
1881/Sarah A Cole/Sister/42/Lisson Grove, Middlesex/Census

1882/Henry Cole/../../../Post Office Directory

1884/John Reeve/../../../Post Office Directory **

1886/John Reeve/../../../Business Directory of London **

1891/John Reeve/../../../Post Office Directory **

1895/John Reeve/../../../Post Office Directory **

1899/George Francis Parsons/../../../Post Office Directory **

1900/George Francis Parsons/../../../Post Office Directory **

1901/Thomas Pleasance/Beer Retailer, Widow/48/Suffolk/Census
1901/Maud Pleasance/Daughter/9/London, Middlesex/Census
1901/Albert Pleasance/Son/8/London, Middlesex/Census
1901/Annie Nash/Domestic Servant, Widow/33/London, Middlesex/Census
1901/Mary Nash/Servant/7/London, Middlesex/Census
1901/Eve Wilkinson/Servant/18/London, Middlesex/Census
1901/Amelia Gibbs/Domestic Servant/43/London, Middlesex/Census

1910/Thomas James Carroll/../../../Post Office Directory

1915/Thomas James Carroll/../../../Post Office Directory

1934/Samuel Wm Hy Davis/../../../Kellys Directory

1938/Jn Wass/../../../Post Office Directory

1944/Mrs Rose F Saunders/../../../Post Office Directory

1971/../City Arms/../../Pub Directory

1983/../City Arms, Watneys/../../Pub Directory

1988 - 90/Glendola Leisure/City Pride/../../Watney Truman publicans list

1991/../City Pride, Grand Met - Watneys/../../Pub Directory



* Provided by Tris

** Provided by Stephen Harris