Search London wiki and Pub wiki history sites
All public house, restaurants, bars etc closed for the forseeable future from 20th March 2020, but this is a history site.
Folly House, Mill Wall, Poplar, E14
Poplar index
Existed from at least 1792. This pub closed in 1875. **
Historical London public houses, Taverns, Inns, Beer Houses and Hotels.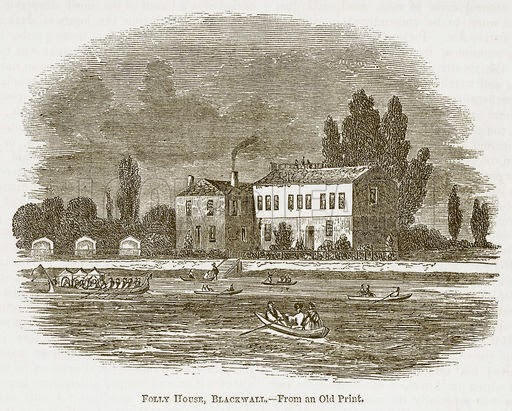 Folly House, Blackwall - from an old print
Residents at this address.
1792/Thomas Gibbons/../../../Proceedings of the Old Bailey **

1792/Jane Mole / Mother-in-Law /../../Proceedings of the Old Bailey **

1792/Catherine Gibbons / Sister /(Proceedings of the Old Bailey **

1792/Richard Wiggins / Servant /../../Proceedings of the Old Bailey **

1825/Thomas Spratley/../../../Records of Sun Fire Office, Guildhall Library **

1826/Thomas Spratley / Victualler /../../Records of Sun Fire Office, Guildhall Library **

1833-34/Silvester Dunn, Folly House, Folly wall, Blackwall/../../Pigots Directory

1833/Mr John Spencer/../../../Licensed Victuallers Association

1839/John Spencer /../../../Pigotís Directory **

1842/Jno. Spencer/../../../Robsonís Directory **

1844/John Spencer/../../../Thompsonís Directory **

1848/John Spencer / Licensed Victualler /../../London Gazette, 22 December 1848 **

1849/John Spencer/../../../Post Office Directory **

November 1849/John Spencer, deceased/Outgoing Licensee/../../Era Newspaper

November 1849/Frances Spencer, widow and administratrix of John Spencer/Incoming Licensee/../../Era Newspaper

1852/Richard Ascar/../../../Post Office Directory **

November 1863/Catherine Sophia Blamire/Outgoing Licensee/../../Era

November 1863/William Edwards/Incoming Licensee/../../Era

1871/Robert E Ollyett/Licensed Victualler/51/Poplar, Middlesex/Census
1871/Mary Ann Ollyett/Wife/51/Deptford, Kent/Census
1871/George Ollyett/Son, Joiner/25/Poplar, Middlesex/Census
1871/Henry Ollyett/Son, Blacksmith/21/Poplar, Middlesex/Census
1871/William Ollyett/Son, Shipwright/19/Poplar, Middlesex/Census
1871/Mary Ann Ollyett/Daughter/16/Poplar, Middlesex/Census
1871/Eliza Ollyett/Daughter/14/Poplar, Middlesex/Census
1871/Edward Ollyett/Son/12/Poplar, Middlesex/Census
1871/Susan Ollyett/Daughter/11/Poplar, Middlesex/Census
1871/Kate Ollyett/Daughter/8/Poplar, Middlesex/Census
1871/Mary Ann Lane/Niece/16/Poplar, Middlesex/Census
1871/William Keen/Potman/19/Poplar, Middlesex/Census

1874/E R Olyett/../../../H D Miles London & Suburban Licensed Victuallers Directory **

January 1875/executors of Edward Robert Olyett, deceased/Outgoing Licensee/../../East London Observer

January 1875/Mary Ann Olyett/Incoming Licensee/../../East London Observer



** Provided By Stephen Harris