Search London wiki and Pub wiki history sites
All public house, restaurants, bars etc closed for the forseeable future from 20th March 2020, but this is a history site.
George, 114 Glengall grove E14
Poplar index
It was built in 1865 as a large and imposing hotel. The George Tavern East Ferry Road in the 1867 license transfer; The earlier address is at 57 Glengall Street. Rebuilt in much more modest form - as it survives today - in 1932. **
Historical London public houses, Taverns, Inns, Beer Houses and Hotels.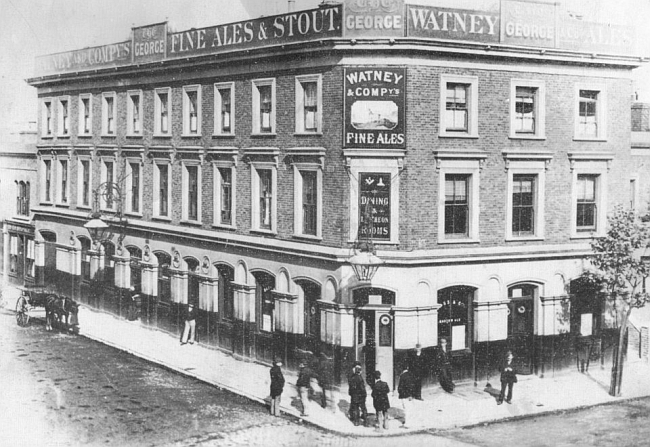 The George, corner of Glengall Road, and East Ferry road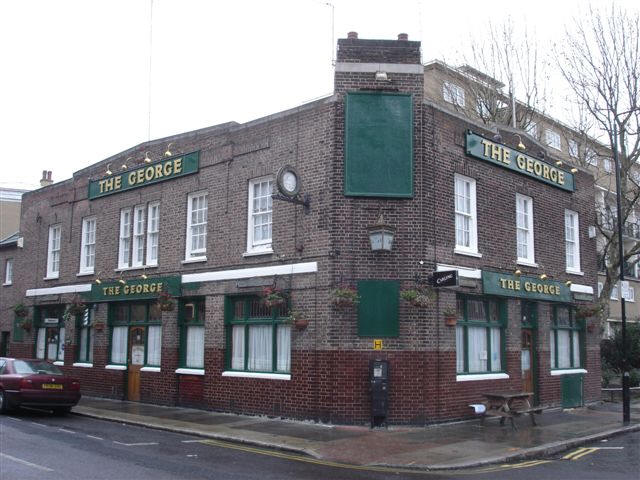 George, 114 Glengall Grove - in March 2007
Kindly provided by Stephen Harris
Residents at this address.
May 1865/George Reid/Appeal Licensee granted/../../East London Observer +

15th July 1867/John Thackway Davis/Outgoing Licensee/../../East London Observer +

15th July 1867/Frederick John Deacon/Incoming Licensee/../../East London Observer +

1869/Frederick John Deacon/../../../Post Office Directory

1879/William Clark/../../../Proceedings of the Old Bailey **
1879/John Coakley / Barman /../../Proceedings of the Old Bailey

1880/William Clark/../../../Proceedings of the Old Bailey **

1881/William Clark/Licenced Victualler/33/Wiltshire/Census
1881/E Clark/Wife/29/Bethnal Green, Middlesex/Census
1881/E H Clark/Daughter/3/Bow, Middlesex/Census
1881/M Clark/Daughter/2 months/Poplar, Middlesex/Census
1881/H Clark/Mother/60/Wiltshire/Census
1881/J Brown/Manager ,Licenced Victualler/22/Bow, Middlesex/Census
1881/Louis Stanfield/Barman/19/Kent/Census
1881/Thomas Moore/Barman/19/Middlesex/Census
1881/M A Scrives/Barmaid/26/Surrey/Census
1881/J Marnes/Barman/26/Poplar/Census
1881/W McCarty/Servant/25/../Census
1881/L Blake/Nursemaid/18/Surrey/Census
1881/L Aston/Servant/19/Middlesex/Census

1884/Brown & Clark/../../../Post Office Directory

1892/Lewis Samuel William Innocent / Landlord /../../Proceedings of the Old Bailey **

1889/William Clark/../../../Survey of London **

1899/John Hablett/../../../Post Office Directory

1901/Ernest J Merrett/Licensed Victuallers Manager/32/Finsbury, London/Census
1901/Ellen S Merrett/Wife/28/Harbury, Warwickshire/Census
1901/John F Merrett/Son/3/Poplar, London/Census
1901/Lilian Light/Niece/16/Paddington, London/Census
1901/Ernest J Hablett/Masters Son, Assistant/26/Camberwell, London/Census
1901/Thomas W Moir/Barman & Cellerman/26/Stepney, London/Census
1901/Albert E Roe/Barman/19/Bow, London/Census
1901/Richard Hammond/Barman/16/Essex/Census
1901/Albert J Cash/Barman/15/Poplar, London/Census
1901/William T Laurie/Waiter/15/Woolwich, London/Census
1901/George H Letsall/Waiter/28/Essex/Census
1901/Ethel Balham/Barmaid/25/Norfolk/Census
1901/Emma E Gilding/Domestic Servant/30/Southampton, Hants/Census
1901/Alics S Smith/Domestic Servant/13/Poplar, London/Census
1901/Minnie Howick/Domestic Servant/25/Rotherhithe, London/Census
1901/Alice J Potter/Domestic Servant/19/Dover, Kent/Census
1901/Maggie Nellaney/Barmaid/22/Scotland/Census
1901/Louisa F Clapton/Domestic Servant/20/Holborn, London/Census

1915/Henry Walter Lucas/../../../Post Office Directory

1938/Howlett (Caterers) Ltd/../../../Post Office Directory

1944/Howlett (Caterers) Ltd/../../../Post Office Directory

1988 - 90/Mr S J Holmes/../../../Watney Truman publicans list



+ Provided by Friends of Tower Hamlets Cemetery Park

** Provided by Stephen Harris