Search London wiki and Pub wiki history sites
All public house, restaurants, bars etc closed for the forseeable future from 20th March 2020, but this is a history site.
Green Man, 68 High Street, Poplar E14
Poplar pub history index
This pub was present from around 1650. It was most recently rebuilt in 1939 and closed and was demolished in 2003. At 70 Poplar High Street by 1944. In its final days it had been renamed Cartyís Free House. **
Historical London public houses, Taverns, Inns, Beer Houses and Hotels.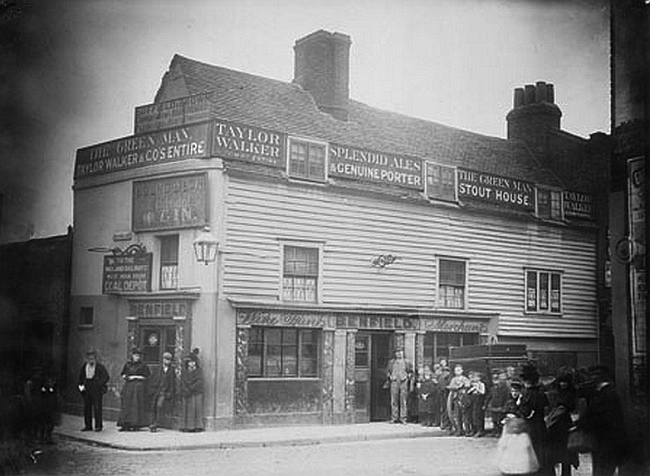 Green Man, High Street, Poplar - Licensee Joseph Benfield
Kindly provided by John Carnaby
Residents at this address.
1791/Master Williams/../../../Proceedings of the Old Bailey **

1827/Ann Hicks / Servant /../../Middlesex Sessions of the Peace records held at London Metropolitan Archives **

1835/Wm. Pebardy/../../../Robsonís Directory **

1839/Thomas Shadrake/../../../Pigotís Directory **

1842/Thos. Shadrake/../../../Robsonís Directory **

1851/Thomas Sheldrake/Victualler/69/Fairshead, Essex/Census
1851/Mary Ann Sheldrake/Daughter/20/Poplar, Middlesex/Census
1851/T W Sheldrake/Son, Cripple/18/Poplar, Middlesex/Census
1851/W A Sheldrake/Son, Carpenters Apprentice/15/Poplar, Middlesex/Census
1851/Chas Sheldrake/Son/12/Poplar, Middlesex/Census
1851/George Sheldrake/Son/10/Poplar, Middlesex/Census
1851/T A Sheldrake/Niece, Barmaid/17/Hatfield, Essex/Census
1851/Francis Lane/Barmaid/20/Northfleet, Kent/Census
1851/Wm Williams/Servant/16/Deptford, Kent/Census
1851/Thomas Griffiths/Visitor/1/Poplar, Middlesex/Census
1851/Alfred Griffiths/Visitor/3 months/Poplar, Middlesex/Census
1851/Eliza Jones/Servant/16/Limehouse, Middlesex/Census

1856/Thomas Shaldrake/../../../Post Office Directory

1861/Thomas Shaldrake/../../../Census

1862/Charles Samuel Sasse/../../../P.O. Directory **

November 1864/Charles Samuel Sasse/Outgoing Licensee/../../East London Observer

May 8th 1860/Joseph Robert Benfield, a pipe manufacturer, marries Agnes Lovenia Natorff. His father is William Benfield, Licensed Victualler and her father, Julius Natorff, a Surgeon. (In 1851 census, William Benfield is at the George, Bankside)

November 1864/Joseph Robert Benfield/Incoming Licensee/../../East London Observer

1869/Joseph Robert Benfield/../../../Post Office Directory

1871/J B Benfield/Licensed Victualler/39/Poplar, Middlesex/Census
1871/Agnes Benfield/Wife/32/Limehouse, Middlesex/Census
1871/Emma Benfield/Daughter/8/Limehouse, Middlesex/Census
1871/H Atherson/Potman/54/Bromley, Kent/Census

1876/Joseph Robert Benfield/../../../Post Office Directory

1881/Joseph R Benfield/Licensed Victualler/49/Middlesex/Census
1881/Joseph S Benfield/Son, Joiner/29/Middlesex/Census
1881/Emma Benfield/Daughter/19/Middlesex/Census
1881/Eleanor Benfield/Sister, Housekeeper/29/Middlesex/Census

1882/Joseph Robert Benfield/../../../Post Office Directory

1884/Joseph R Benfield/../../../Post Office Directory

1889/Joseph Robert Benfield/../../../Post Office Directory

1891/Joseph Robert Benfield/../../../Post Office Directory

1891/Joseph Benfield/Publican, Widow/60/Millwall, London/Census
1891/Agnes Benfield/Daughter, Housekeeper & Barmaid/26/Poplar, London/Census
1891/Alice Cutler/General Servant/30/Poplar, London/Census

1895/Joseph Robert Benfield/../../../Post Office Directory

1901/Joseph Benfield/Licensed Victualler/71/Blackwall, London/Census
1901/E Benfield/Daughter, Barmaid/40/Stepney, London/Census
1901/Avis Payne/Domestic Servant/41/Poplar, London/Census

1903/Joseph Robert Benfield of the "Green Man" Poplar Middlesex died 20 November 1902 Administration (with Will) London 7 January to Agnes William Benfield spinster Effects £399 14s

My wife's G-G-Grandparent Joseph Benfield was the Licensee; and then was taken over by the daughter - Agnes Emma Benfield; who we believe may have had a relationship with an Edward James Jessup as in Agnes Emma's will ( d 08 Dec 1906 ) she left him £777-19s-11d.. We see that four years after Agnes's death - Edward J Jessup seemed to take over the Green man. *

1910/Edwin James Jessup/../../../Post Office Directory

1911/Edwin Thomas Jessup/Licensed Victualler, Widow/48/Bromley, London/Census
1911/Laurence Edwin Jessup/Son/20/East Ham, Essex/Census
1911/Elizabeth Jay/Housekeeper/52/Poplar, London/Census
1911/Lily Taylor/General Servant/24/Hackney, London/Census

1915/Edwin Thomas Jessup/../../../Post Office Directory

1921/Edward Arber/../../../Post Office Directory

1944/Horace D Sheppard & H E Hastings/../../../Post Office Directory

1971/../Green Man, 72 Poplar High street/../../Pub Directory

1983/../Green Man, 72 Poplar High street, Allied Breweries/../../Pub Directory

1991/../Cartys, 72 Poplar High street/../../Pub Directory



* Provided by Don McCleod

** Provided by Stephen Harris