Search London wiki and Pub wiki history sites
All public house, restaurants, bars etc closed for the forseeable future from 20th March 2020, but this is a history site.
Gun Tavern, 27 Cold Harbour, Blackwell, Poplar E14
Poplar pub history index
1710: A pub first opened on this site in 1710 and by 1716 was trading as the 'King & Queen'. In 1725 it was renamed the ' Rose & Crown' and in 1745 it was renamed the 'Ramsgate Pink'. In 1770 it finally came to be known as the Gun. At Cold Harbour, Blackwell in 1869 & earlier. It was partly rebuilt in 1875, although much of the surviving pub is older. Certainly at 27 Cold harbour by 1901 **
Historical London public houses, Taverns, Inns, Beer Houses and Hotels.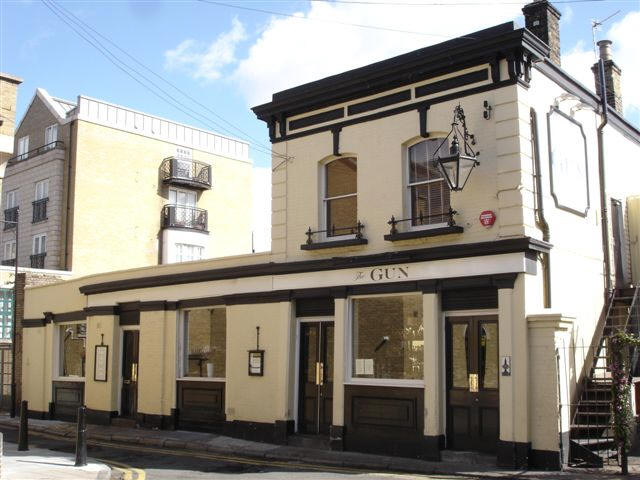 Gun, 27 Coldharbour Lane - in March 2007
Kindly provided by Stephen Harris
Residents at this address.
1805/George North, Gun Tavern, Blackwall/../../Holdens Directory

1833/Mrs H Ferguson/../../../Licensed Victuallers Association

1839/Jos Plummer/../../../Pigot's Directory

1841/Robert Hall/../10/Middlesex/Census
1841/Maria Hall/../15/Middlesex/Census
1841/John Hall/../4/Middlesex/Census
1841/Berriman Hall/../7 months/Middlesex/Census
1841/Louisa Hall/../40/../Census
1841/Racheal Wilkinson/../13/Middlesex/Census
1841/Robert Hall/Victualler/40/Middlesex/Census

1842/Robert A Hall/../../../Robsonís Directory **

1843/Robert Ambrose Hall/../../../Post Office Directory

1848/Thomas Jewiss/../../../Post Office Directory

1851/Thomas Jewiss/../../../Post Office Directory

1856/Joseph Luxton/../../../Post Office Directory

May 1858/Joseph Luxton/Outgoing Licensee/../../East London Observer

May 1858/Mary Alicia Thorne/Incoming Licensee/../../East London Observer

1859/Mrs Mary Alicia Thorne/../../../Post Office Directory **

July 1861/Charles Habgood/Outgoing Licensee/../../Era

July 1861/Richard Smith/Incoming Licensee/../../Era

1864/Richard Smith/ Outgoing Licensee /../../The Era, 22 May 1864 *

1864/James William Goodhew/ Incoming Licensee /../../The Era, 22 May 1864 *

1869/Js W Goodhew/../../../Post Office Directory

1871/James Wm Goodhew/Licensed Victualler/29/Rotherhithe, Surrey/Census
1871/Frances Goodhew/Wife/29/Milton, Kent/Census
1871/Emma Goodhew/Daughter/3/Poplar, Middlesex/Census
1871/Maria Theresa Goodhew/Daughter/5/Poplar, Middlesex/Census
1871/James Allen/Potman/24/Bromley, Middlesex/Census
1871/Eliz Smallman/General Servant/23/Poplar, Middlesex/Census

1874/J W Goodhew/../../../H.D. Miles London & Suburban Licensed Victuallers' Directory **

August 1874/James William Goodshew/Outgoing Licensee/../../East London Observer

August 1874/William George Gordon/Incoming Licensee/../../East London Observer

1875/William George Gordon/../../../Post Office Directory **

1876/William George Gordon/../../../Post Office Directory **

1880/William George Gordon/../../../Post Office Directory **

1881/William Gordon/Licensed Victualler/32/Poplar, Middlesex/Census
1881/Mary Gordon/Wife/30/Poplar, Middlesex/Census
1881/Bertha Gordon/Daughter/4/Poplar, Middlesex/Census
1881/William Gordon/Son/3/Poplar, Middlesex/Census
1881/Edith Gordon/Daughter/2/Poplar, Middlesex/Census
1881/Caroline Gordon/Daughter/6 months/Poplar, Middlesex/Census
1881/Caroline Garnet/Barmaid/32/Vauxhall, Surrey/Census
1881/Mary Hooper/Barmaid/23/Poplar, Middlesex/Census
1881/Sarah Howard/Cook/45/Hertford/Census
1881/Elizabeth Kent/Housemaid/23/Gravesend, Kent/Census
1881/Hannah McCarter/Kitchenmaid/18/Poplar, Middlesex/Census
1881/Clara Cyilbs/Nurse Maid/17/Poplar, Middlesex/Census
1881/James Lepine/Potboy/17/Poplar, Middlesex/Census

1884/Alfred J Hobbs../../../Post Office Directory

1891/Evan Jones/../../../Post Office Directory **

1892/Evan Jones/../../../Post Office Directory **

1895/Evan Jones/../../../Post Office Directory **

1896/Evan Jones/../../../Post Office Directory **

1899/Evan Jones/../../../Post Office Directory **

1901/Alexander Gill/Licensed Victualler/36/Wapping/Census
1901/Alice Gill/Wife/35/Victoria Docks/Census
1901/Alice Gill/Daughter/10/Wapping/Census
1901/Alexander Gill/Son/8/Wapping/Census
1901/Russell Gill/Son/6/Bethnal Green/Census
1901/Maud Gill/Daughter/4/Old Ford/Census
1901/Geo Gill/Son/2/Polar/Census
1901/Lizzie Taylor/Domestic Servant/15/Stepney/Census
1901/William McCarthy/Potman/26/Weston Colville/Census

1902/George Webb/../../../Post Office Directory **

1906/George Webb/../../../Post Office Directory

1921/Matthew Hildrew/../../../Post Office Directory

1934/John Henry Hildrew/../../../Kellys Directory

1938/Fredk Eugene Aldridge/../../../Post Office Directory

1940/O L Jackman/../../../BT Telephone Directory

1944/Thos T Oram/../../../Post Office Directory

1971/../Gun, 27 Coldharbour Lane/../../Pub Directory

1983/../Gun, 27 Coldharbour Lane, Allied Breweries/../../Pub Directory

1991/../Gun, 27 Coldharbour Lane, Ind Coope Taylor Walker/../../Pub Directory



* Provided By Ken Ripper

** Provided By Stephen Harris