Search London wiki and Pub wiki history sites
All public house, restaurants, bars etc closed for the forseeable future from 20th March 2020, but this is a history site.
Marshal Keate, 29 Preston road, Poplar E14
Poplar pub history index
This pub was built in 1840 or 1841. It closed and was demolished in around 1987. ** A Watney Combe Reid pub situated at the north corner of Preston Road and Duthie Street (Baffin Way). This pub's address was later 29 Prestons Road. *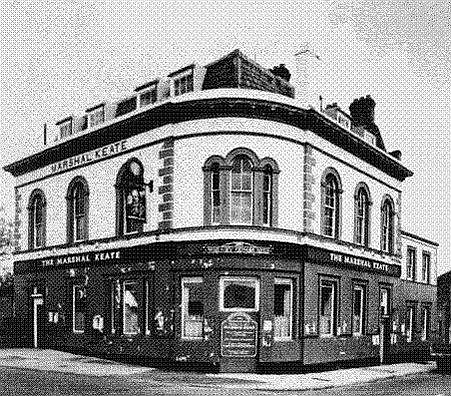 Marshal Keate, Preston Road, Poplar
Historical London public houses, Taverns, Inns, Beer Houses and Hotels.

Residents at this address.
1841/Francis Mills/../../../Survey of London **

1848/James Sadd/../../../Post Office Directory

1856/Jas Sadd/../../../Post Office Directory

May 1858/James Sadd, deceased/Outgoing Licensee/../../East London Observer

May 1858/Elizabeth Garrould, executrix of James Sadd/Incoming Licensee/../../East London Observer

August 1861/Robert Clint Thornton/Outgoing Licensee/../../Era

August 1861/Priscilla Turnbull/Incoming Licensee/../../Era

1862/Joseph Matthew Hocking/../../../per: Island History Society **

May 1862/Joseph Hocking/LV Association/../../Era

1869/Joseph Hocking/../../../Post Office Directory

1871/Joseph M Hocking/Licensed Victualler/48/Cornwall/Census
1871/Ann Elizabeth Hocking/Wife/42/Poplar/Census
1871/John Phillip Hocking/Son/19/Poplar/Census
1871/Francis Hocking/Son/17/Poplar/Census
1871/Jane Hocking/Daughter/16/Poplar/Census
1871/Ann Eliza Phillip/Mother in Law, Widow/66/Hythe, Kent/Census
1871/Oliver M Hocking/Brother/40/Cornwall/Census
1871/Edward Hepworth/Barman/18/Poplar/Census
1871/Emma Fullack/Barmaid/25/Stepney/Census
1871/Joanna Barrell/Cook/27/Cornwall/Census
1871/Ellen Lowther/Housemaid/20/Cambridgeshire/Census
1871/George Boyce/Waiter/21/Birmingham/Census
1871/William Walter/Potman/21/Bromley/Census

1874/J M Hocking/../../../H.D. Miles London & Suburban Licensed Victuallers' Directory **

1877/Joseph Matthew Hocking/../../../per: Island History Society **

May 1879/executors off Matthew Hocking/Outgoing Licensee/../../East London Observer

May 1879/John William Hocking/Incoming Licensee/../../East London Observer

1881/James Riddall/Licensed Victualer/27/Poplar, Middlesex/Census
1881/Harriet Alice Riddall/Wife/29/Charlton, Kent/Census
1881/Ernest James Riddall/Son/5/Poplar, Middlesex/Census
1881/Charles Percy Riddall/Son/3/Poplar, Middlesex/Census
1881/William Pearson/Barman/18/Littlestone, Essex/Census
1881/James Gibson/Potman/27/St Osyths, Essex/Census
1881/Ellen Jiles/Domestic/19/Newcastle, Northumberland/Census
1881/Mary Ann Brickley/Domestic/19/Limehouse, Middlesex/Census

1884/James Riddall/../../../Post Office Directory

1891/James Eadie/../../../Post Office Directory

9th July 1892/James Griffin, deceased/Outgoing Licensee/../../East London Observer +

9th July 1892/Lilia Rachel Griffin/Incoming Licensee/../../East London Observer +

1895/Robert John Court/../../../Post Office Directory

1899/Robert John Court/../../../Post Office Directory

1901/Augustus Court/Public House Manager/26/Tooting, Surrey/Census
1901/Augusta H Court/Sister, Housekeeper/30/Tooting, Surrey/Census
1901/Andrew Grieve/Nephew, Merchants Clerk/16/New Cross, London/Census
1901/Cordelia Feague/Barmaid/18/Swansea, Glam/Census
1901/Beatrice Sussex/Barmaid/18/Poplar, London/Census
1901/Laura Wilden/Housemaid/19/Stratford, Essex/Census
1901/John F Hobbs/Boarder, Engineers Apprentice/16/Poplar, London/Census
1901/Mary M Craighead/Barmaid/22/Hoxton, London/Census

1910/Robert John Court / Licensed Victualler, deceased /../../London Gazette, 6 January 1911 **

1921/Wm J Glover/../../../Hughes Directory

1934/Walter Herbert Paull/../../../Kellys Directory

1938/Walter Herbert Paull/../../../Post Office Directory

1944/Walter Herbert Paull/../../../Post Office Directory



+ Provided by Friends of Tower Hamlets Cemetery Park

* Provided By Tris

** Provided By Stephen Harris