Search London wiki and Pub wiki history sites
All public house, restaurants, bars etc closed for the forseeable future from 20th March 2020, but this is a history site.
Steam Ship, 24 Naval row, Brunswick street, Poplar E14
Poplar index
This pub was established in 1842. At 7 naval Row in 1881 & earlier. **
Historical London public houses, Taverns, Inns, Beer Houses and Hotels.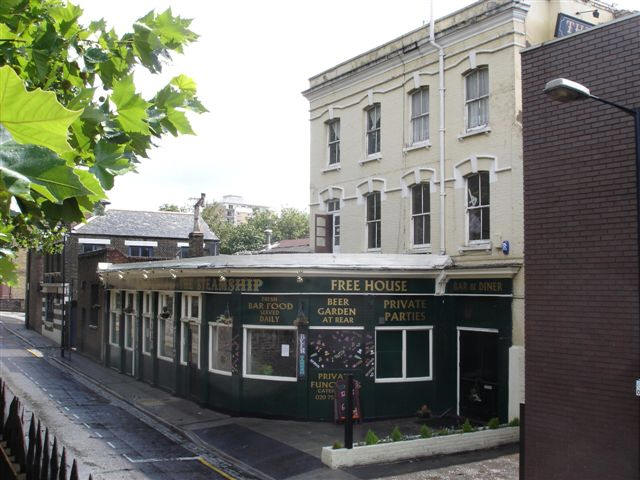 The Steamship, 24 Naval Row in August 2006
Kindly provided by Stephen Harris
Residents at this address.
1856/Richard Hamilton/../../../Post Office Directory

September 1857/Richard Hamilton/ Outgoing Licensee /../../The Era

September 1857/William James Holland/ Incoming Licensee /../../The Era

November 1866/William James Holland, deceased/Outgoing Licensee/../../Era

November 1866/Mary Ann Holland, widow and administratrix of William James Holland, deceased, late occupier/Incoming Licensee/../../Era

1869/Mrs My Ann Holland/../../../Post Office Directory

1871/William Jones/Licensed Victualler/25/Holborn, Middlesex/Census
1871/Caroline Jones/Wife/25/Whitechapel, Middlesex/Census
1871/Louise Jones/Daughter/1/Holborn, Middlesex/Census
1871/Emma E L Lucas/Barmaid/26/Colchester, Essex/Census
1871/Sarah Brooks/Cook/47/Liverpool/Census
1871/Julia P Biggs?/Nursemaid/17/Crawley, Sussex/Census
1871/William Chipping/Potman/21/Bookham, Surrey/Census

May 1871/Benjamin Viney/Outgoing Licensee/../../East London Observer

May 1871/James Chessher/Incoming Licensee/../../East London Observer

30th September 1871/James Chessher/Outgoing Licensee/../../East London Observer +

30th September 1871/Jeremiah Brierley/Incoming Licensee/../../East London Observer +

26th October 1872/Jermiah Brierley, late occupier/Outgoing Licensee/../../East London Observer +

26th October 1872/Elizabeth Brierley, widow & sole executrix/Incoming Licensee/../../East London Observer +

1873/Benjamin Viney / Licensed Victualler /../../London Gazette, 21 March 1873 **

October 1875/Elizabeth Brierley/Outgoing Licensee/../../East London Observer

October 1875/Henry Messenger/Incoming Licensee/../../East London Observer

1876/Henry Messenger / Licensed Victualler /../../London Gazette, 10 March 1876 **

20th May 1876/Henry Messenger, deceased/Outgoing Licensee/../../East London Observer +

20th May 1876/James Plummer Rising/Incoming Licensee/../../East London Observer +

March 1877/James Plummer Rising/Outgoing Licensee/../../East London Observer

March 1877/James Bloy/Incoming Licensee/../../East London Observer

August 1879/James Bloy/Outgoing Licensee/../../East London Observer

August 1879/Andrew Van Dynsen/Incoming Licensee/../../East London Observer

1881/Andrew Van Dyasen/Licenced Victualler/48/Matursleys, The Netherlands/Census
1881/Elizabeth Van Dyasen/Wife/47/Hanover N/Census
1881/Lydia Van Dyasen/Daughter/21/Plastow, Essex/Census
1881/Zeth Van Dyasen/Daughter/20/Plastow, Essex/Census
1881/Emma Meadows/Domestic Servant/18/../Census

1884/Andrew Van Dyasen/../../../Post Office Directory

1895/George Lane/../../../Post Office Directory

1899/George Weige/../../../Post Office Directory

1901/George Frederick Weige/Licensed Victualler/60/St Lukes, London/Census
1901/Jane Agnes Weige/Wife/61/Stepney, London/Census
1901/George Victor Weige/Son, Operatic Vocallist/35/Stepney, London/Census
1901/Charles August Weige/Son, Manager/27/Stepney, London/Census
1901/Henry Otto Weige/Son, Carpenter/25/Hackney, London/Census
1901/Sylvia Briggs/Grand Daughter, Barmaid/15/Stepney, London/Census
1901/Margaret Hambleton/Niece/29/Millwall, London/Census
1901/Nellie Sylvia Weige/Grand Daughter/2/Poplar, London/Census
1901/Mark Anderson/Potman & Barman/71/Sothwark/Census

1921/Francis Jn Healey/../../../Post Office Directory

1934/William Money/../../../Kellys Directory

1938/William Money/../../../Post Office Directory

1988/Mr T Laws, Steamship, 24 Naval Row, Poplar, E14 : Watney Truman/../../../Pub Directory

1990/Mr T Laws, Steamship, 24 Naval Row, Poplar, E14 : Watney Truman/../../../Pub Directory



+ Provided by Friends of Tower Hamlets Cemetery Park

** Provided By Stephen Harris